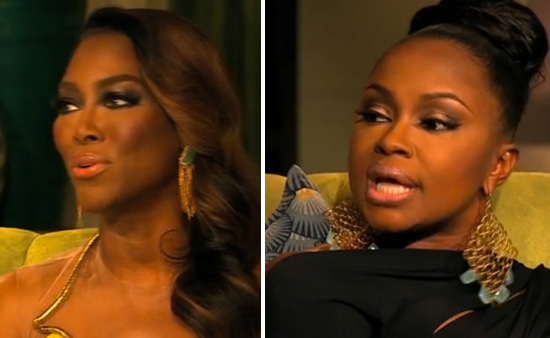 When Kenya Moore comes for you, watch out, cause it usually means she's heavily armed.
The breakout star from this season of the "Real Housewives of Atlanta" clashed with her one-time gal pal Phaedra Parks during the RHOA reunion show for RHOA's fifth season, which will air in three parts starting next Sunday (Apr 7).
The ladies famously fell out after Phaedra shut Kenya out of the production deal for her donkey booty workout video. Kenya, who felt Phaedra was trying to cheat her, said that the whole debacle cut her to the "white meat" and she later went on to release her own booty-themed workout video to compete with Phaedra's.
But the two did patch things up somewhat on the show after this feisty fitness feud and they agreed to put the past behind them. Phaedra even attended Kenya's costume ball in full Eartha Kitt regalia during the season finale.
Unfortunately, it looks like the beef is back on the grill though because in the reunion, Kenya Moore and Phaedra went AT IT when Bravo host Andy Cohen brought up Entertainment Weekly's review of their respective workout videos. EW said Kenya's was the better fitness regimen but that Phaedra's was more fun.
"It's a gimmick. It's silly," Kenya said of Phaedra's workout video. "She's obviously overweight to be doing a fitness video."
Kenya really went in for the kill though when she said, "Why sell a fitness DVD that hasn't worked on you?"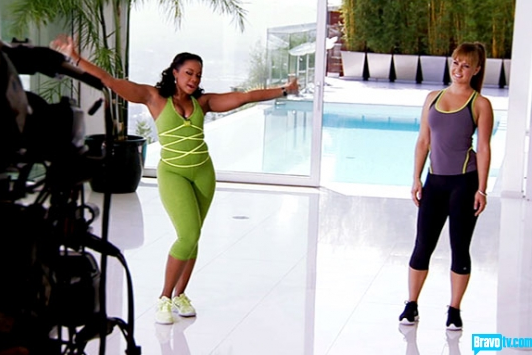 Phaedra is by no means fat, but she's hardly what most in the fitness industry would consider fit either. So Kenya does have a point.
However, don't think Miss Phaedra sat back and took that tongue lashing quietly. The first opportunity she got, she hit back at Kenya calling her legendary ass a fake hunk of silicone that was "made in Mexico."
Watch Phaedra and Kenya Moore go at it in a clip from the upcoming reunion show here:
[Video: E! Online]
Be the first to receive breaking news alerts and more stories like this by subscribing to our mailing list.