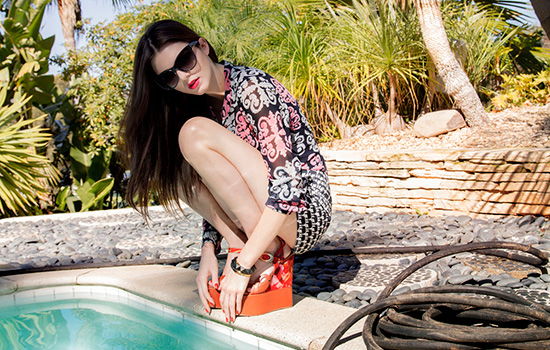 Kendall Jenner is rich, famous and just 15-years-old. While most teens are suffering through the horrors of high school and dreading what they're going to face a few years from now when they graduate during one of the worst economic downturns in history … Kendall is walking in some of the hottest runway shows and counting her millions.
So it's only natural that she would complain about her early success … LeAnn Rimes style.
In the upcoming May 2013 issue of Cosmopolitan magazine, the reality star talks about how she sometimes wishes she could just be normal.
"The show brought us everything we have, and I realize that, but sometimes I just want to be left alone and be a normal kid for like five minutes," she said. "That's tough when the paparazzi are chasing you."
Sure, the paps are annoying but none of us poor, working class folk want to hear about this chick yapping about it.
Kendall also recently vented in another interview about being criticized for being underweight.
"I'm constantly criticized for being too skinny," the 17-year-old told Harper's Bazaar Arabia (via the Daily Mail). "I'm trying to gain weight but my body won't let it happen. What people don't understand is that calling someone too skinny is the same as calling someone too fat. It's not a nice feeling."
We agree that the constant discussion and critique of women's bodies is atrocious but being called out for being too thin is not the same as being attacked for being too fat. Apples and Oranges.
Skinny has long been defined as a standard of beauty — especially in the fashion industry — and being too heavy would exclude her from that realm.
Thankfully though, Kylie has good people like her level-headed sister Khloe, and her brother-in-law Lamar Odom (Khloe's husband) to keep her grounded. Especially Lamar, she says.
"He is really good at giving guy advice," she adds. "He always tells me to know my worth and never accept less than I deserve."
As for rumors about a possible "Keeping Up with the Kardashians" spin-off starring Kendall and her younger sister Kylie, Kendall says "that's not happening … Modeling is my number one priority – one hundred percent."
Photos: Cosmopolitan
Be the first to receive breaking news alerts and more stories like this by subscribing to our mailing list.