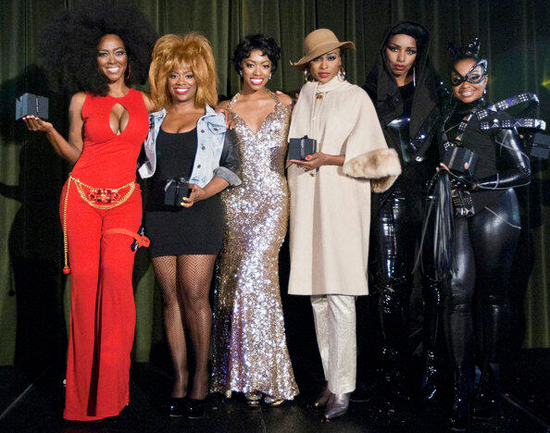 Sometimes it's best to leave the Halloween costumes to the Halloween season. Because outside of October, folks can catch a funny feeling or two when you ask them to play dress-up for a party.
Kenya Moore decided to close out her first season of the "Real Housewives of Atlanta" with an extravagant costume ball. She assigned each of the women an iconic black actress and character for the party. NeNe Leakes was given the role of Grace Jones as Strangé in "Boomerang", Phaedra got to play Eartha Kitt's Catwoman, Kandi was Angela Bassett as Tina Turner in "What's Love Got to Do with It?", Cynthia was Diana Ross and Porsha was tasked with recreating Halle Berry's "B.A.P.S." character.
When Kenya told Porsha that she'd be playing the "B.A.P.S." version of Halle, Porsha put her guard up and assumed that Kenya gave her the "B.A.P.S." character to make her out to be a fool. Kenya denied it and said she just thought Porsha was a fun, light-hearted woman who could tap into the role's playfulness with ease.
Truth be told: They were both lying.
Kenya definitely gave Porsha the "B.A.P.S." in part because she thought Porsha didn't "deserve" to be classy. She gave herself up in her confessional commentary when she bitterly complained about how Porsha thought she could pull off high-class when she was really "rough around the edges."
Porsha was right to be suspicious but she was dead wrong in her assumption that everyone and everything about this event was glamorous and old Hollywood. There were plenty of people who went for the fun, freakish look, starting with Kandi as Tina Turner and Kenya with the ginormous afro wig as Pam Grier's Foxy Brown.
So for Porsha to act like she alone would've been the odd woman out at the party was a lie. Lots of people were there to have a good time and weren't so uptight that they couldn't laugh at themselves a little.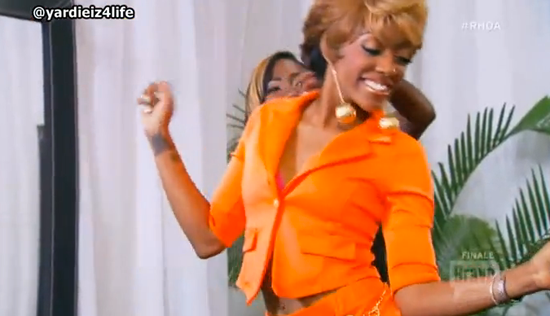 The sad part of all of this is that Porsha's scenes where she was kicking it with her beauty team and trying on the "B.A.P.S." costumes were some of her liveliest and most authentic moments from the whole season. So guess what? Kenya was right. The "B.A.P.S." character was perfect for Porsha and she would've had a ball if she'd listened to her. Porsha even backed this up by saying that even though she can be classy, she enjoyed the opportunity to be "ratchet."
But instead of following Kenya's instructions, Porsha allowed gossip folks and her weak willpower to spoil what should've been a good time. The hairstylists and naps sweepers were convinced that Porsha was being "played" by Kenya, so Porsha opted to go to the ball as Halle Berry's "Dorothy Dandridge" character. *Yawn*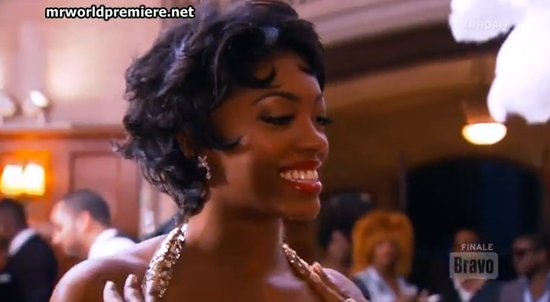 It looked like Porsha with a Flintstones wig and nothing more. There was nothing character-like about it. Heads did not turn when Porsha entered the room and they most certainly would've if she'd worn the costume Kenya wanted her to.
But the bigger mistake was Porsha foolishly thinking that Kenya wouldn't mind too much about her last-minute switch. She thought wrong.
When Porsha strolled up on Kenya and said, "Hey, girl!" at the party, Kenya turned and looked at her like she had four eyes.
"That is not who I asked to come as," Kenya said with a smile on her face and daggers in her eyes.
Porsha's move was disrespectful and spiteful, but Kenya doubled down on both of those qualities when she had security escort Porsha out of the party.
This was where Kenya went wrong.
Porsha's decision to make a last-minute change was inconsiderate, selfish and disrespectful. But as the host of the party, Kenya needed to be a bit more flexible. No, Porsha wasn't who she'd asked her to be, but she did put forth an effort and she did show up in SOME kind of costume.
If Porsha had shown up in a t-shirt and jeans, that would've been really disrespectful. And given the history of bad blood between the two of them, you can see why Porsha would've thought that Kenya's casting choice was "shade," as the kids say.
But Kenya wasn't trying to give no kind of understanding to Porsha so she did what she does best: Call security.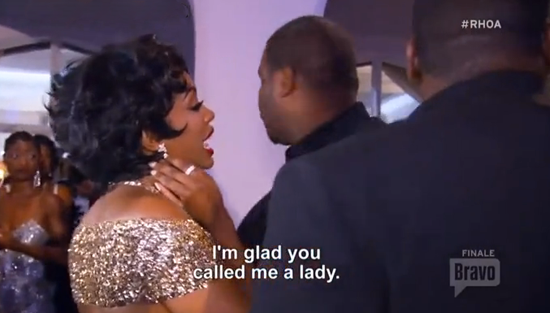 Porsha grumbled about Kenya's "malice content" toward her (WTF? We need a Porsha-specific dictionary to understand her language) but she went out peacefully. The rest of the ladies were so appalled at Kenya's treatment of Porsha that they walked out of the party in solidarity. Oh, really? Now if only they'd shown such unity when Kenya's ex Walter came poking around. Maybe then Kenya might've been more inclined to forgive and forget.
So once the girls storm off, Kenya realizes that she's got a mutiny on her hands. She walks outside to try to smooth things with the other girls while ignoring Porsha, but that doesn't work so well and she heads back in to the party to introduce the performances.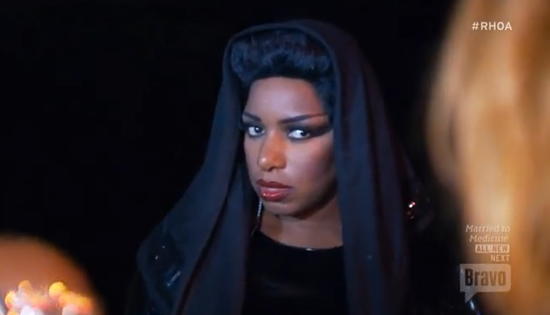 While Kenya is indoors, the Big Kahuna, NeNe Leakes, arrives dressed in her best Grace Jones attire. Cynthia and the girls relay the scenario out to NeNe and she marches off to confront Kenya about her decision to kick Porsha out.
NeNe tells Kenya that kicking Porsha out isn't right because she's here and they're supposed to be one as ladies.
But wait a minute, wasn't ol' girl the same one who kicked her same "friends" out of her house when they showed up 3 hours late for her dinner party in L.A.? You'd think she'd at least understand a little where Kenya was coming from.
Kenya, however, holds NeNe in high esteem, so she decides to make amends with Porsha and invites the girls back inside for the remainder of the program.
So there you have it: NeNe Leakes has truly comes a long way in her "RHOA history. She went from bully to diplomat and now, she officially runs the show as ALL of the women (not just the talls) fall in line behind NeNe Leakes.
The question is: Has NeNe outgrown "RHOA"? If my gut is right, I say no way. The money is really good and the Hollywood roles, outside of Ryan Murphy's circle, aren't pouring in. NeNe needs the "RHOA" platform to support her just a little while longer until she can make a full transition into something for some time.
It's NeNe's world, and these bitches just live in it.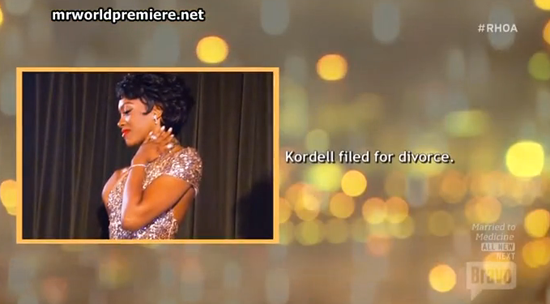 Sidenote: The "RHOA" producers ain't shit for the summary they threw up on the screen for Porsha.
Hot damn. You know they edited that in at the last minute too. SMH.
Be the first to receive breaking news alerts and more stories like this by subscribing to our mailing list.