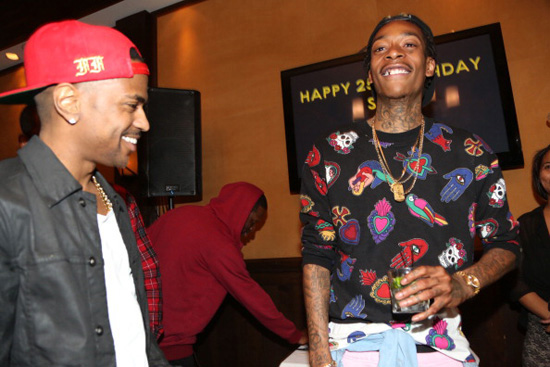 Wiz Khalifa was one of the 100 or so guests who attended his good friend and fellow rapper Big Sean's surprise birthday party in Beverly Hills Monday night (Mar 25) … and he showed up looking like a reject Rugrat. Not the baby Rugrats, but the "All Growed Up" Rugrats.
Wiz and his fiancee Amber Rose just welcomed their first child into the world a month ago, so maybe Amber hasn't had time to do the laundry, and this was all he had left in his closet.
Or maybe he got really high that night, and put that outfit together thinking it looked good. (It doesn't.)
I don't know. I'm not sure why Wiz Khalifa decided to put that atrocious ensemble together and call it an "outfit," but hey. That's his life. He can do whatever he wants, I guess.
**Shrug**
Be the first to receive breaking news alerts and more stories like this by subscribing to our mailing list.