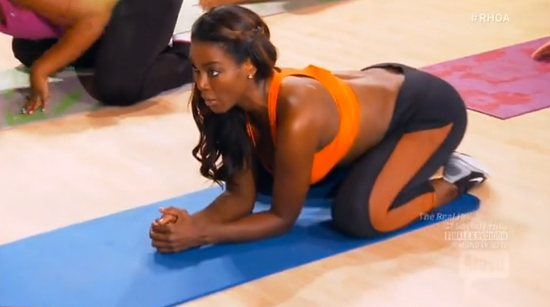 Kenya Moore gets mad and gets even. In episode 19, Kenya spazzes out when she finds out that her reviled ex-boyfriend Walter Jackson has made his way into the event. She storms off and Kandi's manager, who exhibits an ungodly amount of patience, takes care of Kenya and sees her off.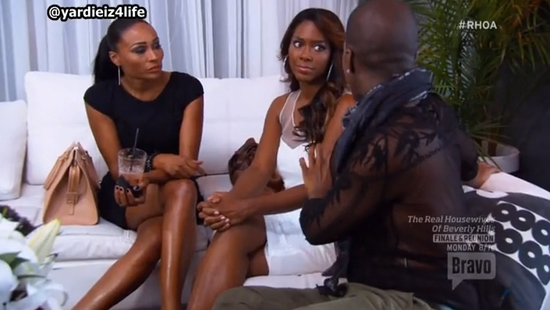 By the time Cynthia catches up with Kenya at her hubby's spot, Bar One, she's a little more cooled down, since Miss Lawrence is by her side stroking her ego.
Cynthia makes it clear that she's here for Kenya, but she also stands firm that Kenya's theatrics aren't helping her situation. Kenya needs to hold her head high and ignore Walter's presence.
That's all fine and dandy, but really, these bitches need to stop inviting Walter to shit. As Cynthia said, she doesn't KNOW THAT MAN, so why is it critical that he be invited when they know it will rub their "friend" the wrong way?
If Cynthia wants Kenya to grow up, the rest of the ladies need to as well. Don't start none, won't be none. It's safe to say that we can finally put the Walter chapter in Kenya's life to rest.
Moving on, Kenya and Phaedra get to filming their respective workout videos. Kenya keeps it cool at home by filming in a studio in Atlanta. Phaedra and Apollo do it Hollywood-style and head out to Beverly Hills for the shoot.
While Phaedra definitely went all out with the location, she looked like she scooped up her nauseating lime-green onesie from Target.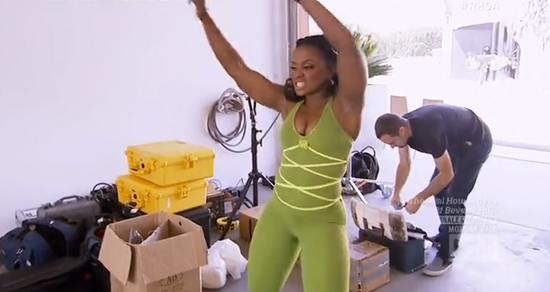 Kenya was on fire this episode as she kept reading the shit out of Phaedra for being out of shape and for wearing that awful, unflattering outfit. Miss Kenya's most deadly line was when she said that Phaedra's body was like Spongebob Squarepants while hers was like Jessica Rabbit's. Slayed.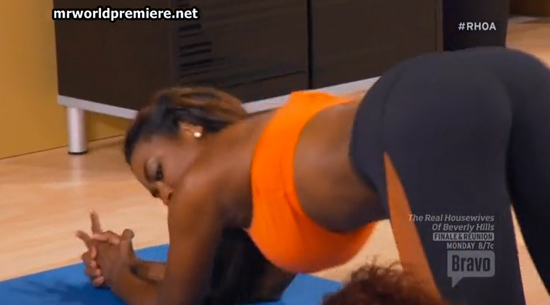 Phaedra, girl. I know you consider yourself a jack of all trades and the Donkey Booty thing was cute, but you might have to take the L on this one. Kenya Moore's body is calling, yours is stalling. Go back to the morgue.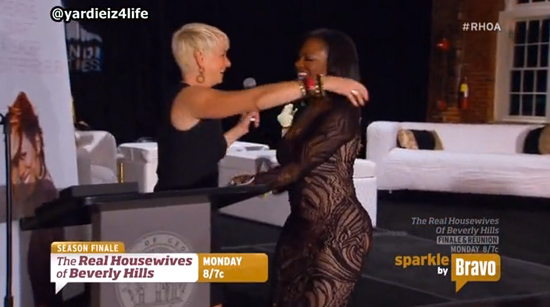 Kandi's Bedroom Kandi Is the Avon of the Sex Toy World
Remember back in the day when your mom would invite all of your friends' moms over for Avon beauty consultations? Well, Kandi's Bedroom Kandi sex toys have pretty much become that for the self-pleasure market.
Kandi's sex toy line won the AVN Sex Toy of the Year Award and she held a big bash for all of her distributors.
One of Kandi's business partners, Suki, presented Kandi with the AVN award and Kandi teared up like she won an Oscar. You would've never known she was up there boo hooing about some vibrators and dildos. God is good. I guess.
Interestingly, Kandi's clientele and distributors have clearly tapped into the black women market. The vast majority of the distributors were black women. But I did spot a white face or two in the crowd.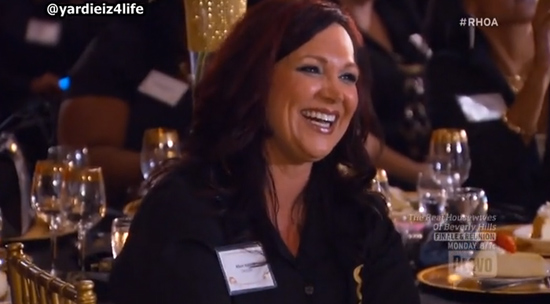 Hey, Becky!
But the black women were doing the most with their wigs. It seriously looked like they were just modeling some of Kandi's past hoodrat hairstyles.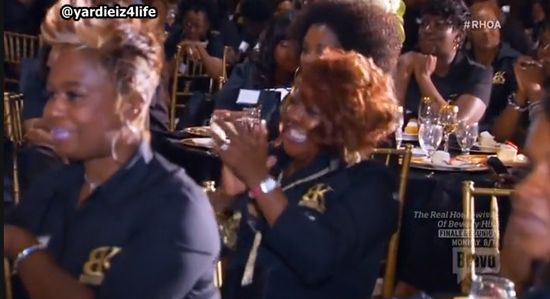 Atlanta is where black women's hair goes to get ratchet. God bless these ladies.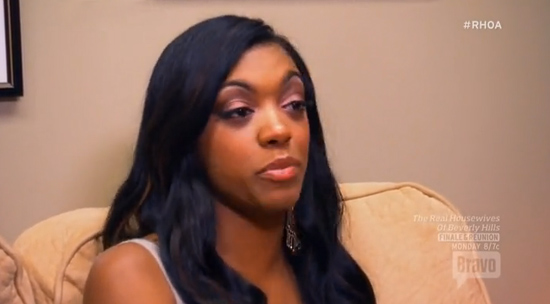 Porsha Pours Her Heart Out About Miscarriage and Marital Struggles
For most of this season, I've found Porsha to be an obnoxious, vapid, insignificant addition to the RHOA cast. But when she went to visit her therapist, I finally felt like Porsha was being real, even if it was for only a brief instance.
Porsha opened up to her therapist about her miscarriage. The pregnancy went awry at 4 months and Porsha said that she felt alone and abandoned by her husband Kordell.
She says that she was wounded by the lost pregnancy "even though it was only four months," as if that's real early on in the process.
Four months is the beginning of the second trimester and by that time, there have already been several sonograms showing the baby's heartbeat.
She actually wasn't far away from reaching the halfway point for her entire pregnancy. Most miscarriages happen during the first trimester, so yes, losing your unborn child in the second trimester is a really big deal.
Porsha blames her husband's alleged insensitivity on his being a man but that's a gross generalization with no basis in reality. Porsha essentially says that men don't feel the pain of loss from miscarriages. What kind of stupid blanket statement is that?
Did Porsha not catch Jay-Z's sense of mourning and loss on his song "Glory," which celebrated the fact that Blue Ivy's pregnancy turned out well?
False alarms and false starts (ugh)
All made better by the sound of your heart (yeah)
All the pain of the last time
I prayed so hard it was the last time
If Kordell was insensitive to their loss it's not because he's a man. It's because he's a jerk.
Porsha needs to be honest and objective about her husband and his emotional flaws. That being said, I don't think it's fair to label him as a bad guy, because Porsha seems like an exhausting person to be married to.
But if Porsha feels like her husband didn't "get" how a miscarriage affected his wife, then he's failed in his role as a husband. And that needs to be fixed ASAP before they even think about trying for another pregnancy.
It's a shame that it took this long for Porsha to show us the real her. She spent far too much of the season making sure Kordell was happy with her behavior instead of showing the audience what makes her tick.
I wonder if Kordell is OK with Porsha revealing such unflattering portrayals of their marriage? Don't be surprised if he says Porsha can't come back for another season.
Be the first to receive breaking news alerts and more stories like this by subscribing to our mailing list.