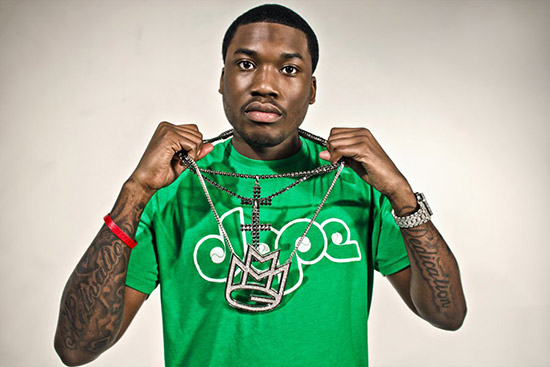 Meek Mill — that rapper who yells all the time in his songs — really showed his ass over the weekend when he got into a one-sided Twitter beef with blogger Necole Bitchie after he was put on blast for allegedly charging fans over $100 for pictures.
Saturday night, Necole posted a message to Instagram a fan of the MMG rapper sent her, which read:
"Hi Necole Bitchie I am a girl from the Netherlands and I am in shock. Yesterday was Meek Mill concert in Amsterdam 22-03-2013. And I wanna tell you something I paid 75 euros for VIP tickets. Me and my girlfriends met Meek Mill and he asked us for 100 euros [about $130] to take a picture with him. Then we said we don't have money too pay, then Meek Mill said NO MONEY NO PICTURE!!! I didn't believe it, he was so cruel. I am no longer a fan of him and very disappointed."
Of course, once Necole posted this, her mentions lit up with replies from people who didn't approve of the rapper's actions. So she began to retweet some of the things fans had to say … and quite a few tweets indicated that Meek had done the same thing to them in Paris.
@necolebitchie He did the same in Paris tonight. Fans are going mad

— Cafe con Leche (@iAnnSph_Cfr) March 23, 2013
@necolebitchie he did the same in Paris though and had a 20 minutes show…

— Hannan Ben Slimane (@HannanParis) March 23, 2013
@necolebitchie same in Paris twitter.com/EchoesOfFame/s…

— TransformedGirl ?S (@TransformedGirl) March 23, 2013
He did the same thing tonight in Paris!! Fans are planning to attack him in front of his hotel "@necolebitchie: SMH instagram.com/p/XN9EOCTQ-t/"

— • BigSeanFrance (@OumouLee) March 23, 2013
That's when Meek apparently got in his feelings, and showed his ass and got disrespectful with Necole — who just so happens to be a very good friend to GOT.
Ayo @necolebitchie ima b the first one 2 say it…. Sit ya nut ass down u not even bad!! Lol

— Meek Mill (@MeekMill) March 24, 2013
Necole, who probably couldn't care less what a struggle rapper thinks of her, then retweeted his weak comeback (if you can can even call it that), which made her Twitter followers get at the rapper even more.
@necolebitchie did he get the memo that grown women don't strive to be "bad" or nah?

— Brittany Roman (@CalicoEyez215) March 24, 2013
Sounds like he needs a nap. #GoNightNight "@llcoolchels: Oh this is why he's mad wowww@necolebitchie: SMH Instagram.com/p/XN9EOCTQ-t/"

— Pamskid (@Pamskid) March 24, 2013
Don't dare come for @necolebitchie . We got your back boo #bitchiechicks ????????????

— Nichelle ? (@AmbriaBombshell) March 24, 2013
@meekmill @necolebitchie coming at a woman though? Wow

— Miss Celie(@NaijaJelly) March 24, 2013
Well… I think @necolebitchie is beautiful person #gooddaymeekmills

— Lauren Rogers (@LifeAsLauren_) March 24, 2013
Meek then tried to justify his stance on the situation by tweeting:
If I'm making a 100k a night fuck difference will a 100$ makeif somebody else charge u for they services don't knock me knock the hustle!

— Meek Mill (@MeekMill) March 24, 2013
Without getting into a Twitter spat with the rapper, Necole was the bigger person and showed her CLASS (and not her ass … like Meek Mill) by simply tweeting the following:
@meekmill ???????????????????? hilarious!

— Necole Bitchie(@necolebitchie) March 24, 2013
Basic.

— Necole Bitchie(@necolebitchie) March 24, 2013
Most artists are amazing to fans. It's nothing like having a real appreciation for those who support you and buy your music

— Necole Bitchie(@necolebitchie) March 24, 2013
And Meek Mill, being Meek Mill, responded in an effort to try and save face … but it was already too late because the damage to his reputation had already been done.
Tonight it's gone b a 100 free bottles in this club due 2 all this fronting and we gone blog having Paris turnt up! #realshit

— Meek Mill (@MeekMill) March 24, 2013
I guess that's his way of proving he has money or something? I'm not sure … but any rapper who charges fans $130 for a picture with them can't be ballin' as much as they put-on, right?
Regardless … Meek Mill should be ashamed of himself!
Be the first to receive breaking news alerts and more stories like this by subscribing to our mailing list.