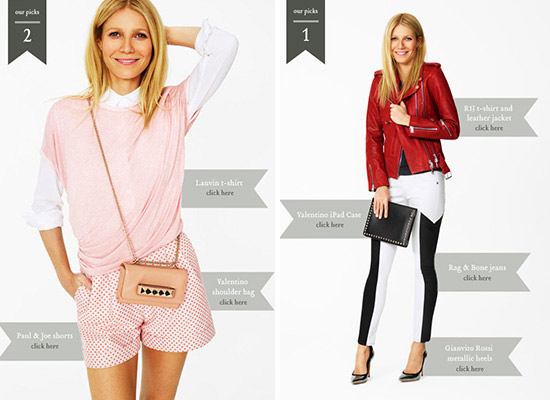 Our friendly neighborhood narcissist has done it again! Just when we thought we had run out of reasons not to like Gwyneth Paltrow, she goes and gives something else to sneer at.
Gwynnie makes me wish that there were an underground ring of sane people who emerged from the shadows at night and hit celebrities in the head once their egos ballooned too big … not to hurt them or anything like that, just to shrink their noggins back to regular size, that's all.
Just days after Self magazine published an eye-rolling interview which showcased the actress' blatant obsession with herself, she is advising women to purchase over $450,000 worth of clothes!
That's right, as unemployment continues to sky rocket and people everywhere struggle to get by, the 40-year-old took to her website GOOP (yes … her company is actually called "GOOP") to share some knee-slapping funny fashion tips, which includes buying outrageously expensive clothes that Paltrow can afford to use as dust rags.
"Back by popular request, here is our third annual spring fashion edit of NET-A-PORTER. Find inspiration for outfits for all aspects of your busy life," GP's post reads.
Popular request? Really? Who else, besides her BFF Beyonce, can afford all that expensive crap?
As E! News put it:
We're not exactly sure who's knocking down Gwynnie's door to get insight into her expensive taste, but she definitely proves she has a flawless sense of style and sharp eye for the hottest spring trends.

Along with modeling eight outfits that showcase the latest looks from the runways—think an edgy punk look, a sweet pastel number and an eye-popping printed outfit—she also proffers a number of fab clothing items and chic accessories to pull off each style.

Sure, her $5,495 Valentino Rockstud python trapeze bag and her $850 Alexander Wang leather shorts would require many of us to take out a small loan in order to channel her springtime style, but we can definitely still find inspiration in Paltrow's lavish looks!
Ugh. And this woman wonders why she doesn't have any friends.
A good whack could help someone like Gwyneth "GOOP for Brains" Paltrow emerge from her stupor of self-importance and stop telling people to wear clothing that could feed all of Somalia and eat food that has no wheat, no dairy, no carbs, no sugar … and whatever the fuck else makes food FOOD.
Maybe she should put some of that GOOP where her mouth is.
Be the first to receive breaking news alerts and more stories like this by subscribing to our mailing list.