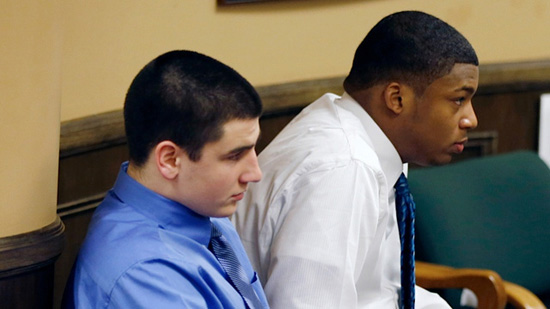 In the small town of Steubenville, Ohio, two high school football players were found guilty in the rape of a 16-year-old girl. Trent Mays, 17 and Ma'lik Richmond, 16 were sentenced to at least a year in juvenile prison. Mays was ordered to serve an additional year for taking a picture of an underage girl naked.
The investigation in the case is ongoing, because some people failed to report the allegations initially, and they too could face some charges.
According to the Associated Press, Attorney General Mike DeWine said he was continuing the investigation, and anyone who failed to speak up about the attack from last summer could face charges.
The investigation will look into teens, parents, school officials, and coaches who might have been aware of the incident that took place.
A grand jury is set to meet in mid April, which will provide all evidence gathered by investigators from interviews, and the football team's 27 coaches.
In a statement to the Associated Press from the city's manager Cathy Davidson, she said, "Football is important in Steubenville, but I think overall if you looked at the community in and of itself, it's the education process, the moral fiber of our community, and the heritage of our community, that is even more important."
During the trial, text messages were provided, which indicated the head coach was aware of the rape allegation.
Steubenville schools Superintendent Mike McVey released a statement earlier today that read: "What we've heard so far is deeply disturbing … At this time, we believe it is important to allow the legal process to play out in court before we as a school district make any decisions or take action against any of the individuals involved with this case."
After their guilty verdict was read Sunday morning (Mar 17), the two football players broke down in tears. Malik Richmond, who apparently took the verdict the hardest, struggled to even say a few words.
"My life is over," he said as he collapsed in the arms of his lawyer. "I had no intention to do anything like that … And I'm sorry to put you guys through this," he said, apologizing to the victim and her family.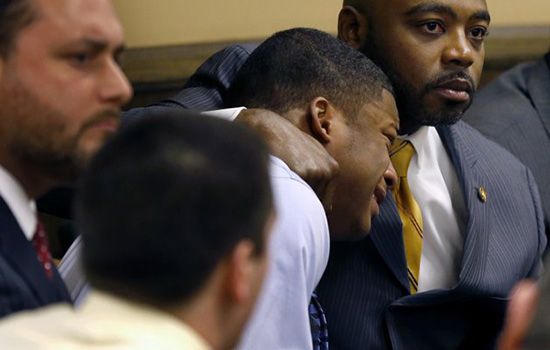 The assault took place last summer, which shocked the city of Ohio, as students actually took out their cellphones to record the attack and gossiped about it online. What brought the case to light was the social media posts, online photos and video.
AP reports that Mays and Richmond were both charged with penetrating the girl with their fingers in the back seat of a moving car after an underage drinking party, and then also in the basement of a house in August 2012.
"They treated her like a toy," prosecutor Marianne Hemmeter said.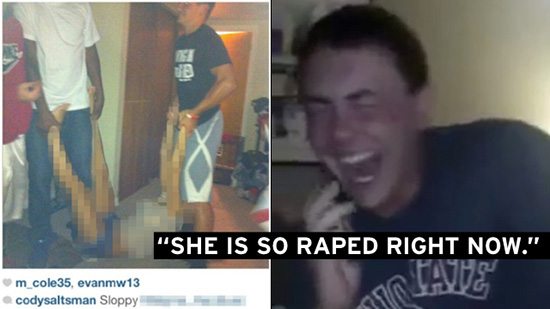 Of course the young girl was so intoxicated, according to prosecutors, that she couldn't consent to sex that night, while the defense argued the girl realized what she was doing and was also known to lie. According to the girl she could not recall what happened, but woke up naked in a strange house after a drinking party.
"It was really scary," she said. "I honestly did not know what to think because I could not remember anything."
This is a familiar case dealing with athletes and "rape victims," one similar to the story that broke a few years ago of four football players from Hofstra University in Hempstead, NY who were facing charges of allegedly raping a girl in one of the dormitory bathrooms after an on campus party.
It was later revealed the girl lied about being raped, and she was very aware of what she was doing, but didn't want to face the reality of her boyfriend finding out about her whoreish act on campus.
Not saying this is the case in this story but its very hard to prove whether or not a girl is completely drunk to the point where she has no knowledge of what she is doing, or if she was aware of her actions but is just too embarrassed to face the fact of everyone knowing what she consented to.
These two high school football players have officially ruined their football careers by this foolish act. Hopefully they've learned a valuable lesson from this mess.
And of course our thoughts and prayers go out to the victim in the situation. No one deserves to go through something like that.
Be the first to receive breaking news alerts and more stories like this by subscribing to our mailing list.