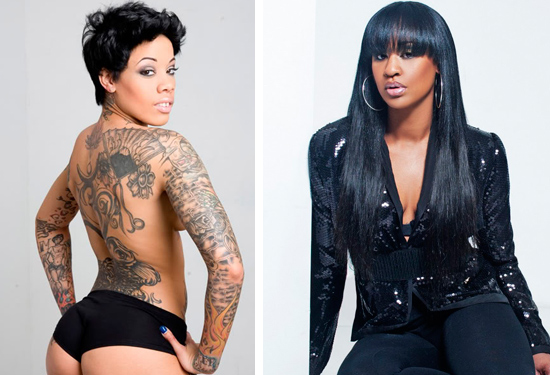 Word on the street is that there'll be some new faces joining the cast of VH1's highly successful "Love & Hip Hop Atlanta" show next season. One face is kind of familiar, since she made appearances during the first season, and the other is a well-known radio personality in the ATL.
According to a report from Rolling Out, Che' Mack and DJ Traci Steele are set to join the show next season.
Mack, who is a protege of Stevie J's, made a brief appearance on the show last season and if you'll recall, Joseline Hernandez was not here for Che's horse teeth and body full of graffiti.
So we can probably expect the tension between Joseline and Che' to reach a boiling point early on in the new season.
You know Joseline don't fight fair so Che' better keep her guard up before Ms. Joseline snatches her wig while she sleeps. To be fair, Che' looks like she chews rocks and nails so she'll probably get in a few licks too.
I can't help but wonder if Che' is replacing Karli Redd next season. If that means Benzino will get the boot, I can't be mad at that.
You can follow Che' Mack on Twitter @cheismack.
DJ Traci Steele is a radio personality for Atlanta hip hop station 107.9 FM and Rolling Out reports that she'll be replacing Rasheeda. THANK GOD, because the only thing drier than Rasheeda's story line last season is K. Michelle's wigs.
Steele has worked with Ne-Yo, Jazmine Sullivan and Musiq Soulchild, so she has actual industry connects to bring to the show. Let's see if that gets her somewhere farther along in her career than it has K. Michelle.
You can follow Traci on Twitter @TraciSteele.
What do you think about Love & Hip Hop Atlanta's potential new cast members?
Be the first to receive breaking news alerts and more stories like this by subscribing to our mailing list.