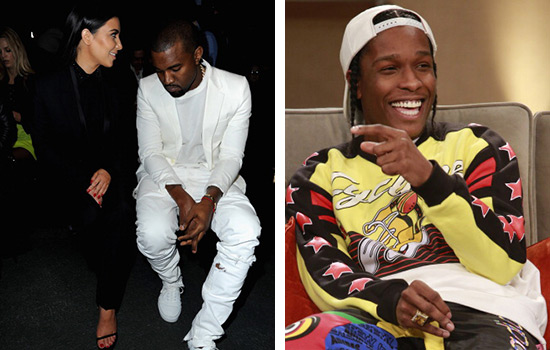 A$AP Rocky, the rapper who says he made braids hot, has a strong opinion about "Kimye." Not the couple though. The name. He hates it.
The Hip Hop newcomer, basking in the success of his latest single "F**kin Problems," A$AP Rocky appears in the pre-spring edition of i-D magazine, dubbed the "Alphabetical issue." Inside, Rocky appears under "H," which according to the subhead, stands for "hello, what's up? big dreams, good music and expensive taste."
Per NY Mag, Rocky said of the nickname 'Kimye' — a hybrid of Kim Kardashian and Kanye (in case you didn't already know that):
"Kimye is the worst shit I've ever heard."
He explained a bit further:
"I don't want to be a part of that. I would prefer to be me and my girl, she does what she does. I don't want to be the 'couple' thing. When they make the names up, that would make me sick. Who thought of that dumb shit anyway? TMZ? … Jayoncé? That is ridiculous."
There is no Mrs. Rocky as of yet, but the rapper does recall falling in love with four girls at the same time in London:
"In London recently I fell in love with four girls at the same time. They said, 'We want to share you today.' I was like, 'Really. Is that what you want?' I'm overly confident so it was an acceptable challenge."

iD: You must have a lot of energy.

I do [laughs]. I'm 24 years old … ! It was fun. I met them at a show, at the after party at some club. All the hip kids were they and there were these beautiful girls. While it was going down … [whispers] the orgy, I was literally sitting there smoking and saying to myself 'This is beautiful.'

iD: What attracted you to these women?

They were bossy.
Be the first to receive breaking news alerts and more stories like this by subscribing to our mailing list.