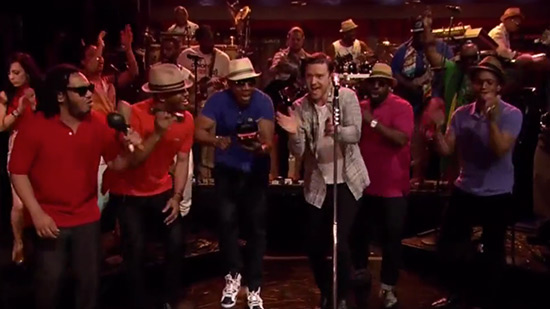 The fun doesn't stop with Justin Timberlake's week-long stint on Jimmy Fallon's late night talk show. The Great Timberlake is appearing in skits and cranking out meaty musical performances as part of his aggressive promotional campaign for his third studio album, The 20/20 Experience.
On Wednesday night (Mar 13), Justin called on the Roots and a whole bunch of brown folks for an African drum playin', Latin inspired hoedown. The song is a new cut from the new album called "Let the Groove Get In." While the song is catchy with its chanty chorus, Justin stretched the performance out into a full-on jam session that felt like it had no beginning, middle or end.
And if it sounds a little like Michael Jackson's "Wanna Be Startin' Something," you're not the only one who's noticed.
Watch Justin's first live performance of "Let the Groove Get In."
While Justin is normally a phenomenal dancer, parts of this felt very awkward. Latin rhythms aren't his thing and the freestyling felt uninspired. He should get a routine together and firm this up a la Beyonce's "End of Time," which has a similarly raw and world music bent to it.
Be the first to receive breaking news alerts and more stories like this by subscribing to our mailing list.