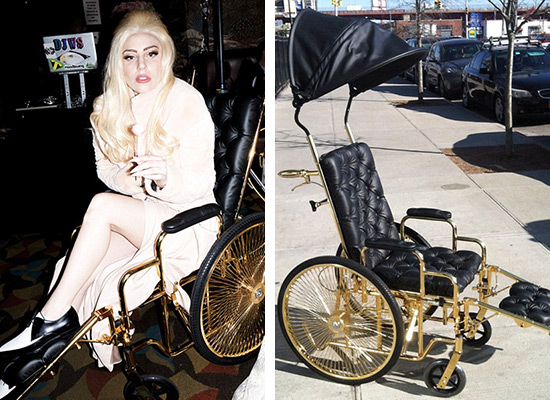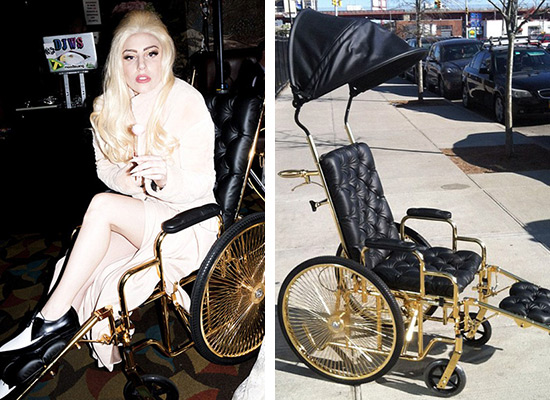 Lady Gaga isn't letting her recent hip surgery put a damper on her fabulously stylish life. The "Bad Romance" singer is reportedly wheeling herself around in a wheelchair that is as over-the-top as she is.
According to The Daily Beast, Gaga is using a 24-karat-gold wheelchair that was designed by Ken Borochov. "It was a huge undertaking," Borochov said. "It was made all over the United States, my assistant had to run around everywhere."
He also noted that "1.5 ounces of gold were plated onto the chair" and that he wanted it "to look like a throne." The chair also comes equipped with a black leather seat and padded leg rest.
The pop sensation underwent hip surgery last month after she began suffering from a condition known synovitis. The injury forced her to cancel several dates of her Born This Way Ball tour.
Following her surgery, the 27-year-old took to her official site to post a message of gratitude for her fans.
"As they wheeled me into surgery today, I thought about all of your pain and perseverance, your unique family situations, school environments, health issues, homelessness, identity struggles – sometimes you are so brave that it terrifies me," she wrote. "So I thought to myself, I'm alive, I'm living my dream, and this is just a bump in the road. I'm grateful because this is temporary, and for some it is not."
It's pretty easy to be grateful when you're rolling around in a wheelchair that probably costs about as much as it would take to feed an entire third world country.
Be the first to receive breaking news alerts and more stories like this by subscribing to our mailing list.