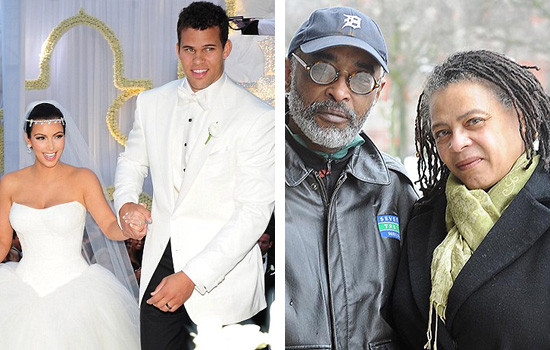 Kris Humphries isn't the only one who wants Kim Kardashian to admit their marriage was a "sham." It sounds like his family is in on the Kim K blame game too!
Kris' aunt and uncle — from Lansing, Michigan — recently opened up about their 28-year-old nephew's failed relationship with the reality star in a new interview with UK newspaper The Sun.
Initially supporting the union, the couple attended the Kris Humphries and Kim Kardashian's big televised wedding back in 2011, but now they are adamant that Kim duped their nephew into getting hitched just to boost ratings for her E! reality shows.
"It was a sham," Kris' Aunt Dedria said of his failed marriage to Kim. "My understanding of marriage is people are going to give it more than 72 days unless there's serious abuse. If I felt somebody had duped me and used me in front of the whole world, I would be very angry. An annulment says it wasn't valid in the first place. She should admit that it was a sham at the very least."
Kris' Uncle Mike echoed his wife sentiments, adding that Kris wants to annul the marriage because he wants revenge. "I can just see him wanting a pound of flesh back. I believe he wants payback," he said.
Aunt Dedria and Uncle Mike were among dozens of Humphries' relatives who reportedly spent a fortune to travel across the U.S. to attend the lavish wedding ceremony in Santa Barbara, California. But Dedria says she and her husband — who don't own a television and barely knew who Kim was when Kris announced he was going to marry her — had their reservations from the beginning.
"I had no idea who this woman was at first — I had to ask my hairdresser," Dedria said of Kardashian. "She is impeccably groomed but it is a facade."
Kris' Uncle Mike blasted Kim's mom Kris Jenner as the "wicked mastermind," saying specifically of Jenner: "She's the mastermind. You can just see that's the brains making that thing go. The wicked part is she's using her family to make that thing. All of it's really due to her."
Uncle Mike also warned Kim Kardashian's newest conquest — rapper Kanye West — to get out while he can, but that might be a bit too late, as Kim is now five months pregnant with his child. "He's a chump getting mixed up with her," Uncle Mike said of West.
As TMZ previously reported last month, Kim Karadhian and Kris Humphries' divorce trial will commence on May 6th, which is when Humphries will formally make his request that his marriage with Kardashian be annulled on the grounds of fraud.
Kim has made it known that she would like to be officially divorced by the time she gives birth to her first child in July.
Be the first to receive breaking news alerts and more stories like this by subscribing to our mailing list.