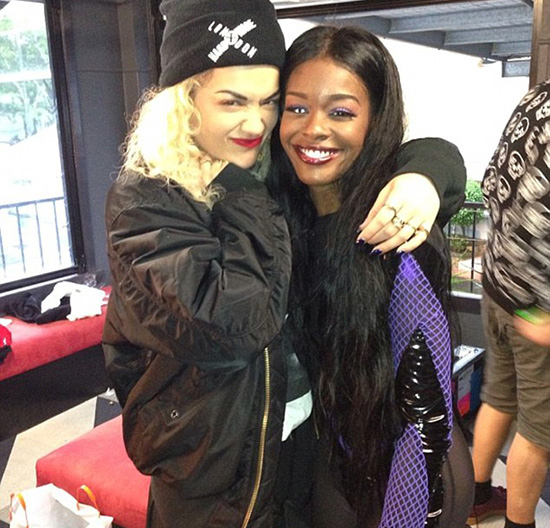 Mirror, mirror on the wall, who's the maddest black chick of them all? Why you are, Azealia Banks; you bitter, nutty, nasty, old witch!
The young, chocolate-skinned Harlem rapper started out with such promise when she dropped her hipster-approved single "212" back in 2012. But she's spent the bulk of the time since her breakout hit wasting time on beefs with Lil' Kim, Angel Haze, Iggy Azalea, and T.I., just to name a few.
And now her latest target is none other than Rita Ora — the fresh-faced Bosnian-born, London-bred pop star who Jay-Z was grooming a year or so ago.
The two are both on tour overseas in Australia for the Future Music Festival and they started out quite chummy with one another.
But before you could say, "Hey, liquorice bitch," Azealia turned on the pop star accusing her of "trying it" the whole tour.
Lol Rita Ora is so thirsty. She climbed over the wall of my dancers dressing room to snap photos

— YUNG RAPUNXEL (@AZEALIABANKS) March 10, 2013
She's been TRYING IT on this tour man…..

— YUNG RAPUNXEL (@AZEALIABANKS) March 10, 2013
She's mad she's Rihanna's understudy.

— YUNG RAPUNXEL (@AZEALIABANKS) March 10, 2013
As if blasting the chick on Twitter wasn't bad enough, Azealia then exposed the text messages that Rita sent her after the beef went to the tweets trying to get to the bottom of Azealia's anger.
Unfortunately, Rita didn't realize she was dealing a petty gremlin who doesn't have any fucks to give about anyone or anything.
So of course Azealia posted Rita's text messages on Twitter too.
Shut up Rita Oral. @ritaora instagr.am/p/WsjW-0n1Uz/

— YUNG RAPUNXEL (@AZEALIABANKS) March 10, 2013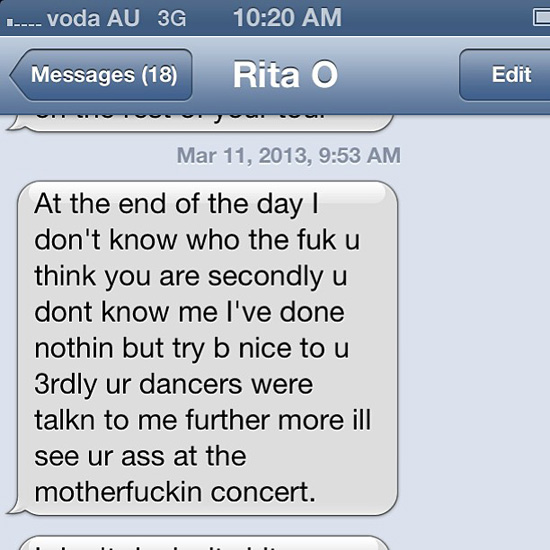 Yeah. So far, Rita has remained mum on her Twitter account, but Azealia Banks has once again proven that there isn't a female in the music industry that she won't scrap with.
At this point, Azealia is an animal that probably would be better off behind bars in a caged zoo.
Be the first to receive breaking news alerts and more stories like this by subscribing to our mailing list.