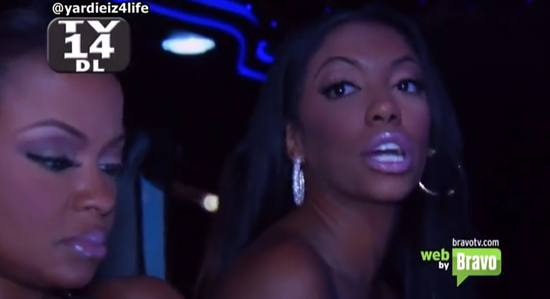 Is there anything worse in the world than taking a humorless, uptight, prudish bitch on a trip to Vegas? Perhaps, but it's hard to think of anything that tops Porsha's god-awful sourpuss antics on the "Real Housewives of Altanta" girls' trip to Vegas.
Everyone knows that the brown girls of RHOA are a bunch of freak-nasty bitches. NeNe Leakes is an ex-stripper, Phaedra represents a male stripper that can suck his own penis, and Kandi sells vibrators for a living and walks around with kegel balls stuffed up her vagina.
This scandalous behavior has been broadcast on television for the past 5 years. So why Porsha expected that the girls would go to Vegas without hitting up a strip club is beyond me.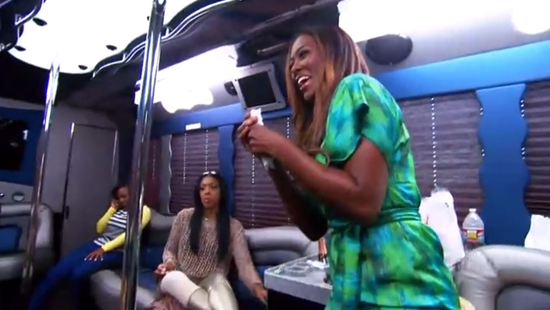 After enduring a grueling road trip from L.A. to Vegas (traffic was apparently hellish), the girls immediately head out to Crazy Horse for a wild night on the town. The girls are dolled up and ready for a good time, but while they're riding in the party bus, Porsha realizes that the Crazy Horse is actually a strip club, and not a burlesque show.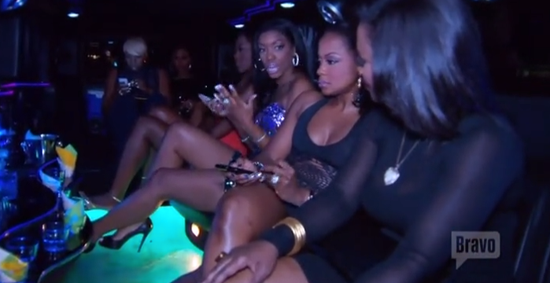 Suddenly, she panics and tells the girls that she won't be joining them for the evening because her husband wouldn't like it.
Didn't we ditch Kim Zolciak's stick-in-the-mud ass for Porsha to avoid this bullshit?
After Porsha gives them good-bye kisses, the women spend the rest of the night shaking their heads at Kordell's controlling behavior and Porsha's feeble mind.
"Chile, he wouldn't 'let' her go?" NeNe kept asking.
Even Phaedra, who's been running with Porsha tucked under her bosom since she and Kenya fell out, was speechless at the young kept woman's slavish behavior. For all the talk about Kim's assistant Sweetie cow-towing to Kim, she ain't got nothing on Miss Porsha.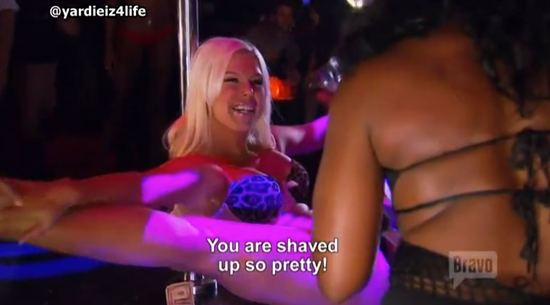 After spending the whole night making it rain on the hoes at Crazy Horse (Phaedra in particular was really into the strippers), the girls spend the next night in with Kandi throwing a Bedroom Kandi event for the girls.
Once again, Porsha can't help but act all frigid and puritan-like when Kandi challenges the girls to sensually suck and eat a chocolate and whipped cream-covered strawberry.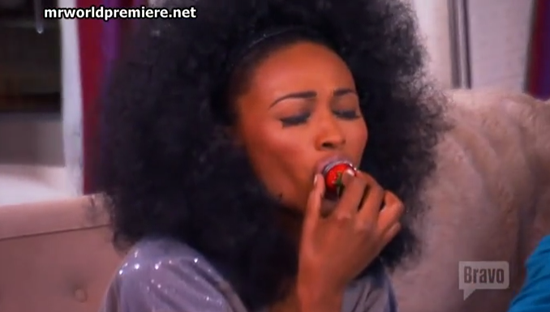 Cynthia wraps her plump lips around the berry and sucks like a porno star. Phaedra does the most, as expected, and Porsha … Well she acts like she's never held one in her hand before and quickly bites the berry just to get the whole thing over with.
Seriously, there are beanbags with more personality than this chick.
As NeNe grows more exasperated with Porsha's sister act, the focus shifts to the unresolved issues between Kenya and Phaedra.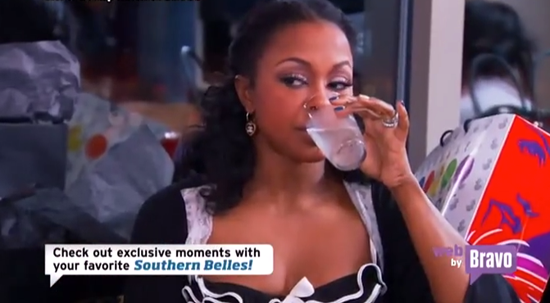 When Kandi asks the girls to write an anonymous note about love and relationships, Kenya takes the opportunity to ask (anonymously) how people should deal with friends who betray them.
NeNe says that you should confront your friend about the issue and that's when Phaedra and Kenya get to talking. Kenya must've had this moment played out in her head cause ol' girl gave a monologue and punctuated that shit.
"You cut.me.to.the.white.meat, Phaedra!" Kenya cried out.
Who says she can't act again? Phaedra was pretty much unfazed though and she just retorted, "You did me wrong too."
Whoop dee doo. In the end, Kenya and Phaedra's friendship seems irretrievably broken and the women at least have the good sense to recognize that there won't be a breakthrough tonight and move on.
Of course, it's not over until the reunion episode has been shot, so don't think this is the end of the Stallion and Donkey Booty Wars.
Be the first to receive breaking news alerts and more stories like this by subscribing to our mailing list.