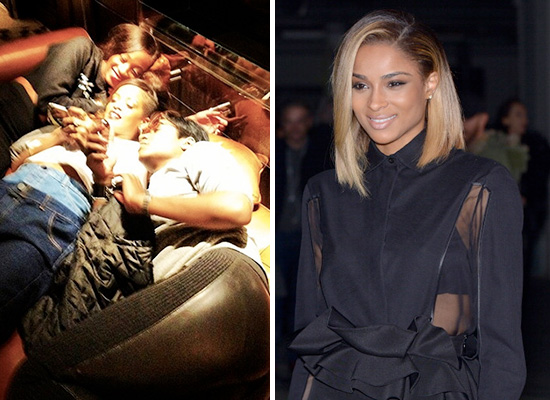 In a recent interview with Chicago radio station 107.5 WGCI, Ciara responded to Rihanna and her BFF Melissa Forde throwing shade on her new "Body Party" single and the "bathroom acapella version" she uploaded to YouTube.
Earlier this week, Ciara posted a video to YouTube of her singing an acapella version of her new single "Body Party," and out of nowhere, Rihanna's BFF Melissa Forde appeared to mock the clip with a photo of them having a "viewing party" for the song, accompanied by the following tweet:
#BodyParty (bathroom acapella version) #London ????? instagr.am/p/Wdav-WqyWi/

— Melissa Forde (@mforde11) March 5, 2013
At the time Ciara responded with a tweet saying, "Don't have time 4 the silliness. Grow Up and Do Something Positive with ya selves for once. God Bless," but she elaborated a bit further with WGCI's "Tony Sculfield and the Morning Riot," and told the radio hosts that she thought everything was cool with Rihanna, until she went and dissed her on Twitter and Instagram.
"I thought everything was cool because I actually saw Rihanna two years ago at the Met Gala after we had the little small back and forth, and from what I recall everything was cool," she said.
She continued, "So, in my mind I operate from a place of love and pure support. If you would have asked me about her up until this point I would have nothing but good things to say because I'm really happy for her. But I didn't receive what they did from a positive place."
In addition to her beef with Rihanna, Ciara also talked about her upcoming appearance on BET's "The Game" and responded to old rumors of KFC selling her 2009 album "Fantasy Ride" along with the purchase of a meal. Long story short, they didn't; and where the hell do stories like that come from, anyway?
LISTEN TO CIARA'S FULL INTERVIEW WITH CHICAGO'S WGCI HERE:
Be the first to receive breaking news alerts and more stories like this by subscribing to our mailing list.