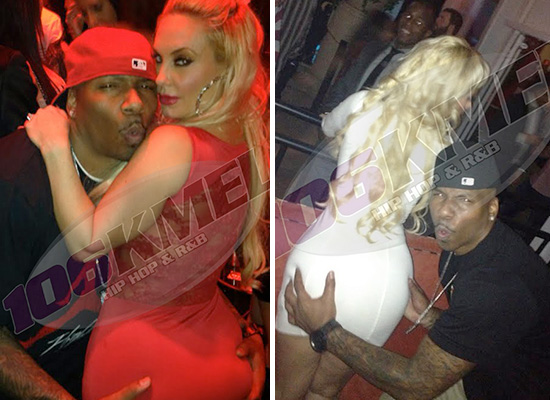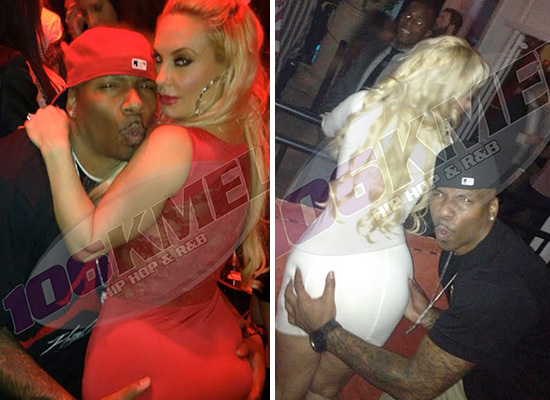 Back in December, Coco pissed her husband Ice-T off when some questionable pictures popped up of her posing "suggestively" with a self-proclaimed rapper from Oakland, California napped AP.9.
In a Twitter rant, Ice expressed his outrage over the "bad taste" of the photos and said that he felt "disrespected" by his wife, who apologized and insisted that it wasn't what it looked like, and the pictures, though in poor taste, were sincerely innocent.
But AP.9 insists that the photos were far from innocent. In fact, according to his side of the story, he and Coco had a prolonged sexual affair in Las Vegas, where Austin was starring in a burlesque show, and to further bolster his claims, AP.9 has released text messages and pictures from his phone.
In a recent interview with San Francisco radio station KMEL, AP.9 said that Coco had already confessed to Ice T, and that he and Ice had spoken about the situation at length, according to our friends over at Rhymes with Snitch.
AP also gave the station access to a number of never-before-seen cell phone images of him and Coco, as well as a screenshot of a screenshot of a supposed conversation AP.9 had with Ice T about the matter. In the message to Ice, AP writes, "Respect bro! I'm not trying to f*ck up your relationship bro."
Uhh … too late.
AP went on, "but I am gonna clear my name from lookin like a stalker and some male groupie cause that's what I look like right now!!"
Asked why he's putting his affair with Coco on blast like that, AP said because Coco tried to humiliate him by trying to make it seem like he was a fan or "groupie" that followed her around Vegas, where she was performing burlesque shows.
The radio hosts also asked AP.9 to rate Coco's sex game, and he said that "It was just aight" before he passed around his cell phone to prove to everyone that he definitely hit that.
CHECK OUT THE PICS BELOW:
As you'll recall, earlier this week, we reported that reps for Ice-T and Coco said that the couple were doing "totally fine" and weren't filing for divorce, contrary to recent rumors that suggested otherwise.
The rep specifically said, "Ice and Coco are doing totally fine. Those [divorce] papers are fake. They are not addressing rumors or the photos (her posing with that rapper) and are moving forward happily."
Sure. We'll see about that.
Be the first to receive breaking news alerts and more stories like this by subscribing to our mailing list.