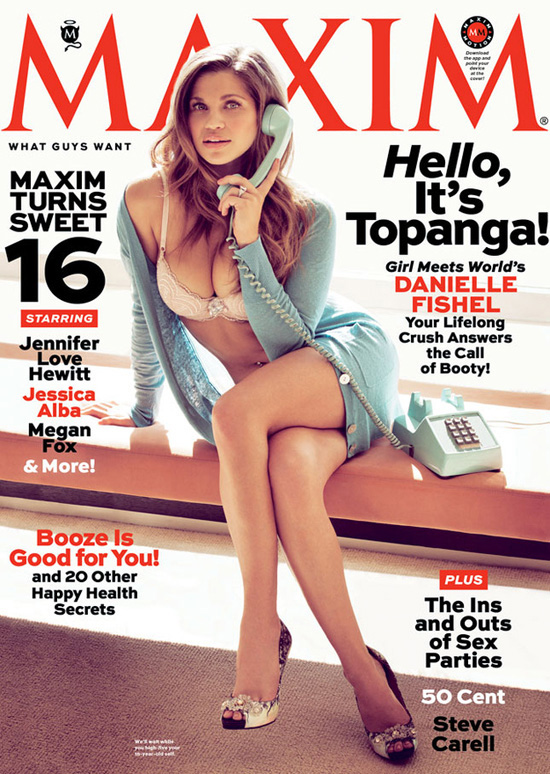 Remember Topanga from "Boy Meets World?" Well, she's not a little girl anymore. Topanga (aka Danielle Fishel) dun' growed up! And she's featured on the cover of the new issue of Maxim Magazine, where she talks about everything from the origins of her weird TV name, whether or not she really dated actor Ben Savage (who played Corey), what it was like being a part of the iconic TGIF era and more.
Ben Savage & Danielle Fishel (aka Cory & Topanga) Sign On For "Girl Meets World" Sequel to "Boy Meets World"
Check out some excerpts from Danielle Fishel's Maxim interview below:
Where the heck did the name Topanga come from?
Michael Jacobs, who created Boy Meets World, says he was driving down the highway when production called and said, "We need a name for this character!" He happened to be driving past Topanga Canyon, so he said, "Topanga." He says that if they had called him two miles later, I would've been named Canoga, which is the next exit.

Have you ever met anyone named Topanga?
I've met five little girls named Topanga, all after me, and I've heard about many more. People will tweet me, and I've had family members who have met other Topangas. It's crazy and it's flattering, but I never know what to say when they're showing me their beautiful little girls. I'm like, "Really? Topanga!?"

Why do you think so many people feel an attachment to Boy Meets World?
We were in people's family rooms every Friday for seven years. When I watch old episodes, it's like watching home movies, so I imagine that other people feel the same way. ABC's TGIF lineup was probably the one time a week when parents and kids all watched TV together.

Did you party with the rest of the TGIF crew, like Urkel or the Olsen twins?
One time we were all on a private jet going to Disney World, and my mom, dad, and brother were also with me. We had these four seats facing each other with curtains, so we had our own little private family area. Anyway, we were trying to take a nap, and all of a sudden Bob Saget walks down the aisle, rips open our curtain, and shouts, "Do you guys have any coke?!" Then he looks my dad in the eye, laughs, and closes the curtain. My mom was like, "What was that all about?"

Did you ever meet the kids from Saved By the Bell and throw down with Kelly Kapowski for the title of "Hottest '90s Girl"?
No, I don't think I ever met Tiffani Thiessen! But I can tell you Kelly Kapowski was my first-ever girl crush. I re­member watching her and thinking, Nobody in the world could possibly be as beautiful as she is. She's still stunning.

We hear you recently had dinner with your former costars Ben Savage and Rider Strong.
And Will Friedle, who played Cory's brother, Eric! We went to Rider's house for dinner, and it was one of the more fun evenings I've had in my whole life. With the news of Girl Meets World coming out, we were kind of like, well, let's actually have a reunion.

Did you do it at a house because the four of you didn't want to appear together in public?
Yeah, we figured that would probably stop the world.

You and Ben used to date, right?
No! That rumor was entirely my fault because I once said, on The Tyra Banks Show, that Ben and I went on a date, and that turned into "Danielle and Ben dated." We went on one date, when I was about 15, and by the time the dinner was over we realized mutually that we were more like family than lovers.

So is there any BMW gossip you can spill?
I wish we had some really good, juicy stories! Maybe some of the guys do, but being the only girl, I think I was a little protected.

Is it true you're engaged?
Yes, we met four years ago and got engaged last May. When he did it I dropped down to my knees and cried.

Congrats! What's the first thing you notice in a guy?
What I noticed first about my fiancé was a Mortal Kombat tattoo on his calf. I'm not a huge tattoo person, but I loved it. I actually have two of my own, which I would get laser-removed but I'm afraid that they'll look weird.

Where are they?
I have one on the back of my neck, and I have a tramp stamp.

You also just graduated from college. Did people recognize you on campus?
Yeah, there was staring and whispering. I even had teachers who called me Topanga in class by mistake! But toward the end of my time there, people got up the nerve to ask for a picture with me.

Did you hang out at any frat parties?
I didn't. You know, being 31, that's just something in my life that is totally done. I went to college parties when I was at an appropriate age to go to college parties.

Finally, what would people be shocked to know about Topanga?
I'm huge into '90s rap. It's my jam. My all-time favorite album is Snoop Dogg's Doggy­style. And if you ever really want to see me embarrass my­self, put on some Notorious B.I.G. and watch me grab my crotch and mouth all the words. It's really embarrassing, but I can't help myself.
And now for more sexy photos from the shoot!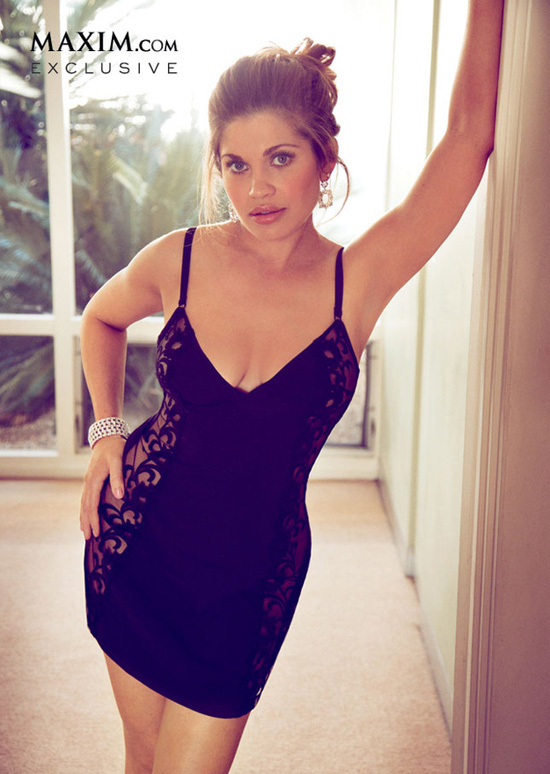 VA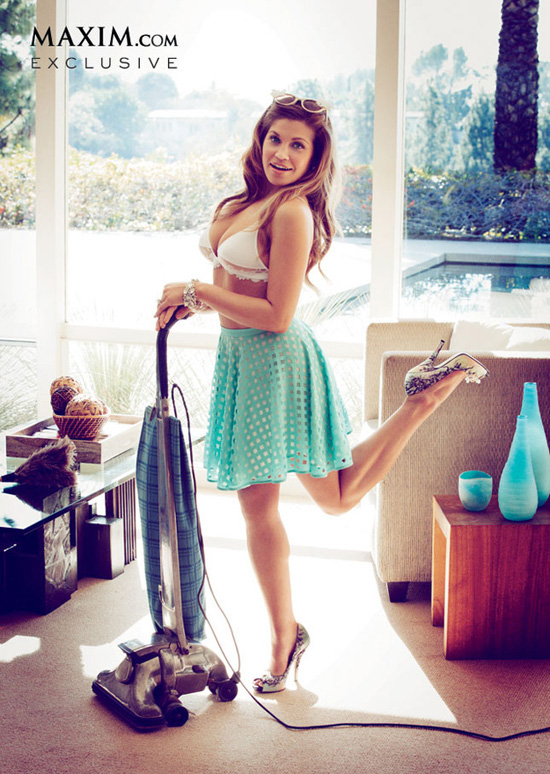 VA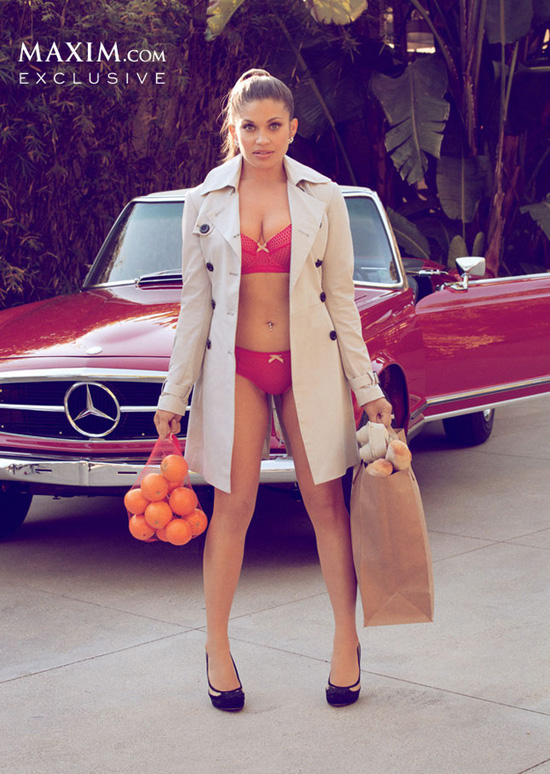 VOOOOOOM!
[Maxim]
Be the first to receive breaking news alerts and more stories like this by subscribing to our mailing list.