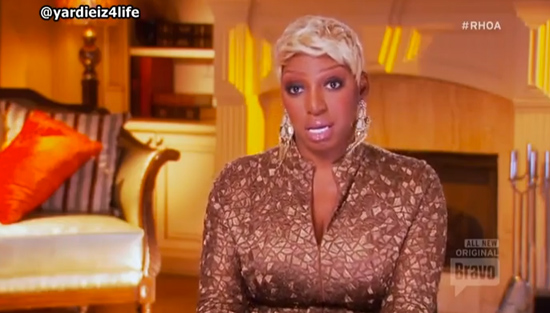 Pity the poor, loyal dedicated fans of Real Housewives of Atlanta, because they're not getting the show they deserve. Thanks to the semi-success NeNe has achieved in her so-called acting career, we're all forced to sit through this show within a show, which finds us tagging along as NeNe attempts to make it as a real-life Hollywood actress.
While NeNe Leakes has definitely come a long way from being the simple, foreclosed on, ex-stripper that she was when she first started RHOA, she's getting a bit big for her britches.
Yeah, she's in good with one Hollywood creative, Ryan Murphy. And yes, she was cast as a character in his series "The New Normal". But guess what? Word on the street is that show's about to be cancelled.
So what happens when NeNe Leakes' so-called acting career dries up after one season? Back to Atlanta she goes, folks.
She of course suspected that her Hollywood career would be short-lived, which is why she hedged her bets and kept one toe in the water with RHOA and the other in Hollywood.
A real actress with real prospects would've ditched the reality cameras and never looked back. But hey, even if "Normal" is cancelled, NeNe can be proud that her acting career went a lot further than Tiffany "New York" Pollard of "Flavor of Love" fame.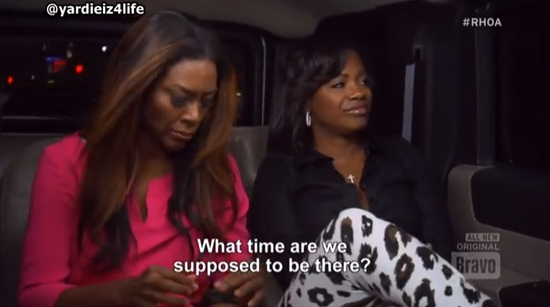 These Bitches Are Really Tardy for the Party
Anyway, back to this wack ass trip. The girls make the trek out to L.A. to visit NeNe Leakes and soak in some of the California sun.
Unfortunately, jet setting from the East Coast to the West Coast can be exhausting as the girls found out. And it didn't help matters that the house NeNe rented for them was perched on a precarious hill skinny, windy roads that their stretch Hummer couldn't navigate.
What kind of bootleg shit is this? Is this the first time that butch lesbian driver has dropped clients off in the area? If she's a professional driver, why didn't she have a back-up plan? Why wasn't she the one on the phone making arrangements for her customers?
Cynthia sends up the Bat signal and NeNe answers saying she's on her way to the rescue. Homegirl pulls up in her SUV, while Kenya and Cynthia try to convince the driver to let Kenya try to get the Hummer up the turbulent trek. The driver, however, was lazy, not stupid, so she wasn't having it.
After NeNe arrived on the scene, she scooped the girls up and showed them their dazzling vacation home, which she rented for them.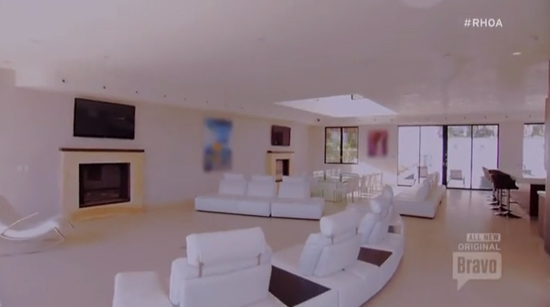 Now we'll say this: NeNe's is definitely a rich bitch for hooking her girlfriends up with this pad. When we say this shit was exquisite, you best believe it was putting some of these celebrities so-called cribs to shame.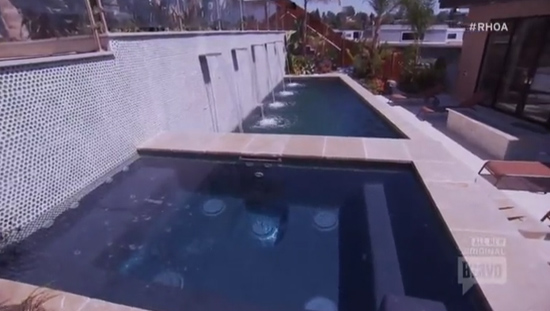 We know that Phaedra was not trying to go back to her basic-ass existence after spending a few nights in that glorious residence.
But right after NeNe showed the girls around, she commanded them to stop by her house at 9 for dinner. The girls mildly protested, pointing out that they'd just arrived from a tiresome trip and would really appreciate some rest. But NeNe wasn't having it.
Next thing you know, the camera fast forwards to the girls in their stretch Hummer and the clock says 11:40 pm. Cynthia is on the phone trying to negotiate their entrance to NeNe's party but she's too hot too handle.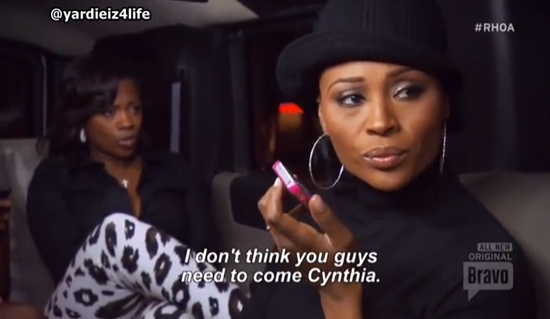 "Well, I don't think you guys need to come, Cynthia. Just keep it moving," NeNe said to Cynthia on the phone when she checked in to let her know they were on their way.
HOT DAMN.
Now truth be told, the girls were VERY tardy for the party. The event, which NeNe hired caterers and wait staff for, was supposed to begin at 9 pm. The girls didn't arrive at NeNe's place until nearly midnight. Not calling until after 11 pm was very rude and inconsiderate, but so is treating your guests in the brusque manner that NeNe did.
No matter what, a host should be gracious to her guests. If the girls were late, she can politely scold, but the right thing to do would've been to invite them in and offer them some food or at least some tea and biscuits. If they missed out on the catering service, then so be it. But you don't turn friends away with an empty stomach.
NeNe Leakes, however, is a honey badger: She don't give no fucks. So she clocked the girls without hesitation as they marched up the driveway up to her house. She looked Big Bird after he heard that Romney speech about how he wanted to cut funds to PBS.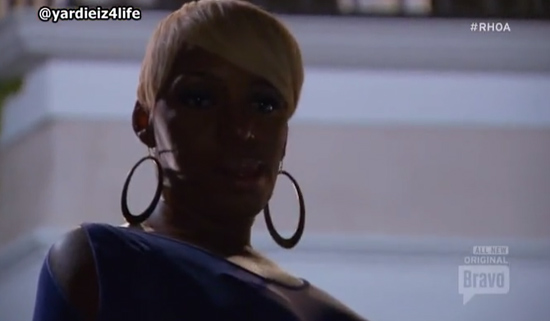 But NeNe wasn't the only one who was pissed. Kandi was mad about going home hungry. Ol' girl got her back raised up about not even being able to get a plate of food. (Bitch, is you hongray?) Once she realized the good eats weren't coming her way, Kandi was ready to hit up Fatburger for some good, greasy fast food. So much for that diet and workout plan.
In the end, this whole clash was more about NeNe establishing her dominance over the other girls than it was about manners. Cause everyone knows NeNe is always as rude as all get out. Besides, she showed up an hour late for their improv session the next day so clearly ol' girl is no Punctual Patty her damn self.
Be the first to receive breaking news alerts and more stories like this by subscribing to our mailing list.