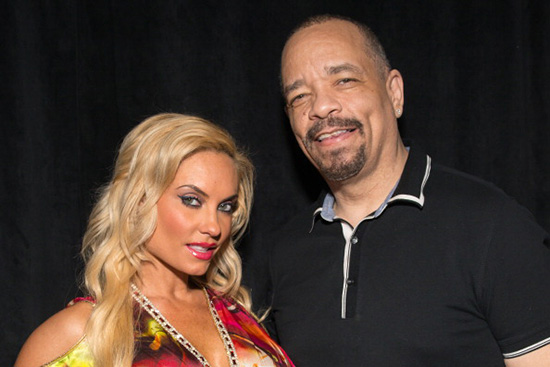 Worried about Ice-T and Coco's relationship in the wake of rumors that they are headed for divorce? Well don't, because according to Coco's rep, "Ice and Coco are doing totally fine."
Reports hit the Internet last week that Ice and Coco were headed for divorce in the wake of an alleged affair between Coco and that AP.9 rapper guy she was seen in photos with last December, but a rep for Coco told E! News:
"Ice and Coco are doing totally fine. Those [divorce] papers are fake. They are not addressing rumors or the photos (her posing with that rapper) and are moving forward happily."
In December, a series of photos showing Coco posing suggestively with a self-proclaimed Oakland rapper named AP.9 hit the Internet, sparking a huge public controversy between Ice-T and Coco.
The 54-year-old rapper turned actor unleashed a Twitter rant, expressing his outrage at the "bad taste" of the photos and saying that he felt "disrespected" by his wife.
"Don't get it twisted… I'm not happy about this shit," Ice-T wrote on Twitter. "Coco's in Vegas. She has given me her explanation of the pics on the net from her first weeks out there with some dude."
Coco released her own response to the situation on Twitter apologizing to her husband and publicly admitting that she was in the wrong for posing with AP.9 in the photos, but she maintained that they never did anything, and the photos "were the only thing that happened," which only seemed to make the situation worse.
Instead of letting the issue go, AP.9 went to Star Magazine and told the tabloid that he and Coco had an affair in Las Vegas, where Austin was starring in a burlesque show. He said the pair had met at a bar before, and Coco asked him to take her back to his hotel room.
"I first met Coco at Surrender nightclub in Las Vegas," he said. "She invited me back to her table; I had a couple of drinks; we exchanged numbers. I could tell we had a physical attraction."
"She asked me, 'What are you doing after the club?' I said, 'I'm probably just going to get a room and stay right here.' She said, 'Well, I'm going with you," AP.9 added. "We had sex. I don't know who made the first move. It wasn't making love; it was just sex."
AP.9 said that Austin "threw him under the bus" after the photos were released by saying that he was simply a "fan" that was following her.
"She did an interview and said, 'Oh, he was a superfan, everywhere I went he showed up and ran up to me talking pictures," he said. "She threw me under the bus like I was some groupie stalking her."
Fueling the flames even more were AP.9's claims that he had nude photos of Coco, and that they had unprotected sex. "I really hope she isn't pregnant!" he said.
AP.9 went on to claim that he had a phone conversation with Ice-T, and the "Law & Order: SVU" start demanded to know everything that had went on between them.
"He called me and said, 'My wife wouldn't f— with you. You need to tell the truth because my wife wouldn't do that.' So I told Ice-T: 'You want the truth? OK. Me and your wife had sex!'" AP.9 said. "Everyone is looking at me like I'm the bad guy. I don't have a reason to lie. But she has a reason to lie. She's the one who's married."
Coco later addressed the scandal in an interview with Daily Mail and insisted that her marriage with Ice-T was fine.
When asked about the photos, Coco said, "Do I want to set the record straight? No, because that's old news. And those pictures [with Moose Diesel] are old too.
"People are going to think what they think, and there's nothing I can do about it. But people were also saying my booty was fake too no matter what I said or did, so there's nothing I can do about that either."
She added, "Ice and I just live our own lives," Austin said. "I have to answer to him, and he has to answer to me, and that's it. We don't care about the outside world, and, even though it can be harsh out there, we just have to deal with it."
Further proving all is well with Ice and Coco is this photo (below) the latter shared on her WhoSay account in February with the caption: "With my birthday boy on his special day.. #LOVE"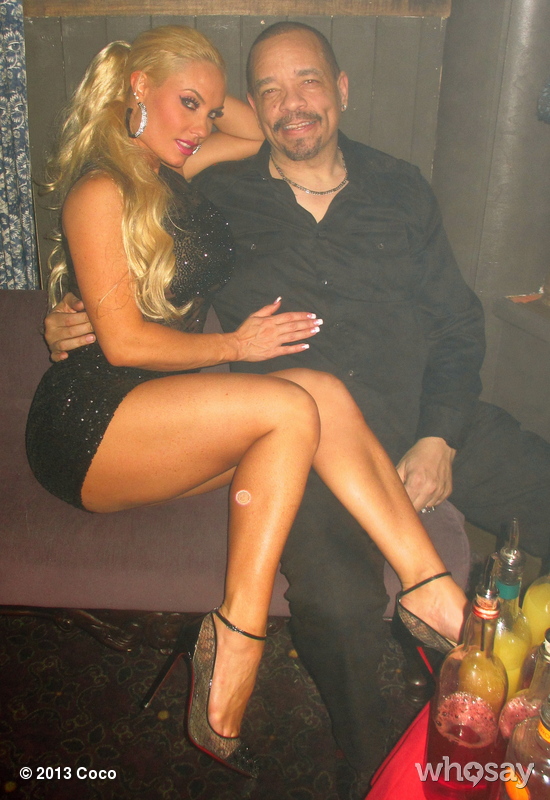 Be the first to receive breaking news alerts and more stories like this by subscribing to our mailing list.