For Chris Brown and Rihanna fans that also tune into "Law & Order SVU," last night's episode was an odd mix of Déjà vu and "That's So Raven."
Last night's episode featured (SPOILER ALERT!!!) fictional hip hop/pop star couple Caleb Bryant and Micha Green. The two were as popular as musicians can seemingly get.
One night while in the studio recording a duet, the couple finds themselves under the microscope after Caleb got violent with Micha. Soon after the police have arrested Caleb, pictures of Micha's battered face are splashed across the news and even a tabloid magazine cover.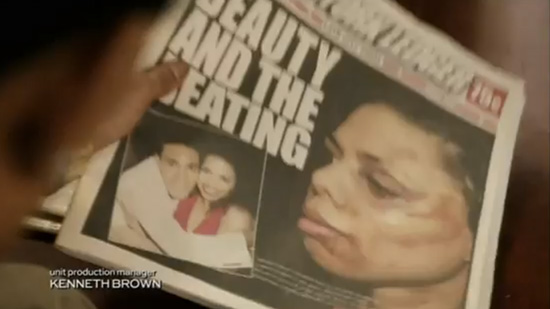 I'm sure there are a lot of feelings from the RiRi and Breezy stans. If I were Chris's publicist, I'd be working overtime on damage control, but I think a lot of people will feel like it's not an outrageous story.
I think this episode kind of says what we all assumed (or have heard) about what has already happened in the case — Rihanna trying to cover up for Chris, them sneaking around against the protective order, Chris not being 100 with what was going down — but then, about two thirds of the way through, it makes a right hand turn away from reality and begins to tell the story of what many likely speculate is a possible ending to the story.
WATCH THE FULL EPISODE HERE:
Caleb shows up at a release party for their new song together, in clear violation of Micha's court ordered protective order. When the detective on the case (Ice T, no less) learn that he's in attendance at the event, they swarm the party. By the time they arrive, Micha's mentor is lying on the ground shot dead, and just feet away Micha lies unconscious.
Soon after the altercation, police eventually get the truth out of Micha, that Caleb was not only in attendance, but fired the fatal shot to Brass, her "industry father."
After Micha takes the stand and lies about her confession to police the night before, she and Caleb escape on vacation, but not before tweeting pictures of them on the beach, almost as if to taunt the police. When authorities see there's nothing they can do, they imply that their hands are tied until "…the inevitable" happens.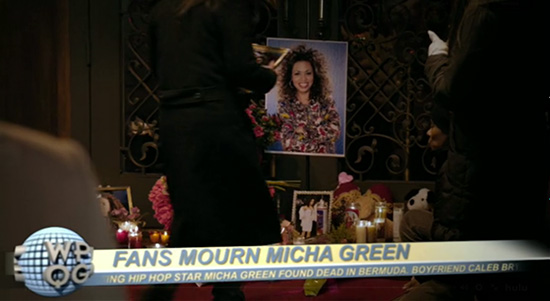 When Micha unwittingly triggers Caleb's rage … cut to Micha's funeral. Well damn. (No really, you see his angry face coming toward a scared looking Riha…err, Micha, and then the camera cuts right to fans memorializing the singer with flowers and pictures after she's been murdered. No lie. That's exactly how the episode plays out.)
I'm on both sides of the fence with this one. Part of me says it's really inappropriate to take this story that we are all more than aware of beyond the realm of what we've heard, and moves to what we "talk about around our kitchen tables," as the episode's guest star Wendy Williams would say.
The part of me that's not comfortable says that it shines Chris and Rihanna in the most unfavorable of lights and starts the real life discussion's advancement. The part of me that feels like it's fair game says "we're all thinking it," And by "we're all" I mean "I, along with many others."
Listen. Whether we like it or not, Chris Brown and Rihanna are living a hybrid of "The Jacksons: An American Dream," "What's Love Got to Do With It," and a Bobby and Whitney movie that is yet unwritten.
We ALL have an opinion about them. From the initial instance of domestic violence, to all the legal shenanigans that followed, to their seeming recent reunion — whether or not you care, you have an opinion.
But at the end of the day, what we think, what we feel, and all of the other things we create around them to make ourselves feel involved don't matter to them. What Law & Order has done here was what they do best – they got us all talking. And watching. And doing that dunn-dunn sound.
Be the first to receive breaking news alerts and more stories like this by subscribing to our mailing list.