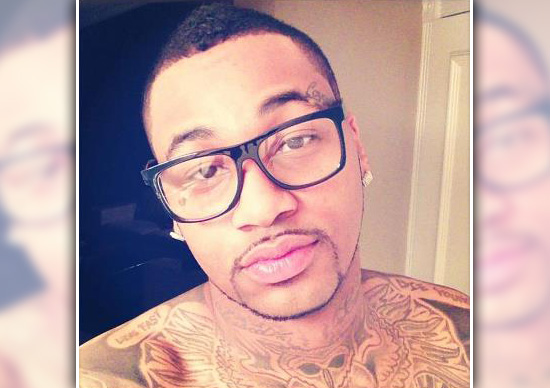 The person police believe to be behind the the Las Vegas shooting and car crash last week that killed rapper and alleged pimp "Kenny Clutch" in his Maserati, along with two other people in a taxi cab that exploded, was identified Saturday as 26-year-old Ammar Harris, who is also an alleged pimp and is still on the run, officials say.
Police have released two photos of Harris. One is a mugshot stemming from previous arrests including kidnapping, sexual assault and soliciting clients for a prostitute (hence the "alleged pimp" title), and the other appears to be a personal image, showing tattoos on his shoulders that read "Live Fast, Die Young," a message he seems to truly aim to live by.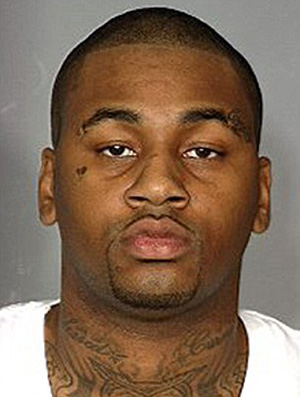 Harris has been named the primary suspect in the February 21st incident that killed three, and a warrant for his arrest has been issued, according to police, who say that Harris is "absolutely armed and dangerous."
Investigators believe a heated verbal altercation between Ammar Harris and Kenny Clutch, whose real name was Kenneth Cherry Jr. that originated in the valet area of a Las Vegas hotel sparked the shootout.
Police said Harris, driving a black Range Rover SUV, fired off several rounds into a Maserati sports car that was being driven by Cherry as the two vehicles sped through the world famous Las Vegas Boulevard.
After being shot, Cherry lost control of his Maserati and slammed into several cars, including a taxi that burst into flames, instantly killing everyone inside — the driver, Michael Boldon, and a female passenger identified as Sandra Sutton-Wasmund of Maple Valley, Washington.
According to witnesses, it looked like the cab had exploded when it was struck by the Maserati. Cherry was transported to a nearby hospital, where he was pronounced dead. A passenger riding in Cherry's Maserati was hit and sustained only a minor injury to his arm.
The Range Rover with blackout windows and distinctive black rims that Harris was driving was located Saturday at an apartment complex just a few blocks down from the Strip. It was impounded as evidence and towed away.
A nationwide search for Harris is currently underway, and police have reportedly reached out to law enforcement agencies all over the country, in case he's left the state.
"The focus is to find him and we will find him," Las Vegas Metropolitan Officer Jose Hernandez told ABC News. "We're leaving nothing unturned."
Police describe Harris as a heavily-tattooed African American male who is 5-foot-11 and 180 pounds, and anyone with any information has been asked to reach out to the Las Vegas Metro Police Department's homicide division using the following number: (702) 828-3321.
Be the first to receive breaking news alerts and more stories like this by subscribing to our mailing list.