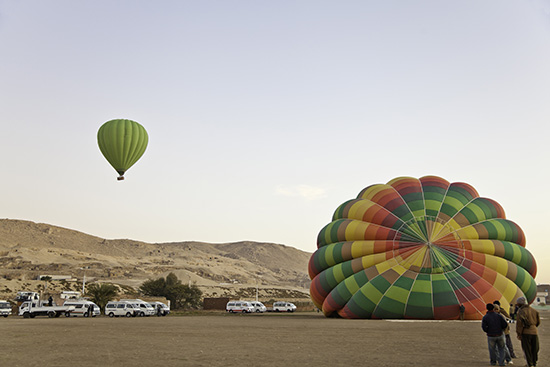 A hot air balloon flying over the ancient Egyptian city of Luxor exploded in the air early Tuesday morning after it collided with an electrical cable, and crashed about 1,000 feet to the ground, leaving 19 tourists dead.
The balloon was said to be carrying an Egyptian pilot and 20 tourists from France, Britain, Belgium, Japan and Hong Kong on a flight over Luxor, Egypt, which is about 300 miles south of Cairo. "The flights provide spectacular views of the ancient Karnak and Luxor temples and the Valley of the Kings, the burial ground of Tutankhamun and other pharaohs," a report from the Associated Press read.
As the balloon tried to land, a cable got wrapped around a helium tube, causing a fire to erupt, investigators said.
The balloon then started to rise rapidly, after a fire set off a gas canister, the balloon immediately plunged towards the ground, crashing into a sugar cane field in a village just west of Luxor.
According to one report from AP, "the terror lasted less than two minutes," and people were seen — on fire — leaping from the balloon to their deaths, including a woman who was visibly pregnant.
"I saw tourists catching fire and they were jumping from the balloon," said farmer Hassan Abdel-Rasoul. "They were trying to flee the fire but it was on their bodies."
Eighteen people were killed instantly as a result of the fiery crash, and three were transported to a hospital, where the 19th person died.
The pilot and the British tourist taken to the hospital were the sole survivors, and are being treated for severe burns, but are expected to make full recoveries. The Briton's wife was traveling with him in the balloon, and was sadly among the nineteen dead.
Officials have called this tragic hot air balloon accident the deadliest on record.
Be the first to receive breaking news alerts and more stories like this by subscribing to our mailing list.