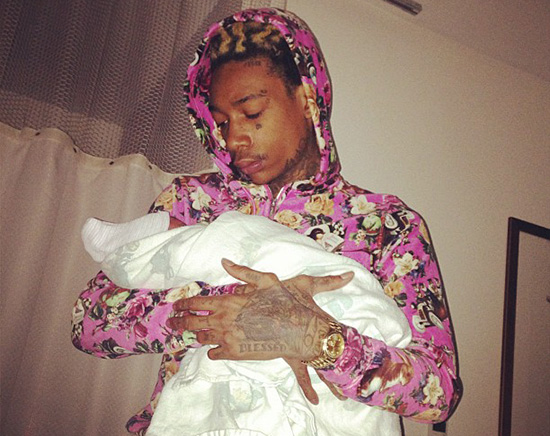 Still reveling over the birth of his son Sebastian "The Bash" Taylor Thomaz … Wiz Khalifa was seen cradling the newborn at the hospital in their first photo together, which Amber Rose shared via her Twitter account early Friday morning (Feb 22) just hours after giving birth.
"Best daddy ever…. Up with the baby so Muva can go back to sleep :-)" she tweeted.
Wiz also thanks everyone for their well wishes, and shared how proud he was of his son 's first poop:
Thanx for all the love guys. Bash took his first poop, had a good meal now he's peacin ?????????

— Wiz Khalifa (@wizkhalifa) February 22, 2013
Earlier, Wiz and Amber had received a number of celebratory tweets from their celebrity friends on Twitter, including Snoop Dogg, Busta Rhymes and Rihanna.
"Congratulations to my fam @mistercap and @muvarosebud!!!" RiRi said on Instagram, referring to the couple's Instagram handles. "Welcome baby Bash! You're born in an exquisite month #babypisces."
Welcome 2 fatherhood mistercap!!! Congrats 2 u n @darealamberrose on ur new son – he got the same Cday as… instagr.am/p/WBOclnv9JY/

— Snoop Dogg (@SnoopDogg) February 22, 2013
Congrats 2 my brother @wizkhalifa & @amberrose on the birth of their new young King. God Bless…

— Busta Rhymes (@BustaRhymes) February 21, 2013