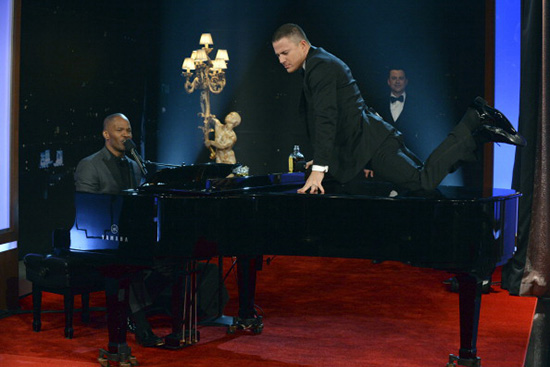 Jamie Foxx and Channing Tatum swung by Jimmy Kimmel's show Sunday night (Feb 24) after the Oscars and hilariousness ensued. The charming pair were on hand to promote their new movie "White House Down," but seemed to put their musical and dancing talents to work more.
Foxx took to the piano to perform a little dirty ditty to his handsome co-star, which made for pure television comedy.
"I just love working with Channing," Foxx said. "You say his name and it feels euphoria. It's like, 'Aloha.' It means hello and goodbye. It's such a great name and it means so many wonderful things."
As Tatum looked on both scared and confused, Foxx proceeded to begin his performance.
"I see a pretty lady across the bar / She smiles at me and gets right in my car," he crooned. "And I know I wanna Channing all over her Tatum!"
Tatum looked on, still scared, asking what was going on and implying that the song was "dirty," but Foxx claimed it wasn't dirty at all — that it "was almost spiritual."
At that point Foxx got Kimmel to join in, but Tatum's point was proven when Kimmel included his mom in the song. However, by the end of the song Tatum was game and jumped on to the piano to show some of his "Magic Mike" moves and later treated the audience to some.
Foxx also discussed the size of his … "member" … when Kimmel asked him about a particular scene in Django Unchained.
WATCH HERE:
Be the first to receive breaking news alerts and more stories like this by subscribing to our mailing list.