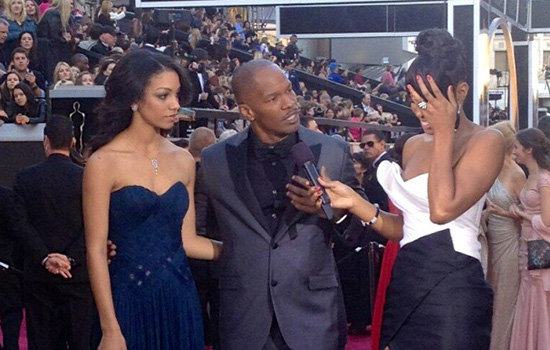 Jamie Foxx has always been known for being a flirt, and Sunday night (Feb 24) at the Oscars, his daughter learned of his lady-loving ways. R&B singer Kelly Rowland was working the red carpet last night at the Oscars when Foxx stopped by for an interview and professed his long-time crush on Rowland.
"When I saw you, first of all, I've always had a crush on you," Foxx told Rowland. "Listen…"
As Foxx's 19-year-old daughter Corrine Bishop, whom he brought as a date to the Oscars, nervously looked on, Rowland tried to play the flirtation off.
"I'm very embarrassed right now, ladies and gentlemen." the Destiny's Child singer interjected. "I'm gonna stop him right now. I know, stop it. I love me some Jamie."
WATCH HERE: