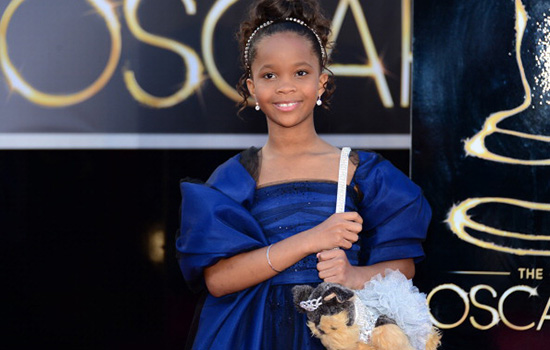 Quvenzhané Wallis is on her way! Fresh off being the youngest nominee for the Academy Award for "Best Actress," Wallis has reportedly been cast as Annie in the upcoming movie of the same name.
"With the recent Academy Award nomination and critical acclaim, Quvenzhané Wallis is a true star and we believe her portrayal as Annie will make her a true worldwide star," Hannah Minghella, president of Production for Columbia Pictures, said in a statement on Sunday (Feb 24). "She is an extraordinary young talent with an amazing range, not only as an actress but as a singer and dancer, and we can't wait for audiences to further discover her."
The role of Annie was originally slated for Willow Smith, but she pulled out of the movie — produced by Jay-Z and her parents Will and Jada Pinkett-Smith — so that she could focus on being a normal 12-year-old girl.
Will Smith said earlier this month at a speaking engagement in his hometown of Philadelphia:
"Willow was supposed to be doing Annie, we got Jay-Z to do the movie, got the studio to come in and Willow had such a difficult time on tour with Whip My Hair and she said, 'You know Daddy, I don't think so' and I said, 'Baby, hold up! I said no,no,no, listen, you'll be in New York with all of your friends and Beyoncé will be there. You will be singing and dancing,' and she looked at me and said, 'Daddy, I have a better idea, how about I just be 12.'"
At nine years old, Quvenzhané Wallis is the youngest Best Actress nominee in Oscar history. She's up for a trophy for her portrayal of Hushpuppy in "Beasts of the Southern Wild."
Be the first to receive breaking news alerts and more stories like this by subscribing to our mailing list.