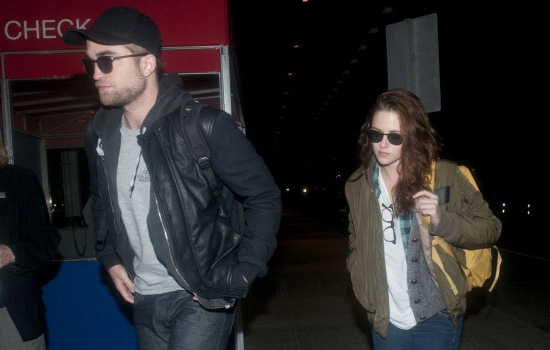 Everyone knows Robert Pattinson and Kristen Stewart got back together last year — after Rob "forgave" Kristen for cheating on him in front of everybody — to fulfill their contractual obligations by promoting the last "Twilight" movie as a couple. So it's no surprise that reports have surfaced that they have broken up again.
Pattinson has been in Australia filming the thriller "The Rover" while Stewart has been at home in L.A. Whispers that the pair have broken up were no doubt sparked by the fact that Stewart, 22, hasn't visited the 26-year-old actor down under.
According to The Sun, the time apart has put a tremendous strain on the relationship. "Their relationship is hanging by a thread," one source told the site, "so she thinks that visiting him in Oz may help them stay together. That said, I think she may be clinging on to something that isn't what she actually thinks it was."
In the past, the two have been adamant about visiting one another on location. For instance, in 2010, Stewart was snapped visiting Pattinson on the set of his period drama "Bel Ami," and Pattinson was later seen in Toronto on the set of Stewart's indie "On the Road."
But despite the fact that the two have been apart for some time in recent weeks, and Stewart has yet to visit Pattinson on the set of "The Rover," OMG! Yahoo, reports that rumors saying that the couple have split are totally false, and their relationship isn't in jeopardy at all.
"He has been working really hard on this movie," one source tells OMG. "He's not out partying, there isn't a trial separation. They are doing just fine."
There you have it Twi-hards. Robsten, who have been named Hollywood's highest grossing on-screen couple, are still very much in love (probably) and are here to stay (for now).
In other news, a clip has been released by Entertainment Tonight, which shows the pair filming steamy scenes for both "Breaking Dawn: Part 1" and "Breaking Dawn: Part 2."
Check it out below!
Be the first to receive breaking news alerts and more stories like this by subscribing to our mailing list.