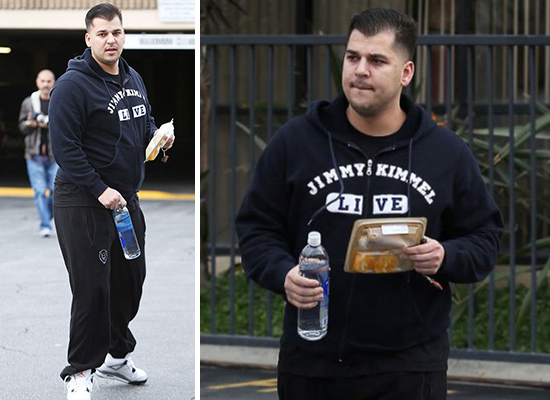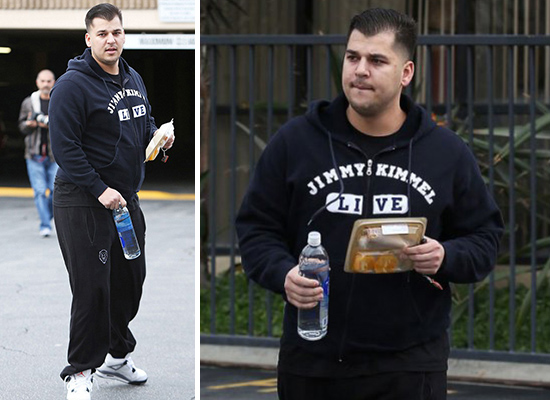 Moooooooovveee over, Kim Kardashian! You might be packing on the lbs. for Kanye's seed, but your weight gain ain't got nothing on your brother, Rob Kardashian, and his 40-pound weight gain.
The only man in the Kardashian clan was spotted stepping out from a family meeting and he looked like somone who's spent one too many nights putting extra guac on his Chipotle burrito.
The formerly svelte Kardashian was trim and healthy as recently as 2011, when he was on a contestant on Dancing with the Stars. But now, he looks more like he's been Dancing with Dunkin' Donuts.
Supposedly Rob has been "depressed" over his breakup with Rita Ora. He blames his volatile relationship with the singer for his binge eating and lack of exercise.
"All I did was waste a lot of money and gain 40 pounds," Rob lamented to his sisters in a recent episode of 'Kourtney & Kim Take Miami.'
Why though? Rita Ora's cute, but she's let's be honest. She's no Rihanna. If you're gonna lose your mind over a woman, it had better be a bad bitch. Not some Eastern European clone that nobody really gives a damn about.
But have no fear, Rob knows it's time to hit the gym.
This is what fat boy now has to eat for breakfast today. So much fun! Lol. Cardio time! instagr.am/p/V-FC5JJx1b/

— Rob Kardashian (@RobKardashian) February 20, 2013
We have no doubt that he'll lose the extra pounds, but damn. He's starting to turn into the male Janet Jackson with all of this yo-yoing with his weight. Get it together, Rob!
Be the first to receive breaking news alerts and more stories like this by subscribing to our mailing list.