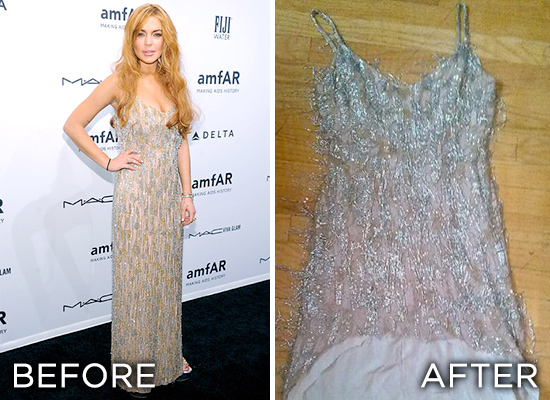 Lindsay Lohan — everyone's favorite Hollywood train wreck. She wrecks cars, she lies, she steals jewelry, she lies, she punches people in the face, she lies, she's been in and out of rehab for drugs and alcohol, and did I mention how much she lies? And now, Lindsay can add "destroyer of expensive gowns" to her list of undesirable qualities.
According to the New York Daily News, the 26-year-old star recently wrecked a $1,700 Theia Couture dress after she wore it to an amfAR charity event. The site reports that Lohan accidentally tore the beaded silver dress while she was partying at a nightclub.
It's nice to know that as the economy continues to plummet into ruin, some of us can still afford to damage expensive things.
"She said the dress ripped by accident and she got scissors from a bouncer at a club to fix it," a source told the NY Daily News. "She said she didn't have a choice in the matter. God only knows what really happened.
"The dress came back shredded, and you just don't do that to people. It's disgusting in the sense that this was a beautiful dress with intricate chains and beading. There was no need to cut the dress," the source added. "She supposedly had another short dress with her in the car."
Celebrity stylist Philip Bloch was responsible for loaning Lohan the dress (on a good word from Lohan's new BFF Charlie Sheen, according to Us Weekly) and from what he told the Daily News, he can't take a hint.
"She's glamorous and a nice girl and knows what looks good on her," Bloch said. "I would definitely work with her again. I would just lay down some ground rules and do my best to make sure it never happens again."
It's difficult to understand why the actress is repeatedly given second chances. Her poor conduct and public follies should have had her blacklisted by now and yet there are stylists and directors who are still willing to work with her.
Lohan's seemingly true nature was revealed last month when an article titled "What Happens When You Put Lindsay Lohan in Your Movie," was published by the New York Times.
The feature illustrates Lohan's inability to conduct herself professionally, her unstable nature, and her unwarranted diva behavior. And how much of a hot ass mess she is, overall. Definitely a must-read!
Be the first to receive breaking news alerts and more stories like this by subscribing to our mailing list.