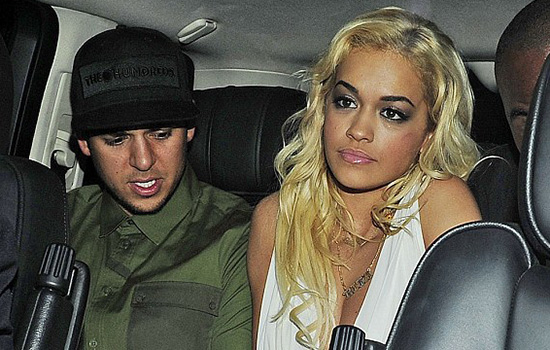 That Kardashian boy is still talking about his failed relationship with Rita Ora. You know, the one that ended with him bashing her on Twitter and claiming that she cheated on him with "nearly 20 dudes." And also, the relationship that Rita Ora probably couldn't have cared less about, based on this quote from her interview with Glamour magazine: "I'm not going out with Rob. We were close for a while, but it didn't work because I was never there… I was like a ghost."
Rob Kardashian had Twitter going crazy a few months ago when he posted a number of tweets accusing Roc Nation singer Rita Ora of cheating on him with nearly two dozen other guys after she dumped him.
Without using Rita's name, Rob tweeted: "She cheated on me with nearly 20 dudes while we were together, I wonder how many she will sleep with now that we apart? But I mean 20?!!!"
He said in subsequent tweets: "How can a woman who is so busy trying to start her own career have time to be with so many dudes all while in a relationship?! I'm actually disgusted a woman could give up her body to more than 20 dudes in less than a year's time while trying to start a career."
It wasn't long before Twitter picked up on the cryptic tweets, and #RitaWhora became a worldwide trending topic. But Rob stood by the fact that he "respects women," never mentioned Rita Ora by name and never called her a "whore" outright.
Now, two months later, Rob is defending his actions and brought up the situation on a recent episode of "Kourtney & Kim Take Miami," according to Us Weekly.
"Rob just got out of a really weird relationship. They were actually together for about a year but Rob was never allowed to admit that they were actually an item," his sister, Khloe Kardashian-Odom, said of his relationship with the 22-year-old British pop star.

"Because she's in the entertainment industry, she wanted to present herself to the world as a single girl." The 28-year-old X Factor co-host added, "I think Rob got really depressed through this relationship."

Despite his sisters urging him to stop bashing the "Radioactive" singer online, Rob defended his actions. "I posted what I posted to keep myself from taking her back. Every time she messed up, I took her back for over a year now," he explained. "I just had to do that to make her hate me."

Kourtney Kardashian worried his actions would make him look like the villain in the relationship. "She's the one who's in the wrong but she'll probably try to make it like you're in the wrong for posting it," she told Rob.

"It's getting so ugly," Kourtney, 33, said in a confessional. "Instead of dealing with it privately, it's just becoming a public matter now."

Rob — who said he gained "40 pounds" while dating Ora — did have at least one concern about his Twitter tirade: "I don't want people to think I'm being a bitch," he admitted.
Too late for that, Rob! Now the whole world knows that you are really a woman on the inside.
Not that anyone can blame the guy, considering he grew up in a house full of women … so he definitely knows how to get into his feelings, but that's no excuse for accusing someone of being a whore just because she only wanted you to be her secret boyfriend, and not her everyone can know boyfriend.
Man up, Rob. Man up!
Be the first to receive breaking news alerts and more stories like this by subscribing to our mailing list.