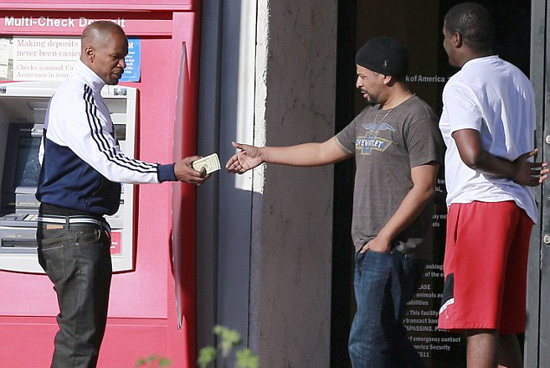 Jamie Foxx was photographed handing over a huge wad of cash to two men in Los Angeles Saturday afternoon (Feb 16) straight from the ATM machine, prompting us to wonder … is Jamie Foxx just giving out free money? And if so, when will he be doing it again so that we can make sure we're around to take part in the festivities???
It isn't exactly clear why the "Django Unchained" star was spotted giving cash money to two random men, so all we can do is speculate. Does he owe some off-camera loan shark a ton of money and he's agreed to pay him back in installments?
Or was he simply paying off an invoice in cash to a couple of handymen? Or was he just in a really good mood that day, saw those two guys and said, "Hey! I'm Jamie Foxx. I'm rich. Would you like some FREE money?" And they were like, "Hell yeah!"
Or did he just buy some really expensive drugs and we just witnessed a big drug transaction, which makes us all accessories to the crime if we don't report it? There are many possibilities for different scenarios.
Why do you think Jamie Foxx was pictured giving people money straight from the ATM machine?
Be the first to receive breaking news alerts and more stories like this by subscribing to our mailing list.