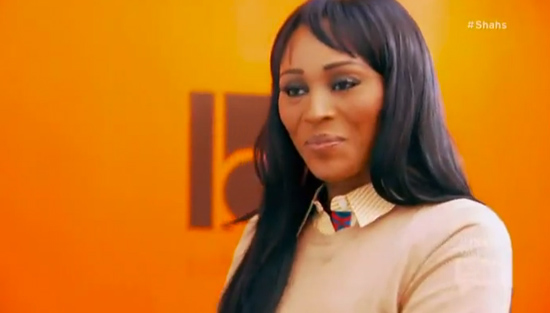 Cynthia Bailey has a dream: To be the head of something successful.
She's tried to make her Bailey Agency Modeling School a little slice of fashionista in ATL, but she hasn't been all that successful in churning out models that real modeling agencies would be interested in picking up.
So in order to keep the doors open and source a new revenue stream, Cynthia has turned to the pageant world to turn a quick buck. This, despite the fact that a pageant does everything to help further delegitimize her agency as some sort of magnet for worthwhile marketing talent in Atlanta. But hey, at least Cynthia is hustling to get the bills paid.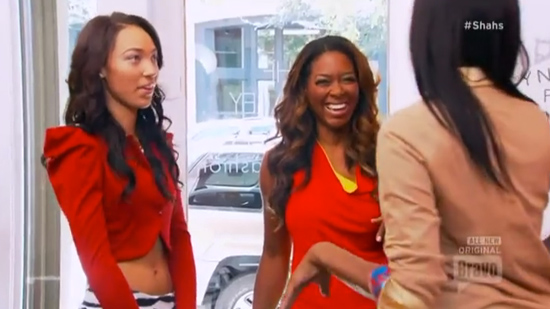 After firing Porsha's do-nothing-good ass in the last episode, Cynthia meets up with former Miss USA Kenya Moore. Kenya shows up at the Bailey Agency with some hungry-looking, high-yellow chick with a pancake booty and a pasted on smile.
Cynthia and her team fawn over the offering and declare her gorgeous. They promptly sign her up for the agency AND the pageant. Her registration fee must be like rainwater to a desert in Arizona, because Cynthia's staff is way too damn thirsty.
While Rodney, director of the Bailey Agency, is occupied with the fresh meat Kenya has dropped off, Kenya and Cynthia get a chance to chit chat and catch up.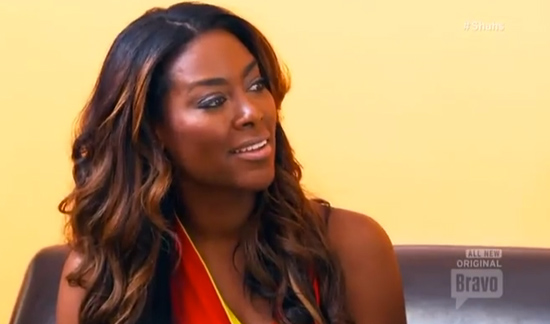 It's no secret that the last time that Kenya and Cynthia teamed up to work together that things didn't go over so well. But Kenya is claiming a new outlook on life now that she's been certified cancer free.
So she swears she wants to help. To that end, she volunteers to help Cynthia with the judging for her upcoming pageant. Cynthia hesitates, recalling how awful things went the last time the two paired up, but Cynthia's in a forgiving mood, so she accepts Kenya's offer.
Plus, she needs all the star power she can get at this point and having a former Miss USA lend her name to the contest is helpful, whether Cynthia likes it or not.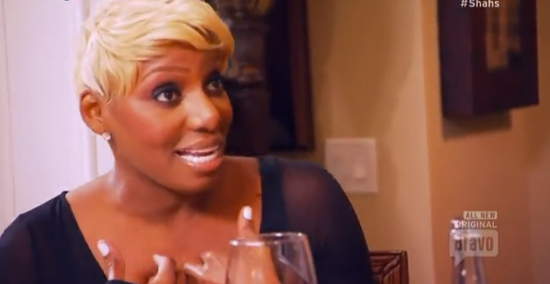 NeNe Leakes, as we all know is in Hollywood living her fabulous life, but she blows into town briefly and Cynthia scurries over quickly to check in with her master.
While we understand that NeNe has business to handle, her part-time commitment to RHOA is starting to wear a little thin with us. As frightening as it is for us to say this, maybe it's best for the producers to start considering a RHOA without NeNe Leakes, because her guest star appearances aren't cutting it.
Anyway, NeNe swoops in and asks Cynthia for a status update on all of the girls and Cynthia informs NeNe that she invited Kenya to be a judge for her upcoming "Miss Renaissance" pageant.
NeNe's eyebrows raise the roof upon hearing that news and she pretty much asks Cynthia if she's all right in the brain to invite Kenya back for another joint venture.
Cynthia assures her pal that she knows what she's doing, but if Kenya does act up, Cynthia promises she'll let her hands and not her mouth do all the talking when it comes to Kenya.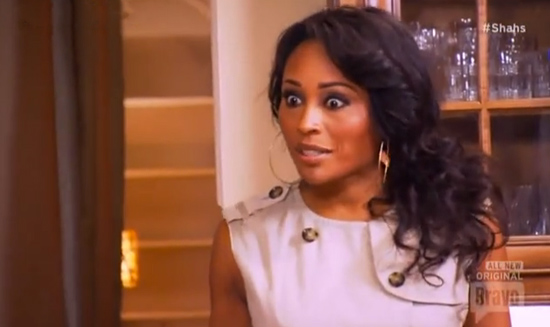 Bitch, please. Cynthia is all bark and no bite, but we don't expect Cynthia to admit that to NeNe anyway.
Once Cynthia's checked in with NeNe, we race toward the day of the event. Cynthia heads out to pick up her co-host Boris Kodjoe from his hotel but is stunned to find that he's totally missed the memo on the dress code. Wearing a button-up shirt, jeans and sneakers, Boris looks like he's about to spend a day at the mall, not co-hosting a lavish beauty pageant.
"You didn't bring a suit?!" Cynthia exclaims. Boris shrugs and says that she didn't tell him he needed to bring one. She responds that she thought he'd know what to wear to host a pageant. Communications fail.
And Cynthia thought that PORSHA was going to ruin her event? Please. Cynthia seems to be doing a fine job of that all by herself.
Sidenote: Why the hell did Cynthia even go pick Boris herself up anyway? Can the Bailey Agency not afford a cab or car service? This shit is wreaking of bootleg status already.
Determined to make the best of a difficult situation, Cynthia puts on a brave face and heads off to the pageant.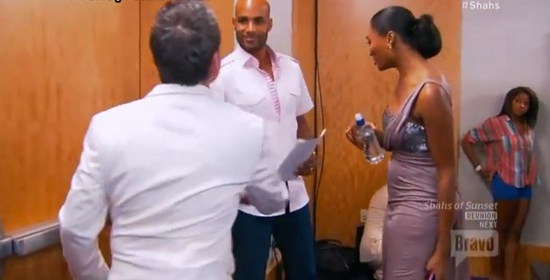 Once she meets up with organizers and her staff though, she quickly realizes that shit all out of order. The script is not in order, which results in Boris and Cynthia getting the names of several contestants wrong.
Then, a whole line of contestants are left standing while Boris and Cynthia break for intermission. Once they realize the error, Cynthia and Boris scramble to tell the guests to get back to their seats to finish the last portion of the first half of the show.
Good grief. We hope the liquor and appetizers at the pageant were at least worth the hassle of this hot mess.
To Cynthia's credit, things do start to pick up a little bit during the second half, but by the time a winner is crowned and Cynthia is receiving back slaps of congratulations from her friends, you're left wondering how on earth anyone could walk away from this catastrophe with their heads held high.
Cynthia's dysfunctional, low-budget, disorganized event helped make the Bailey Agency a joke in both the fashion world and the pageant world. And that's worth celebrating? Lowered expectations have got these girls fooled.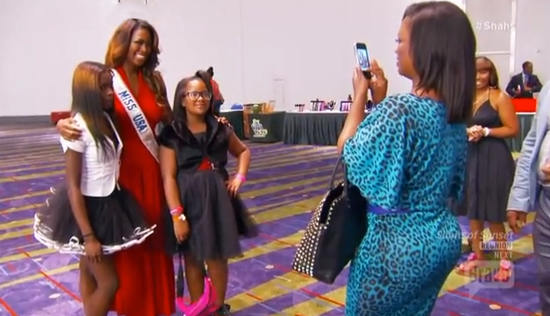 The good news though is that Kenya was on her best behavior. She was gracious to the host Cynthia and she got to dust off her old Miss USA sash to show off for all of the girls.
Has Kenya turned over a new leaf or is this just the calm before the next Kenya storm? Time will tell.
Be the first to receive breaking news alerts and more stories like this by subscribing to our mailing list.