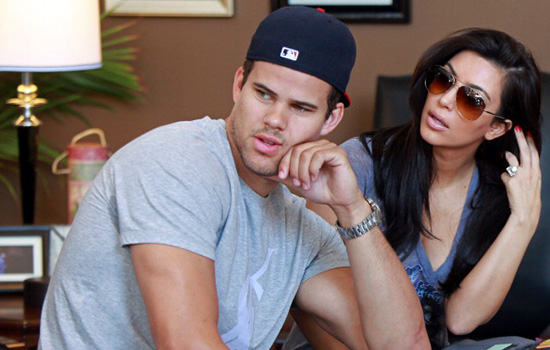 The ongoing saga that is the Kim Kardashian/Kris Humphries divorce FINALLY has a trial date. The reality star and the NBA player are set to appear in court on May 6.
According to the Huffington Post, the trial will last three to five days, and the date was set on Friday after Los Angeles Superior Court Judge Scott Gordon determined that the trial would not be postponed until the basketball season is over.
Humphries' attorney Marshall Waller is purportedly hoping to gain access to 13,000 hours of footage that was shot for her reality shows during the couple's courtship and marriage in order to prove that fraud was involved.
Luckily for the star, the trial will commence before pregnant Kim K's July due date. Being the old fashioned, classy lady that she is (LOL!) — Kardashian wants to make sure that her divorce is final before she gives birth to Kanye West's baby.
The "Keeping Up With the Kardashians" star famously ended her marriage to Humphries after 72 days of marriage following a lavish televised ceremony that cost a whopping $10 million. Of course, she reportedly didn't pay a cent for the over-the-top nuptials.
According to The Daily Mail, Kim actually made a tremendous amount of money by wedding Humphries, including a $2.5 magazine deal for the rights to her wedding photos, and $12 – $15 million check from the televised E! special that captured the event.
Since the pair called it quits in October of 2011, less than three months after they said "I do," the curvaceous TV sensation has sought a divorce. But for Humphries, getting a divorce would mean that he can never be married in a Catholic Church, which is why the semi-religious basketball star is determined to have the marriage annulled.
Humphries has maintained that Kardashian only married him for publicity, and we're all shocked because Kimmy has never done anything solely for publicity.
FYI: This would make divorce number two for Kim Kardashian.
Be the first to receive breaking news alerts and more stories like this by subscribing to our mailing list.