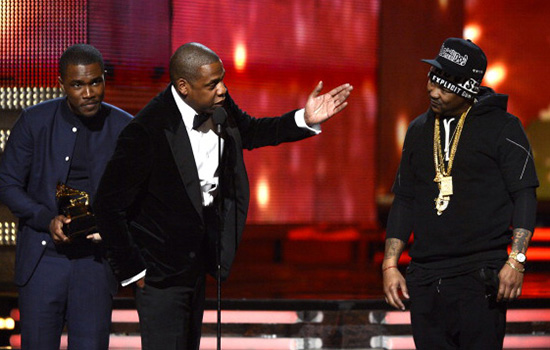 When Jay-Z, The Dream and Frank Ocean took to the Grammy stage Sunday night to accept their award for "Best Rap/Sung Collaboration" for The Throne's "No Church in the Wild," Jay-Z basically did what anyone who already has over a dozen Grammy Awards would do. He thanked the swap meet for The Dream's hat, and that was it.
"I'd like to thank the swap meet for his hat. Thank you," Jay said, making fun of Dream's bizarre headgear — a "parental advisory" beanie topped off with a Boyz N the Hood cap. The zinger was met with immediate applause and laughter from the audience, and it also got everyone riled up on Twitter.
But what did The Dream think of the the joke?
"Me and that guy, we was already goofing off the whole night," the singer/songwriter said when MTV News caught up with him backstage after his win. "Jay's a funny guy, people don't know that. Of course they're looking in from national TV and they're like, 'Oh my God, I can't believe he did that!' And I'm like, 'No, I can believe he did that.' What you may not believe is that I have my own digs that I do all the time, so it's all good."
But of course he would say that. Especially since Beyonce approved of his "swap meat" hat.
"Actually, Beyoncé asked me where I got these from and said they were so dope she wanted me to get her both of them," he said. "So I don't know what that means. [Jay-Z is] kind of like digging at both of us. I guess we're country. This a country thing."
Yeah, OK Mr. Dream. Whatever makes you feel better at night…
[MTV News]
Be the first to receive breaking news alerts and more stories like this by subscribing to our mailing list.