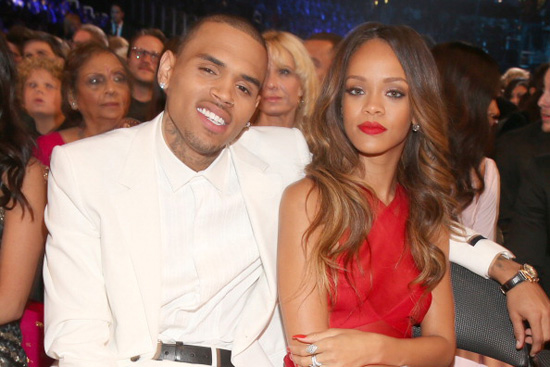 Four years ago, around this time in 2009, Rihanna and Chris Brown's puppy love relationship turned violent. Chris Brown beat and then abandoned Rihanna in the streets of L.A. just hours before the two were set to attend the 2009 Grammys.
But here we are in 2013 and Rihanna and Chris Brown are seated in the front row at the Grammys beaming, with their arms locked together.
Most people have very strong, visceral opinions when it comes to these two. Many Rihanna fans aligned themselves with feminists and domestic violence advocates in vehemently condemning Chris and his actions.
But the Rihanna Navy was put in a pickle when their heroine decided that it didn't matter that Chris beat the hell out of her. She decided that love could overcome and heal the pain. The same hands that bruised her could also protect and nurture her.
So fans have been forced to either accept Rihanna's decision to embrace Chris again or stay silent on the matter and pretend like they don't notice Chris.
Choosing to ignore Chris, however, becomes a mission impossible with Rihanna inviting him more and more into her career and everyday life. He's been featuring in her single artwork and now that they're attending awards shows together, there's no separating Chrianna.
Many people who supported Chris throughout the ordeal are happy to see Chris and Rihanna back together. Having his victim publicly pardon him makes Chris look lovable again.
It won't work on everyone, but it'll work on enough people. Already, you hear many claiming that the domestic violence assault was merely an "obstacle" that the couple had to overcome in their quest for "true love."
So which camp do you fall in when you see these pictures of Chris and Rihanna together again? Is this true love or a twisted nightmare?
Be the first to receive breaking news alerts and more stories like this by subscribing to our mailing list.