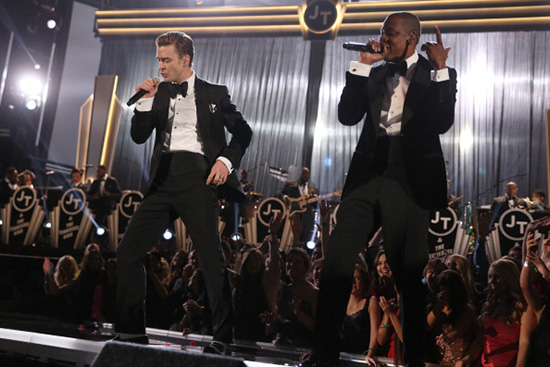 If Justin Timberlake can be credited with a futuristic vision for his last album 'FutureSex/LoveSounds' he's going in exactly the opposite direction for his new album 'The 20/20 Experience.'
Although Justin wasn't officially nominated for anything at the 2013 Grammys, he used the awards show as a platform to launch his new project.
He opened his set with his new single, "Suit & Tie" featuring Jay-Z. He was dressed in a Rat Pack-style suit and tie and to add on to the retro effect, he had a sepia filter thrown on top of the footage. This trick is tired and annoying at this point. People spend good money on their high definition, smart LED TVs and they ain't trying to watch an awards show in 1950s technology.
Find a new trick, Justin. Or stop chasing old-school sounds. It's not as if Bruno Mars, Robin Thicke, Amy Winehouse, Duffy, and so many more haven't tread this ground already.
It's been more than 6 years since his last album and Justin turned in a competent performance, but you could see and hear a little of the rust. His falsetto wasn't as strong as it should've been and the choreography wasn't just as poppin'. But hey, it's his first outing in years, so we're sure it'll get better.
In addition to "Suit & Tie," which he pulled Jay-Z out of his seat for, Justin also debuted another track, "Pusher Love Girl." It was another solid R&B track but like "Suit & Tie," feels a little underwhelming for a man launching a comeback.
Watch Justin's performance from the 2013 Grammys (feat. Jay-Z) below:
[MWP]
Be the first to receive breaking news alerts and more stories like this by subscribing to our mailing list.