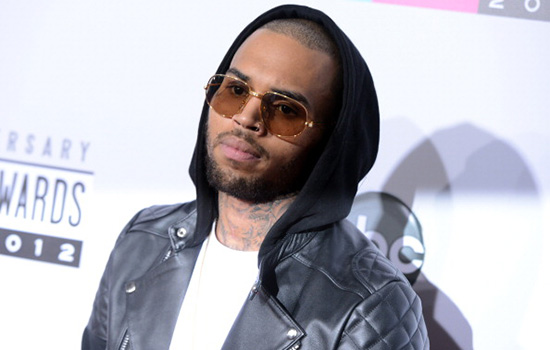 Police in Beverly Hills say Chris Brown wrecked his Porsche Saturday afternoon (Feb 9) — the day before the Grammys — after he was being chased down by the paparazzi while on his way to a charity event.
Reps for Brown said the singer was driving to a charity event for the Symphonic Love Foundation when he was cut off by two photographers driving two separate vehicles. (FYI: He did make it to the charity event.)
"The occupants jumped out, with cameras, and aggressively approached his vehicle," a representative for Brown said, according to TMZ. "In an effort to remove himself from the situation, he began to back down an alley at which point his was cut off by two additional vehicles."
The rep continued, "Chris' vehicle was totaled due to this aggressive pursuit by the paparazzi. He is okay."
Later, a spokesman for the Beverly Hills Police department released the following statement:

"On February 9, 2013 at approximately 1203pm, entertainer Chris Brown was involved in a solo, non-injury traffic collision in the 600 Block Bedford Drive/Camden Drive alley. Mr. Brown was the driver of the vehicle and collided with a wall. Brown stated that he was being chased by paparazzi causing him to lose control of his vehicle. Brown's Black Porsche was towed from the scene at his request."
But the paparazzi's side of the story is totally different. Chris Doherty, who owns the photo agency "INF" that employed the photographers accused of causing Chris Brown to crash his car tells TMZ that he is 100% sure that his photographers "had nothing to do" with the crash.
Doherty says his photogs arrived AFTER Chris crashed, telling TMZ, "No photographers were following him at the time he crashed … He crashed his car and it's convenient for him to blame us. He needs to be careful with his defamatory statements."

Doherty also says his photogs were interviewed on scene by police who "appeared to be satisfied" the photogs were not the cause of the accident.
Chris, however, is adamant that he would not have have crashed his cars if the paparazzi hadn't been chasing him, and he plans on suing all of the photographers involved.
"We plan on seeking criminal charges and holding them civilly liable," a rep for the singer told TMZ in a statement.
Check out some pics showing the aftermath of the crash below:
From his highly publicized fight with Frank Ocean, to him being accused of faking his community service, the past few weeks have been pretty rough for Brown. And it's pretty ironic too, considering "you know what" happened around this time in February 2009.
About the car crash, he told E! News' Ryan Seacrest: "You know, it's a couple of crazy things. Paparazzi can tend to get out of hand. It's all good though. No injuries… It's cool, I'm fine. A little bit of bumps but I'm good. I'll get another [car], insurance is good."
Photos: TMZ via INF Photo
Be the first to receive breaking news alerts and more stories like this by subscribing to our mailing list.