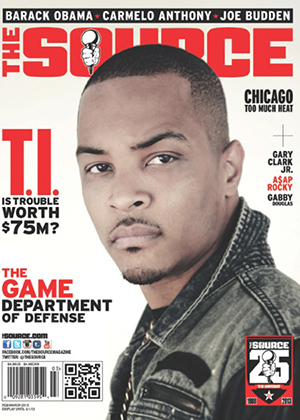 The February/ March issue of "The Source" magazine features Clifford "T.I " Harris on the cover fresh after the release of his sixth studio album 'Trouble Man: Heavy Is The Head.'
Inside the issue, T.I., who many now know as a family man thanks to his reality show on VH1, discussed another side of his personality.
That's right, T.I discussed his thoughts on the state of gangsta rap and how it influenced him throughout the recording process of 'Trouble Man: Heavy Is The Head.'
T.I explained, "I felt like my genre was dying, you know? If not dying, extremely injured, in critical condition like a m'f**ka." He continued, "It just made me anxious to get out and do something to re-energize the soul of what we grew up listening to."
Sure, it's easy to point out the irony of T.I. wanting to go back to his gangster roots after multiple prison stints, but we get the idea that Tip sees the bigger picture, beyond just living what he raps about.
T.I. also chimed in on his future in Hollywood with his upcoming role in the film "Identity Thief." He seems eager to embrace roles outside of his comfort zone in order to demonstrate his growth as an actor.
T.I. elaborated, "It's my first comedy so I'm looking forward to seeing that. I just want to keep my tools sharp…. Different people see T.I. in different ways. As long as they ain't giving me a rapper. That's what I don't want to do. Anything else, I'd pretty much be open minded within reason of course."
With an abundance of rappers pretty much playing themselves in films, it's good to see T.I. has a legitimate interest in the craft and improving his skills.
Hopefully that ambition reflects in his on screen performances, and viewers can take a look for themselves when Identity Thief releases on February 8th.
Take a look at a bigger version of T.I.'s "Source" cover below: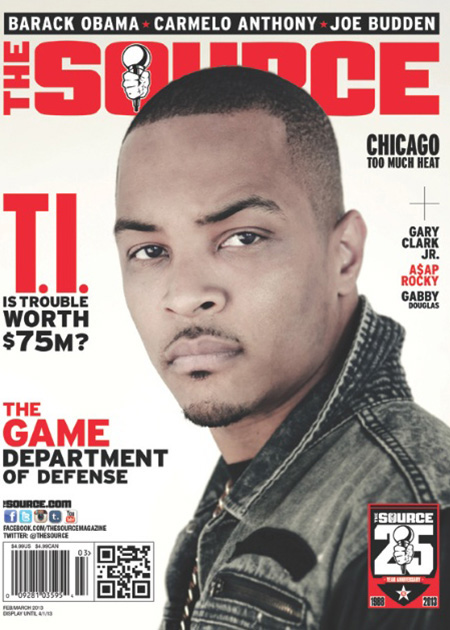 Be the first to receive breaking news alerts and more stories like this by subscribing to our mailing list.