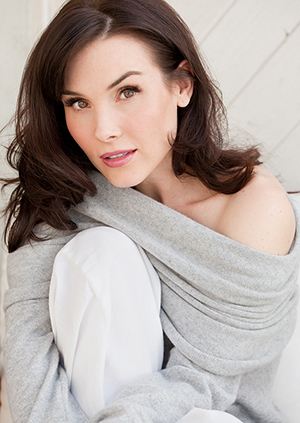 While audiences may be familiar with Kristina Anapau as the fairy Maurella on the hit HBO series "True Blood" and various TV guest spots, the stunning actress has wowed on the big screen as well.
A classically trained ballet dancer, Anapau appeared in the harrowing 2010 drama "Black Swan" and will soon be seen in the action film "BlackJacks."
Gossip On This had the chance to ask the 33-year-old about her "True Blood" role and upcoming projects.
GOT: When Alan Ball first cast you as Maurella on season four of "True Blood," the role was quite small. Were you aware that your you'd have a more crucial role in season five and (rumor has it) season six? 
Kristina: There were a few hints during the filming of my first scene in season four that it was just the beginning of more to come for Maurella, but I did not know for sure. I was thrilled when I learned that I would be coming back.
GOT: So, on that topic, what can you tell us? Do you have any dirt on season 6 yet?
Kristina: I think you already know the answer to that one. Nothing I can share publicly yet.
GOT: Scoops aside, Ball is known for creating strong female characters. As an actress, was it invigorating to embody one of them? 
Kristina: Alan Ball is incredible at shaping strong female characters, but does so in a way that people can still relate to them.  It is truly a privilege to embody one of his creations. Mauella is quite multifaceted and exudes so much regality amidst her sensuality.  It's a pleasure to help bring her to life.
GOT: How do you think that show's like "True Blood" can change the way in which women are portrayed in film and television to for the better? 
Kristina: An abundance of strong female characters in film and on television can only be beneficial to the industry and to the world. There are a lot of very strong women out there who want to watch characters that they can relate to without feeling like they have to dumb themselves down.  And obviously, a greater presence of strong females in the media are a crucial component for the healthy development of the younger generations of women in the world today.
GOT: Prior to becoming an actress, you were pursuing a career as a ballet dancer. When did you discover that you wanted to become an actress? 
Kristina: I had no plans of becoming an actress until it happened. I was cast at age 16 in the lead role of a movie that Universal was filming in Hawaii called "Escape From Atlantis." I am very grateful for that wonderfully smooth welcome into the business, but have had to work very hard since to get to where I am today.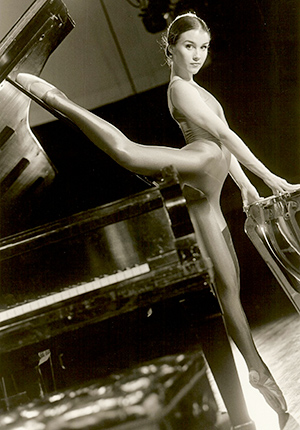 GOT: You were able to utilize you ballet training in Darren Aronofsky's "Black Swan," are you actively looking for roles that will allow you to showcase your skills as a dancer?
Kristina: Being able to call upon my training as a dancer for Black Swan was an incredible experience. I would love to do another dance film.
GOT: Has it been difficult to balance the demands of being a busy actress and maintaining your dance skills?    
Kristina: I do still go to dance class on a somewhat regular basis, but yes, dance class gets pushed aside, more often than not.  That is one of the things that  was so wonderful about training for Black Swan– It was part of the job to be in class every day.  My dance abilities improved tremendously during the training for that film.
GOT: What roles do you have in the pipeline?
Kristina: I have two great films coming out this year, "Sighting" and "BlackJacks." In both, I was fortunate to play very strong, interesting women.  It's such a pleasure when a you are given a role that allows you to expand within it rather than having to shrink to fit into it.  Both Theresa ("Sighting") and Lisa Westbrook ("BlackJacks") allowed for a lot of expansion.
*********
Right now, there is no set premiere date for the next season of "True Blood," however based on the show's production schedule and past history and production schedule, Season 6 will likely kick off sometime in mid-June or early July.
As for Kristina Anapau's upcoming movie projects, both "Sighting" and "BlackJacks" are set to be released sometime this year.
Be the first to receive breaking news alerts and more stories like this by subscribing to our mailing list.