After Beyonce shut down the Super Bowl Halftime Show stage with her 12-minute spectacular performance — featuring an appearance from her Destiny's Child bandmates Kelly Rowland and Michelle Williams — celebs flocked to Twitter to talk about how great the show was, and how it was good to see Destiny's child performing on stage together again after all these years.
For the most part, everyone had nothing but nice things to say about DC3 as a collective, but of course, there were a few sour apples in the bunch. And one of the sour apples — probably the ONLY sour apple — was R&B singer Keyshia Cole, who made sure to voice her opinion on Michelle's position in the group with the following tweet, reeking of shade:
I think I was frightened to blink for a sec. Then Michell sung and woke my ass up from my daze! She always fuckN the groove up

— Keyshia Cole Gibson (@KeyshiaCole) February 4, 2013
But hey! I love y'all too! And y'all girl is WACK and always will be! #Boss!!

— Keyshia Cole Gibson (@KeyshiaCole) February 4, 2013
Well damn… Tell 'em how you really feel Keysh! Also, tell 'em when your last hit was. We'll wait.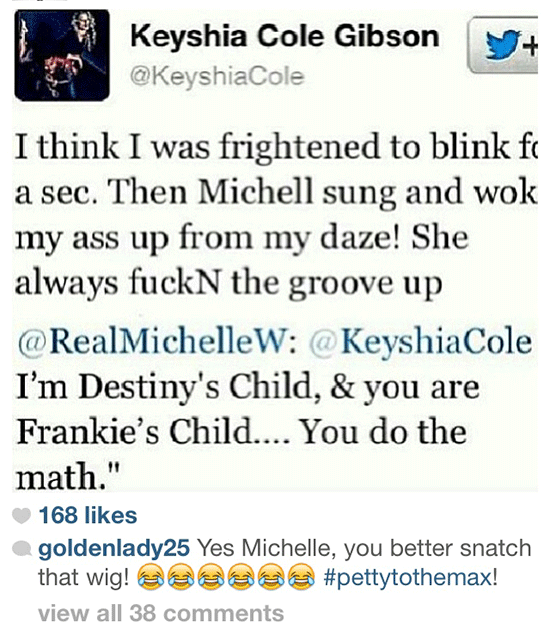 Also, this fake tweet purportedly from Michelle's official Twitter account is being passed around as the real thing, however Michelle herself has denied any involvement in that "mess."
Meanwhile, Keyshia has responded to the drama, telling Necole Bitchie in a subsequent tweet that Michelle had said something bad about her before … but who really believes that rubbish?
Michelle is a good Christian girl from Illinois who don't hurt nobody, and Keyshia Cole is a rough hoodrat from Oakland with a big ol' chip on her shoulder. So you tell us who you think started it.

We don't believe you Keyshia. You need more people. And learn how to spell too. It's MichellE. With an E. As in ever. As in Keyshia Cole will never EVER do half of what Michelle Williams has done in her career.
Be the first to receive breaking news alerts and more stories like this by subscribing to our mailing list.