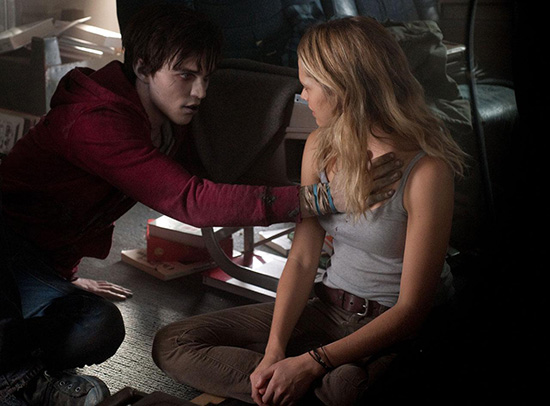 The conclusion of the "Twilight" franchise left a gaping hole in the young adult market that film studios are quickly rushing to fill with similar content. Fortunately, "Warm Bodies" offers a refreshing spin on the supernatural love story. The zombie romantic comedy, or zomcom, is as fresh as a newly minted corpse.
The film is based on the 2010 book of the same by Isaac Marion, which initially began as the short story "I Am a Zombie Filled With Love." Like the book, "Warm Bodies" is filled with welcomed allusions to Shakespeare's "Romeo and Juliet."
Director Jonathan Levine successfully blended elements of comedy and drama in 2010's well received "50/50." "Warm Bodies" further showcases his ability to convey horrific circumstances through a lighthearted lens.
Unlike most forays into the world of the living dead, "Warm Bodies" allows the audience to experience the story from the perspective of the creature.
Following a zombie apocalypse, a member of the undead named "R" (Nicholas Hoult) is lost, literally and figuratively. He spends his days wandering around an abandoned airport with little to do but grunt, and he has no memory of life before he was turned, except that his name possibly started with the letter R.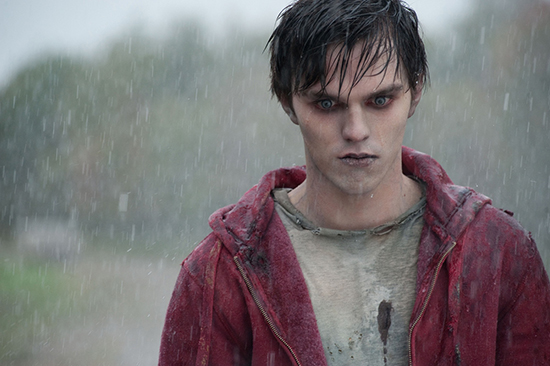 The young Zombie's isolation and uncertainty is comparable to the confusion most young people face. Marion based the character's inner turmoil on his own feelings of displacement and that comes across brilliantly in the film.
The book features extensive narration by R, who is unable to communicate verbally for much of the story. While that could have been a major handicap for the film adaptation, Levine, who also penned the screenplay, gets around it by having much of R's thoughts play out through voice over.
This coupled with R's farcical attempts at natural movements proves to be an effective means of revealing the young man's innermost thoughts.
While out hunting humans (lovable Zombies have to eat too!) he spots Julie (Teresa Palmer), a feisty, gun-slinging human girl who he decides to let live. What follows are some of the film's most heartwarming (again, literally and figuratively) moments of the film.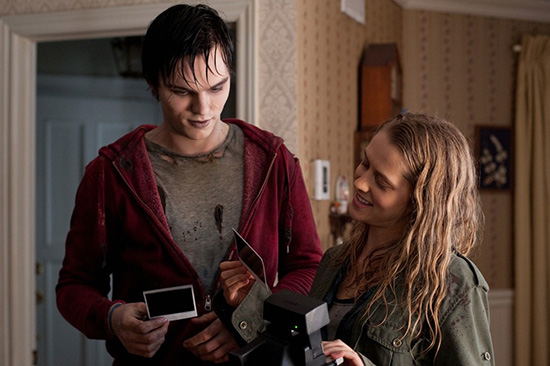 While R and Julie hide out in an abandoned plane, they listen to old records and attempt to communicate. As R spends more time with her, he begins to develop human traits while Julie finds herself falling for her pale companion.
As if a zombie/human relationship wasn't complicated enough, Julie's father — played the always entertaining John Malkovich — is a leader of a militia group that's hell bend on killing off the walkers.
As Julie works out a plan to convince her father that R and other zombies can have their humanity restored, a groups of monstrous flesh eaters (Boneys) begin to close in.
A lot of films in the genre are stiff, but "Warm Bodies" might just reanimate coffin dodger's offerings. The witty and sweet comedy is filled with appealing pop culture references (at one point R gets a "Pretty Woman" style makeover) and a wonderfully eclectic soundtrack that includes the likes of Bob Dylan and Feist.
Thankfully, Levine largely sidesteps cliches and gives audiences a film that differs from most of what's been released in the last few years.
January marked the release of a strong of abysmal films like "Gangster Squad" and "Movie 43." By contrast, "Warm Bodies" may be the first truly good film of 2012. It also offers a thinly veiled critique of modern day culture's reliance on technology and inept interpersonal communications skills.
Nichoals Hoult first caught the public's attention in 2001 when he appeared in the comedy "About a Boy" at just 12 years old. He demonstrated his considerable range on the risque UK series "Skins" and later in the harrowing drama "A Single Man" and "X-Men: First Class."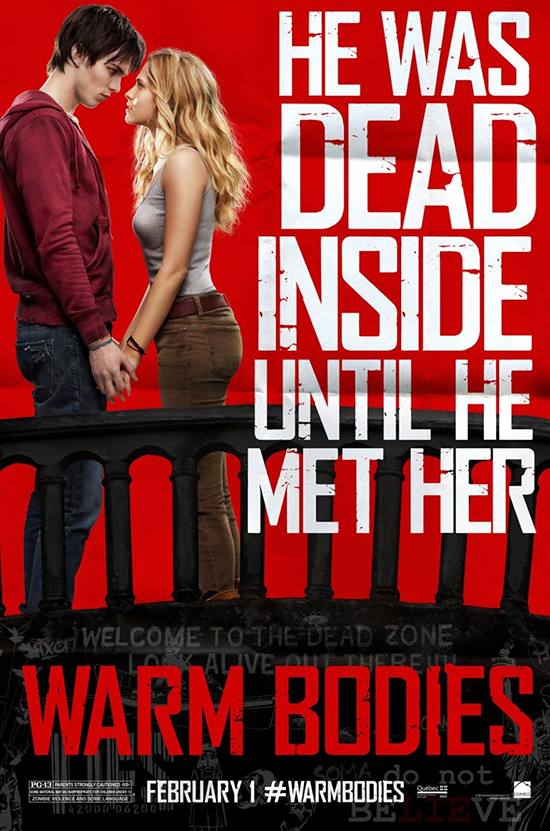 "Warm Bodies" marks Hoult's first lead role in a mainstream film and it's clear that he's one of the most promising rising stars in the industry.
Not only does he manage to make a brain-eating Zombie empathetic and charming, he does so while maintaining R's macabre persona.
One of his most effective acting choices is that he plays R as he would a human working through a temporary disability.
The fresh-faced Teresa Palmer has mostly appeared in B films such as "The Grudge 2" and "take Me Home Tonight" but "Warm Bodies" will likely propel her to the next level in her career.
Strong willed yet somewhat vulnerable, she offers a welcomed contrast to the typical film heroine. The Aussie native plays the role with a degree of goofiness, while maintaining the character's compelling strength.
The film's supporting players are equally impressive. Analeigh Tipton ("Crazy Stupid Love") shines as Julie's best friend and Rob Corddry ("The Daily Show") hilariously portrays R's mumbling zombie confidant. Dave Franco ("21 Jump Street") has some scene-stealing moments as Julie's doomed ex-boyfriend.
The film's main weakness lies in that the last few scenes are a bit formulaic. All is resolved far too quickly and neatly. Furthermore, the film ends rather abruptly, leaving the audience wanting more.
But, that could very well be a good thing.
Fans of the film will be happy to know that sequel could very well be on the way. Last year, "Warm Bodies" author Isaac Marion announced that he was working on a sequel his book.
"Warm Bodies" is currently in U.S. theaters after premiering nationwide Friday, February 1st 2013.
Be the first to receive breaking news alerts and more stories like this by subscribing to our mailing list.