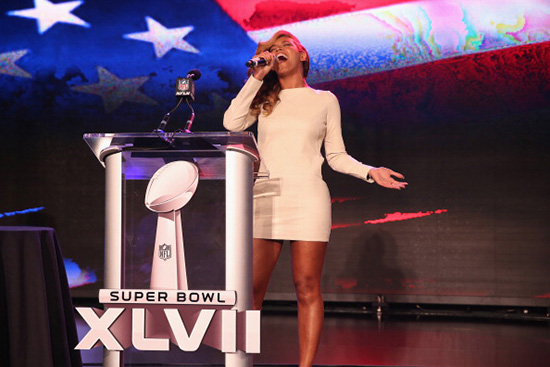 In response to the lip-synching "scandal" that erupted last week following President Obama's inauguration, Beyonce basically gave a middle-finger to the haters and naysayers by belting out a TOTALLY LIVE, NON-LIPSYNCHED, A CAPPELLA, NO MUSIC IN THE BACKGROUND, JUST ALL VOICE rendition of the "Star Spangled Banner" at a televised press conference for the Super Bowl.

After she was announced, the pop queen — wearing a sexy white, long sleeve, backless dress — walked out and kindly asked the media audience, "Will you all please stand?"
And that's when Beyonce LET. THEM. HAVE IT! Afterward, she asked, with a smirk on her face, "Any questions?" (Sidebar: It would have been SUPER EPIC if she had dropped the mic and strutted off the stage with her hips swaying from side-to-side. But Beyonce is a LADY.)
Of course the first question asked was regarding lip-synch-gate 2013, and whether or not she really did use a backing track at President Obama's inauguration.
"I am a perfectionist," Beyonce explained. "And one thing about me: I practice until my feet bleed. I did not have time to rehearse with the orchestra. It was a live television show… Due to the weather, due to the delay, due to no proper sound check… I did not feel comfortable singing live."
Beyonce admitted to singing along to her own voice on a "prerecorded track" — which she said "is very common in the industry" — because "it was about [President Obama] and the Inauguration and I wanted to make him proud."
She said for her Super Bowl halftime show performance on Sunday, she will "absolutely be singing live."
During the Q&A with the press, Beyonce also talked about her daughter Blue Ivy, whether Kelly and Michelle will take the stage with her at the Super Bowl, her HBO documentary, and how she feels about the haters:
"I love haters. No shade. No hate."
Ha! Take THAT h8ers.
Watch the video footage from a portion of the full Q&A below:
Be the first to receive breaking news alerts and more stories like this by subscribing to our mailing list.