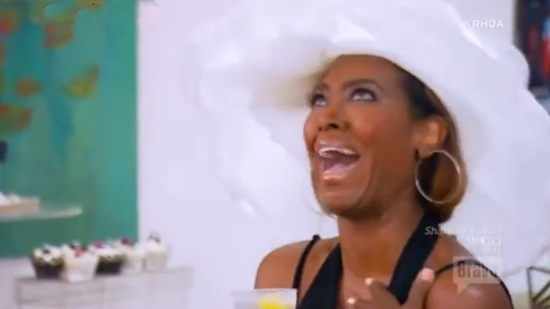 If they ain't talking about you, then you're probably not doing something worth mentioning. Miss Kenya Moore, with all of her hysterics, extraness and drama, is definitely the talk of the town this season and we're sorry to say it, but NeNe Leakes might have to take a backseat to Kenya!
You might hate or love Kenya but she's definitely putting in work on this reality show.
Porsha, on the other hand, is dry, dull and dumb. She's not worth whatever salary they're paying her and the attempts to integrate her into the cast are forced and unnatural.
Kenya might clash with some of the other women on the show but Porsha has absolutely NO CHEMISTRY with the other women either.
But let's get back to Kenya and her major drama with Phaedra Parks and the continued fallout over this damn Donkey Booty video.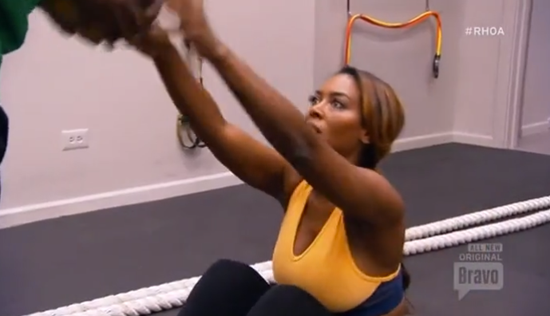 In the opening scenes of the episode, we catch up with Kenya, aka Ms. Stallion Booty, working HARD at the gym. She's punching, squatting and grunting like a She-Hulk. That booty does look suspicious, but hey, she is in the gym putting in that work.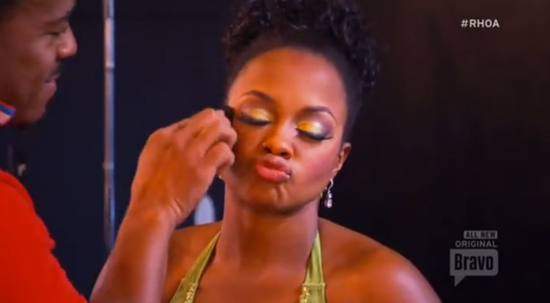 Phaedra, on the other hand, is chillin' like a villain at a damn photo shoot for her Donkey Booty video. The producers are clearly Team Stallion because they make Phaedra look like a spoiled, plum fool who sits on her ass talking about how she's going to sell a fitness video when no one has even seen Phaedra do a push-up.
Celebrity photographer Robert Ector snaps Phaedra and Apollo's pictures for the DVD packaging and Phaedra makes sure to poke out her backside as much as possible. While we won't go as far to say that Phaedra booty is flat, it also isn't nearly as "donk" as she says it is.
In fact, nothing about Phaedra's body would really inspire envy in any woman. So in that regard, Kenya's 100% right: More women want to look like Miss USA than Miss Backwoods Savannah.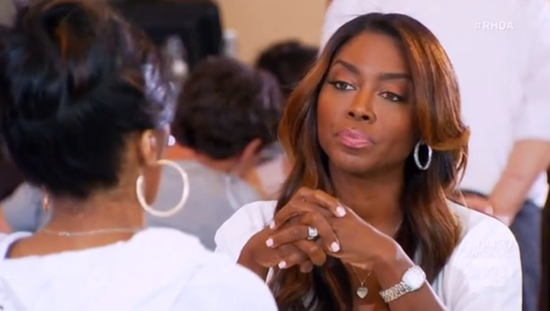 After breaking a sweat in the gym, Kenya tries one last time to win Porsha over and invites her out to lunch. Now, Kenya doesn't give a damn about Porsha one bit, and if she's REALLY trying to extend an olive branch to Porsha, she's doing a horrible job at it.
You don't invite someone to make amends and then condescendingly address them and tell them they're being played for a fool because they're in good graces with someone who has recently become your enemy.
So Kenya lost cool points for that. But Porsha's childish digs about Kenya's feet being ashy felt petty.
Porsha already had the moral upper hand here, so going to jabs about physical features felt pretty cheap. If Porsha's gonna get in the shade business she's going to need to take a few master classes from Cynthia or NeNe to get it right.
After her attempts to win Porsha over fail, Kenya prepares for her final attack with her gal pal Miss Lawrence: A Phaedra impersonation at NeNe's charity event.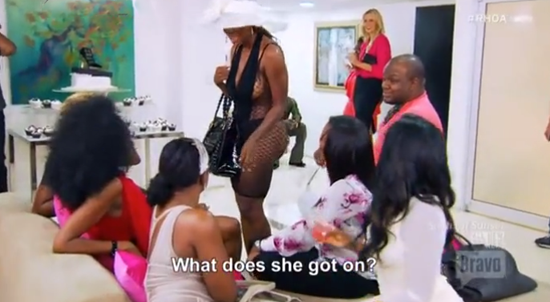 That pretty much means Kenya pulls out her biggest, floppiest Easter hat and dons the inappropriate fishnet bathing suit that Phaedra broke out in Anguilla.
If Kenya was trying to impress Phaedra, she really only succeeded in embarrassing herself. Kenya proved that her acting chops really aren't up to par, as her Phaedra impersonation was cartoonish at best, and amateur at worst.
Kenya would've been better off cutting Phaedra off at the knees with her words than this awful attempt at improv theater.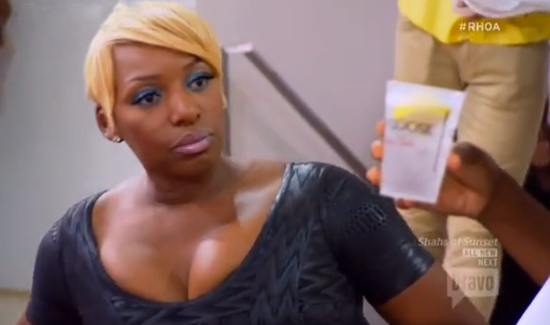 NeNe is tickled on the inside, cause she can't stand Phaedra, but she's displeased with Kenya bringing the ratchet to HER event. Kenya better NOT get on the wrong side of Mrs. Leakes now.
But guess what? Phaedra doesn't back down from any of the statements that she made. She admits to saying Kenya is crazy and needs drugs and she admits to labeling her an alcoholic. (And?)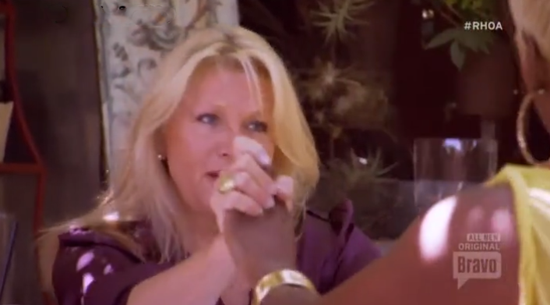 NeNe Searches for Her Inner White Woman
We know that Bravo is doing its best to accommodate NeNe Leakes, but this side show within the show of her life in L.A. is really NOT working. The shit is boring.
NeNe needs foils and other characters to play off of. In L.A. she's pretty much just hanging out with her husband, who is muting himself as much as possible to avoid invoking any of NeNe's ire. Cause it's hard out here for a pimp.
The one interesting little tidbit from this segment comes when NeNe meets up with her acting coach.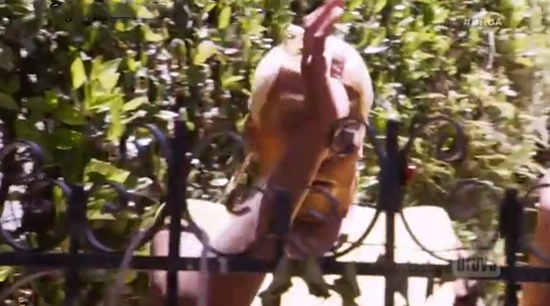 When NeNe approaches the woman's house, she runs in the other direction at the sight of the woman's dogs. Now as big as NeNe is, you'd think she could handle a few canines. Do moose typically fear dogs anyway?
When she sits down with the acting coach, NeNe thanks her for getting her in shape to play Coach Ros on Glee and confesses that she's having trouble getting into her new character, Rocky, on the New Normal.
We don't know why, since NeNe admits Rocky's character is a woman who's "outspoken," "fabulous" and defensive about her gays. Sounds like NeNe Leakes to us. What stretching is there to do in this role for her?
Nonetheless, NeNe complains to the coach that she feels like the role wasn't written with a black woman in mind and she is VERY BLACK. The acting coach wonders if there isn't a white woman somewhere deep inside NeNe.
No, the white woman inside NeNe Leakes died when she kicked Kim Zolciak to the curb. Kim was pretty much NeNe's white half.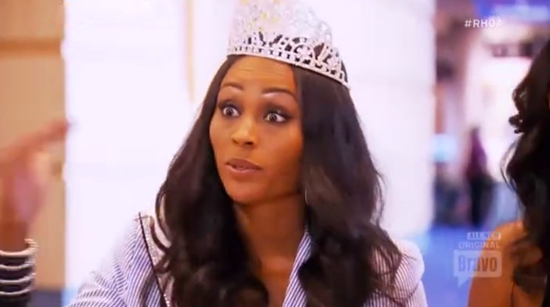 Cynthia's Hot Mess Pageant Saga
We really wish Cynthia would be honest about her state of affairs. When she first decided to open the Bailey Agency, friends of her's wondered out loud if opening a modeling agency in Atlanta was a wise investment since Atlanta ISN'T a fashion capital and since the bulk of the women in the Atlanta area don't meet the standards of the fashion industry.
Cynthia moaned and groaned about her dream and forged ahead in spite of that. And guess what? It ain't been working.
So it's time to shore up new revenue streams. Someone points Cynthia's nose in the right direction and points out that she could make good money by putting on a pageant.
Cynthia apparently got her start in the beauty world through a pageant, so she has SOME working knowledge of the process. But she needs help, so she calls Cy, a pageant expert.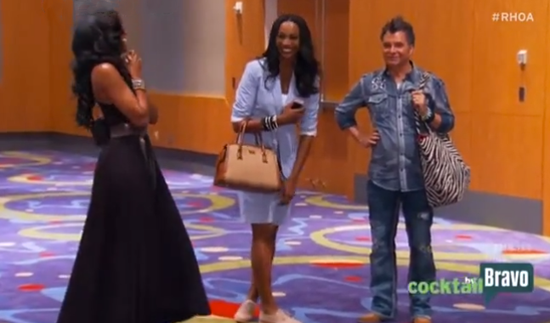 This white, flamboyant gay man has a penchant for hair wax, which he spikes up like Sonic the Hedgehog. He also carries a big girl's purse without shame. See, it's not just the black men in Atlanta who dress like women. The white guys do it too.
As Cynthia explains her idea bout the pageant, she confesses that only 1 out of 10 girls who are accepted into the Bailey Agency will go on to become an actual model who books work. We think she's embellishing the odds in her favor. It's more like 1 in 30.
Irregardless, the point is Cynthia needs a more reliable source of income. So Cy talks Cynthia through the pricing list for entry fees, submissions, judging, etc. and Cynthia's eyes widen at the prospect of raking it in.
After a good session with Cy, Cynthia thanks him for his time and moves on to the next phase: Booking a venue.
When we catch up with Cy and Cynthia at the Atlanta Convention Center, they're joined by Porsha. As we said before, producers are trying to find ways to fit Porsha in with the other girls, but this could end up blowing up in Cynthia's face.
Cynthia says Porsha's family's charity is going to benefit from the event with a portion of the proceeds going to the charity. But in exchange for these charitable dollars, Cynthia expects Porsha to take an active role in planning and coordinating the pageant.
Huh? Cynthia is asking the chick who's never had a job to take on an event planner's work?
Cynthia says she's too busy to take on most of the responsibilities, so she's RELYING on Porsha to get the job done.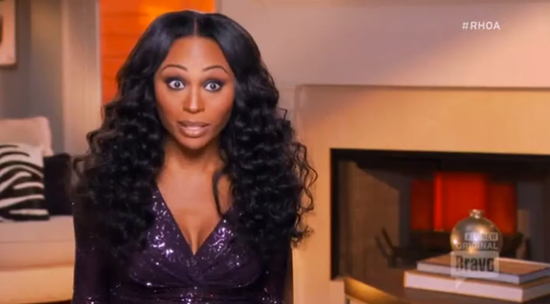 Bitch, doesn't Cynthia have a team of assistants? We smell some cheapskate shenanigans at work. You know Cynthia wasn't PAYING Porsha for any of this work so this is Cynthia trying to pull a Phaedra. Nice try, but no cigar.
As Cy, Cynthia and Porsha walk through the venue, the red flags are raised. The event is about three weeks out and there are no contestants signed up, sashes and accessories haven't been lined up and the venue looks like it's up in the air.
Later, when the girls meet up at a Moroccan restaurant, Cynthia announces that Porsha will be singing at the pageant as part of the entertainment. Porsha describes her voice as being a mix of Mary J. Blige, mixed with Beyonce and Rihanna. The fact that she thinks those three distinct voices could combine to sound like anything remotely pleasant lets you know that Porsha is full of shit.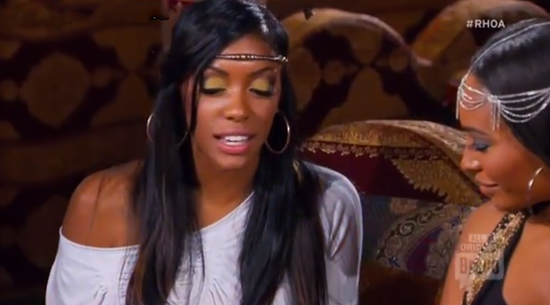 Kandi calls her out on her singing ability when Porsha shies away from singing at the table, which prompts Porsha to actually do it. But as soon as she opens her mouth, the live entertainment starts and her voice is drowned out by music and belly dancers. She was saved by the bells.
But mark our words: Just like Cynthia's extravagant wedding to Peter, we have a feeling this Bailey Agency pageant won't end well.
Be the first to receive breaking news alerts and more stories like this by subscribing to our mailing list.