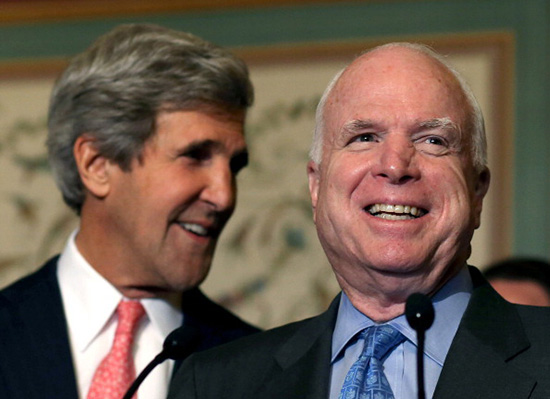 Senator John McCain, a U.S. Navy veteran who famously spent over 5 years being tortured during the Vietnam War, and is a strong advocate against violent torture, made a really awkward joke about water boarding John Kerry at a press conference on Tuesday (Jan 22).
Speaking at a press conference with other senators, McCain said that he would do whatever it takes to get the truth out of Kerry, who has been tapped by President Obama himself to become the next Secretary of State.
The former prisoner of war said that he looked forward to "mercilessly" interrogating his friend Kerry, a fellow Vietnam War veteran, at his upcoming Senate confirmation hearing. "We will bring back for the only time water boarding to get the truth out of him," McCain said, as reported by Politico.
"We will look forward to interrogating him at his hearing next week, mercilessly," McCain said as a joke. An awkward joke, but still a joke (to old man McCain at least), none-the-less.
Water boarding is a form of torture in which large amounts of water is poured over cloth covering the face of someone who is being held down, which causes them to experience the sensation of drowning.
Water boarding was conducted on terror suspects during George W. Bush's administration, and McCain — a survivor of torture himself — is supposed to be strongly against it.
The film "Zero Dark Thirty" depicts water boarding as one of the key factors that led to the discovery and eventual killing of Osama bin Laden, but McCain spoke out against the movie, saying its emphasis on torture and linking it to finding bin Laden was all wrong.
The 76-year-old Republican Arizona Senator said in a speech on the Senate floor last month, "Not only did the use of enhanced interrogation techniques on Khalid Sheikh Mohammed not provide us with key leads on bin Laden's courier, Abu Ahmed, it actually produced false and misleading information."
So why the waterboarding joke? Did McCain's old, fragile mind cause him to temporarily forget about the torture he supposedly endured for 5-and-a-half years?
Possibly. But you can't really blame the guy. His mind ain't too good. After-all, he did choose Sarah Palin as his Vice President. And we can't forget about last year when he accidentally endorsed President Obama, instead of Mitt Romney.
Be the first to receive breaking news alerts and more stories like this by subscribing to our mailing list.