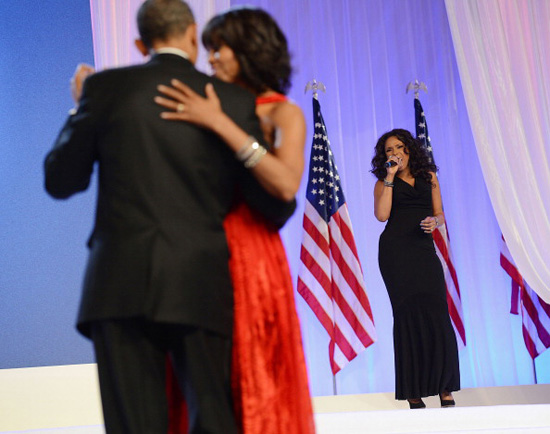 Power-belter Jennifer Hudson held the distinct honor of ushering in President Barack Obama and First Lady Michelle Obama's first dance at the President's second term Inauguration Ball in Washington, D.C. Monday (Jan 21).
Keeping true to [vocal] form, Mrs. Hudson wailed Al Green's soul standard "Let's Stay Together" with ferocious intensity as if she was trying to be heard over the loud roar of a football stadium packed to capacity. Seriously, why does Jennifer Hudson have to sing every song like she's leading the choir of a stereotypical Southern Baptist Church found in all of Tyler Perry movies?
Watch below as the Oscar Award-winner attacks "Let's Stay Together" with an aggressive vigor that removes any semblance of romance and subtlety from the classic song and instead makes it sound just…well…loud. Less is always more, Jenny.
Besides Mrs. Hudson's polarizing vocal performance, we think everyone will agree that this former American Idol alum looked amazing in a slinky, body-hugging black dress that accentuated her newly defined curves beautifully. Plus, "Let's Stay Together" is Obama's SONG!
Prior to the performance, Jennifer expressed her excited via twitter, tweeting: "Right now the President and First Lady will dance to Al Green's "Let's Stay Together," to be performed by… ME!!! Yes! Amazing night!"
Be the first to receive breaking news alerts and more stories like this by subscribing to our mailing list.