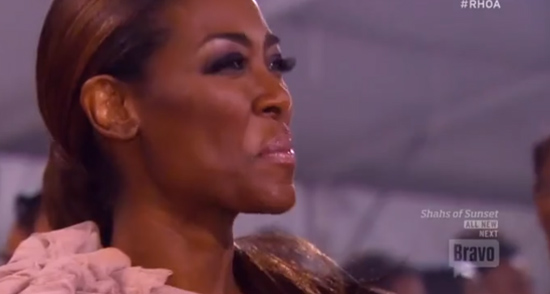 Nothing sours a friendship like a tiff over money. And Kenya Moore and Phaedra Parks' friendship has turned positively Sourpatch over this dissolved Donkey Booty business deal.
If there's one thing we've learned about Kenya since she joined the Housewives, it's that Kenya always strikes back. So when Phaedra bailed on their business deal, we knew that Kenya would get back at Phae-Phae some way. But coming out with a Stallion Booty DVD to compete with Phaedra's Donkey Booty idea is a bit cold-hearted.
Apollo, Phaedra's husband, calls Kenya a biter and Kandi calls her a bootlegger for pulling the sheisty stunt, but Kenya is not bothered by the accusations and just twirls.
She does offer some justification: Since Phaedra bailed on the deal with the distributor she'd lined up, Kenya HAD to put a product in its place.
That part might be true, but we're pretty sure it didn't have to be a BOOTY-BUILDING workout DVD either. So yeah, Kenya's getting her licks in.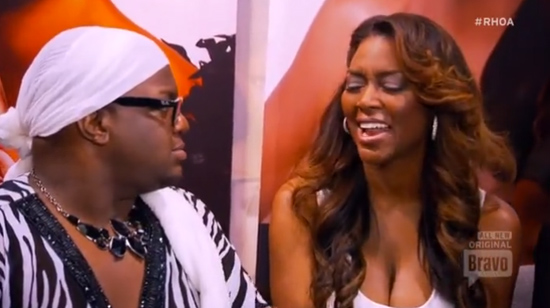 Kenya broke the news about her Stallion Booty idea at the Bronner Bros. hair show in Atlanta with everyone's favorite, pudgey hairstylist, Derek J. It's funny how the Housewives may change but the gay sidekicks don't. Once NeNe and Dwight Eubanks fell out, he began making appearances on the show with Phaedra. And now that Kim Zolciak has jumped ship, Derek J is still squeezing in appearances with Kandi and Cynthia.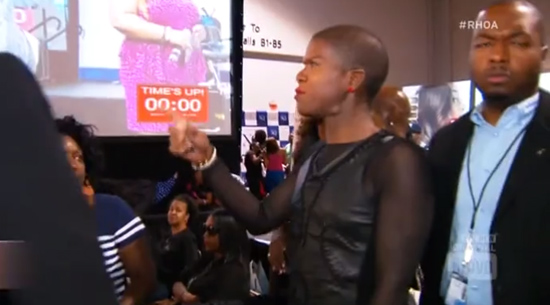 And Lawrence (wearing his fiercest Buffy the Vampire Slayer swag) is back in the mix with Kenya, even though Sheree Whitfield originally brought him into the fold.
These men who dress like women are like roaches. They ain't goin' nowhere.
Anyway, back to the original point. Kenya breaks the news to Cynthia, Derek J and Lawrence that she will be producing and releasing her own workout video titled Stallion Booty. Everyone laughs, giggles and points out how unappealing it is to be compared to a donkey. But the Bronner Bros. hair show is not Vegas, so what happens there doesn't stay there.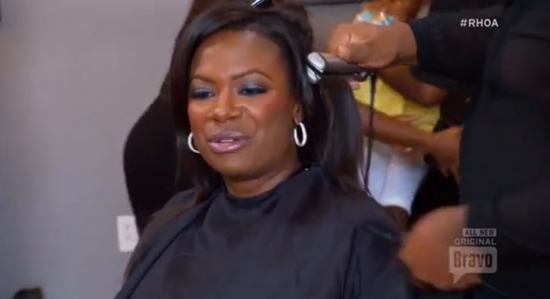 Kandi stops by Derek's salon for a touch-up and a little chit chat. While the two are talking, Derek spills the tea about Kenya's workout DVD and Kandi leaps into save-a-ho action. She immediately dials her gal pal Phaedra to fill her in on the details, and from that point on, it's war.
Team Donkey Booty vs. Team Staillion Booty is officially going at it.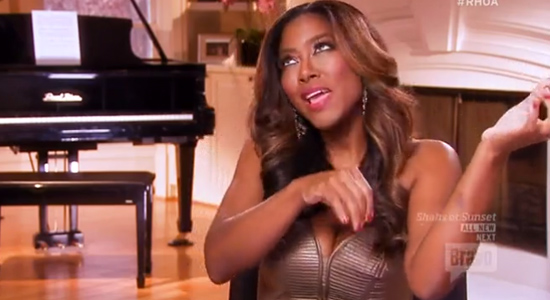 Once the news spread, Kenya hits the campaign trail to rally supporters. She tries her luck with Kandi, but Kandi's loyalties to Phaedra run deep so she's not budging. Even though she herself was burned in a somewhat similar situation with Kim. It's funny how the tables turn.
Then Kenya hits up NeNe. Now NeNe and Phaedra have NEVER been the best of friends. NeNe coined the term Phakedra and pretended that she didn't even know who Phaedra was, even though they hail from the same town.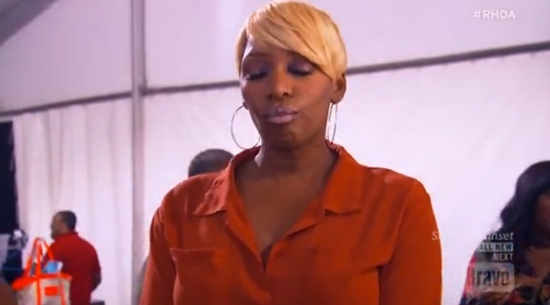 So you KNOW NeNe wasn't going to pass up on the opportunity to throw some darts at Phaedra.
"I don't think donkey is cute and I don't think the word donkey is cute," NeNe said. "Do you know what a donkey ass look like? It's very wide, honey, and it's very big, child. And I don't see anybody wanting to walk around with a donkey ass."
So, we take it NeNe's never heard of hip-hop songs praising women for having a "donk"?
She trippin'. What NeNe needs to do is join in on Kenya and Phaedra's idea and put out the Monkey Booty workout video so fans can have the complete zoological collection.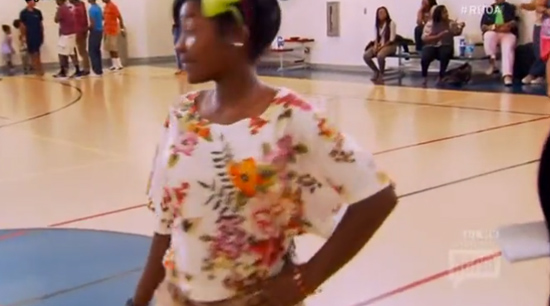 Cynthia's Kids' Fashion Show
For all of the talk and puffery that Cynthia has been blowing about her Bailey Agency, you'd think that the company's high-profile event for the season would be something much more sophisticated than a toddlers and kids fashion show stacked with her daughter and children of other friends.
But, hey a win's a win. As long as Cynthia is able to pay the bills and put food on the table with this money, then it's worth it.
There's just one problem: Mr. Ayden Nida is not down for the catwalk.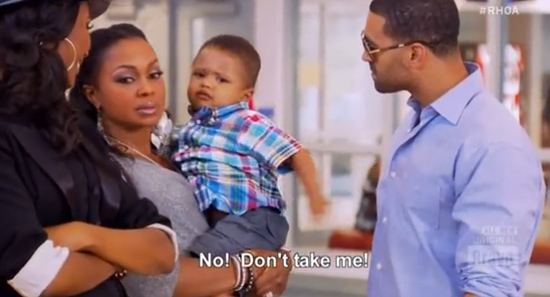 You heard the man, Phaedra and Apollo!
But do you think they listen? Of course not.
So what ends up happening? Apollo has to walk Ayden down the runway.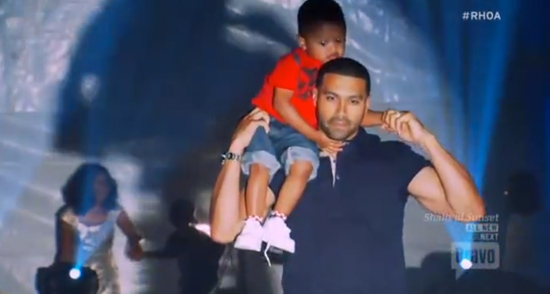 Ayden, wins. Flawless Victory.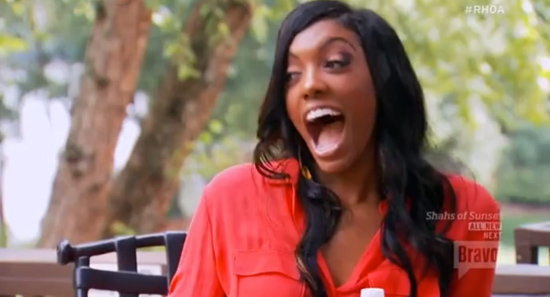 Porsha Proves Pointless
Kenya's addition to the Housewives has been explosive. Porsha's, on the other hand, has been dull and tepid. The only reason she exists at this point is to irk Kenya and she lets. She whines to as many people as she can about how she feels Kenya is crazy and treated her unfair. But most people have picked up that while Kenya might be crazy, she's certainly no fool.
As soon as Porsha gets wind of Phaedra and Kenya's clash, ol' girl swoops in and starts having lunch dates with Phaedra so they can catch up. Unfortunately, these two don't have much in common except for their disdain for Kenya, so the conversation turns dull when they attempt to awkwardly ask a few "getting to know you" questions.
If Porsha's going to stay on this show, she's going to need to discover a good plot to keep her at the front of viewers' minds. Give us a reason for her existence other than her silky tracks, stallion booty and former footballer husband.
Even Kim Zolciak had more to contribute to this show than Porsha does at the moment.
Be the first to receive breaking news alerts and more stories like this by subscribing to our mailing list.