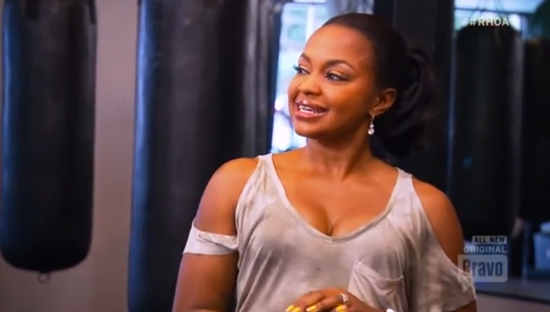 When Phaedra Parks told her "Real Housewives of Atlanta" co-star Kenya Moore that "money is not an object" when it comes to the budget for her Donkey Booty workout video, it turns out that what she really meant was that money IS an object and that she'll try to penny pinch and cheapskate her way through any deal.
Kenya Moore has acted real crazy and out of pocket all season, but when it came to handling her business, Miss "Gone With the Wind Fabulous" was making nothing but good ol' fashioned sense.
The trouble all starts when Kenya meets up with Phaedra and Apollo at the gym to talk shop and go over a few production items.
Apollo actually has a background in personal training, so he knows what he's doing when it comes to exercise and fitness. Phaedra, on the other hand, is just looking for a reason to shake her fatty and act like a stank stripper. So she turns her rotund backside to the camera at every opportunity.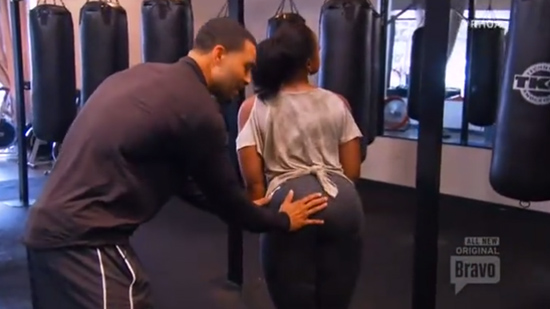 During the meeting, Kenya mentions the fact that she has procured interest from a major video distributor for the workout video. But Instead of THANKING Kenya for getting her hustle on, Phaedra wrinkles her nose at Kenya shopping deals around without an official agreement in place.
Uh, she's TRYING to show you how she can hustle to help you close the damn deal, without being told to do so. It's call initiative. Why is Phaedra acting so brand new?
After Phaedra makes a million and one requests to Kenya (requests which will cost money, by the way) she asks Kenya to send along a budget.
Keep in mind, in a prior episode when Kenya SPECIFICALLY asked Phaedra what her budget was, Phaedra responded that money was NOT an object. So Kenya draws up a budget that spares no expense and goes all out, which totals up to $100,000.
When Phaedra sees that, she balks and calls up her business lawyer to go over the numbers to see if the budget is correct.
Of course, him being Phaedra's lackey, he claims that Kenya "inflated" the budget unnecessarily. As an example of this, he claims that Kenya had budgeted for four video cameras when really all that was needed is THREE cameras.
Wow. One additional camera (btw Phaedra ASKED for an additional booty cam) is enough to paint Kenya as a scam artist?
The business lawyer says that Kenya didn't disagree with any of his suggestions and says he expects a new budget from her.
But before that happens, Miss Kenya pays Phaedra a visit at her office and best believe that Phaedra has her game face on. She's ready to nickel and dime a bitch.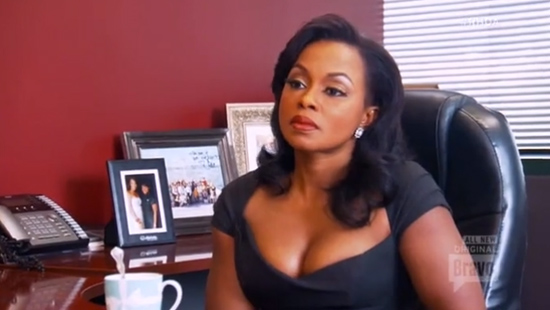 Of course, Phaedra being a reality TV genius, takes the time to pour out some tea before she DISHES the tea to Kenya.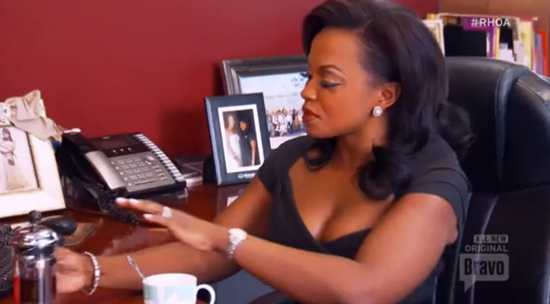 When Kenya sits down to start talking the figures, they come to a major disagreement when it comes to the backend negotiations. Kenya wants 10 percent of all profits from the DVD's sales. Phaedra says she should get ZERO percent.
WTF? Who does business like this? What bizarroworld does Phaedra live in where a production company gets NO cut of the product they've produced? As an entertainment lawyer, is this how she's been advising her clients?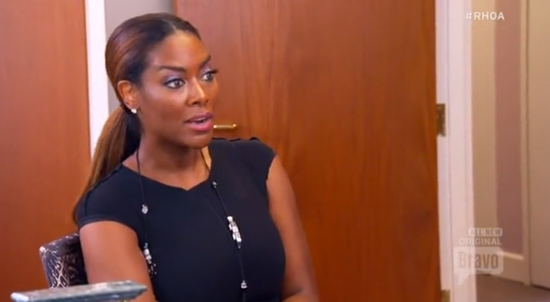 Kenya, understandably, balks at the blatant disrespect and walks from the office.
She complains that she's not in business to make a few measly thousand because she has shoes that cost a thousand dollars, which sounds really snobby of her to say, but as a producer she's right. Throwing her a few thousand is chump change when we're talking about the entertainment industry.
If Phaedra wants to play ball, she better bring her checkbook. Otherwise, have a seat, suck on that lemon and sip on that free cup of water at Chipotle with Sheree.
She got some damn nerve to be cheap about this. Phaedra had 12 damn birthday cakes for her son's first birthday party but now she's losing her shit about a production budget?
Once the whole deal sours, Kenya starts carrying the drama over to the other girls. She starts off with Kandi, while she's at Todd's 39th birthday party. But Kandi ain't having none of that, so she shuts that shit down.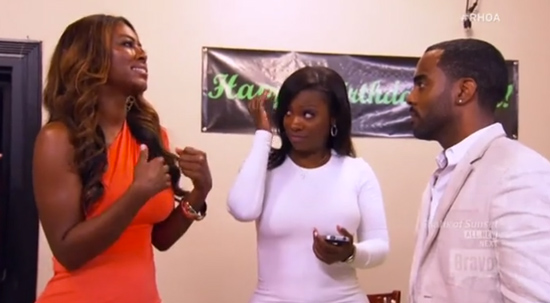 Kenya should've known better, because Kandi is Phaedra's ride or die chick, so there ain't no way she was about to dish the dirt with her.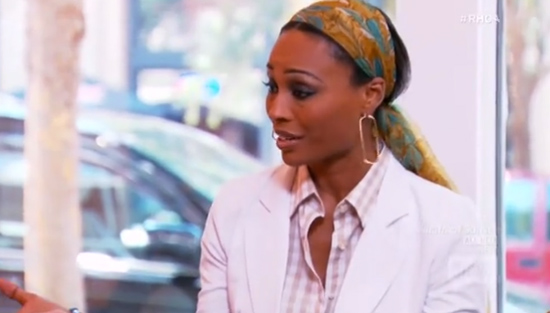 But Kenya tried her luck again with her frenemy Cynthia, when she headed out to the Bailey Agency for Phaedra's supposed Donkey Booty casting call.
Phaedra had boldly tweeted out to all of her followers on Twitter that there would be a casting call at Cynthia's agency without clearing it with Cynthia or cutting her a check.
Cynthia made it clear, "I do casting. FOR A FEE." So here we have yet another example of Phaedra expecting her friends to do pro bono work.
Because Phaedra has already shown her ass to Cynthia with saying she doesn't give a fuck about her coming to Ayden's party and now trying to get free casting work from her, Cynthia is actually sympathetic to Kenya's story and actually agrees with her. What strange bedfellows common enemies can make!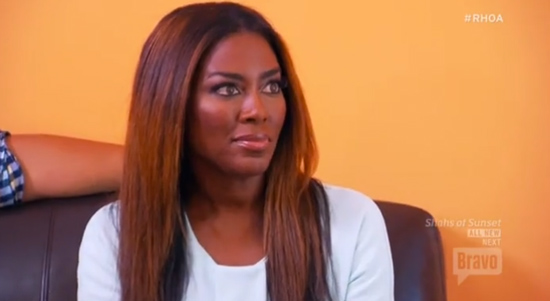 In the end, Phaedra reiterates her stance that Kenya doesn't deserve a cut of the profits and Kenya politely pulls out of the project and excuses herself from the room.
And that's that. Ms. Gone with the Wind Fabulous has left the building. But given the previews for the next episode, this storm is far from blown over.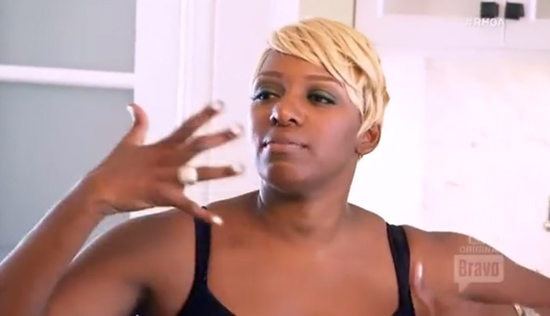 NeNe's Fabulous Life
With NeNe off in Los Angeles trying to build her career, producers are forced to create a show within a show. So here the cameras are, trudging along with NeNe to L.A. as she lives the very HARD life of being a Hollywood actress.
Of course, the STRESS of living in L.A. is overwhelming Mrs. Leakes, so she complains to her ex-husband-turned-fiance about how she needs him to step up and make her life easier.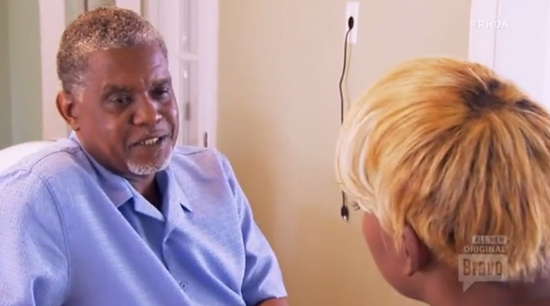 She takes every opportunity to emasculate and minimize Gregg simply because SHE's the breadwinner in the family now. Gregg Leakes is a very, very humble man to tolerate this level of bitchiness. But given his financial straits, he didn't have much of a choice.
The camera crew follows NeNe as she settles into her new home and arrives just in time to see some of the presents Kenya sent over to NeNe for her new abode.
Kenya lived for a very long time in L.A. so she left a lot of her furniture back there. What arrived in the trucks was as could be expected from Kenya: Grandiose, extravagant pieces that looked like they came straight out of Caesar's Palace.
NeNe looked like she didn't know what to do with all of Kenya's shit.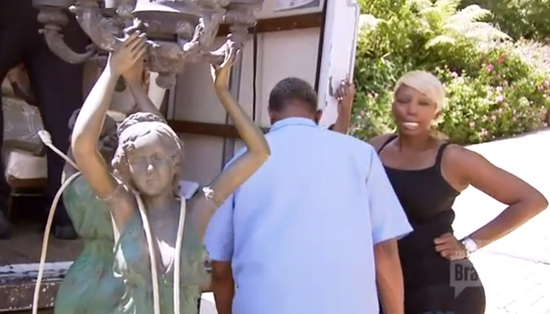 Later on, we follow NeNe as she heads to the set of "The New Normal." She complains about how when she was on "Glee" about how she had the guest star chair and had to make do with the guest star trailer. Now that she's a series regular on this new show, she gets the whole shebang and she's loving it, baby.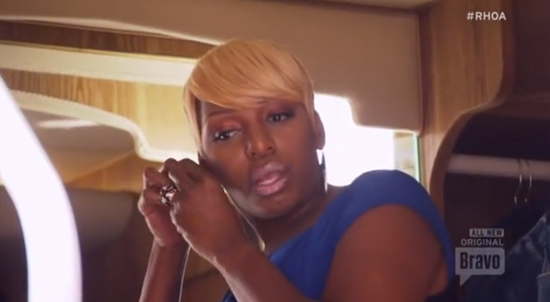 Watch when this series gets canceled next season. Poor NeNe won't know what to do with herself.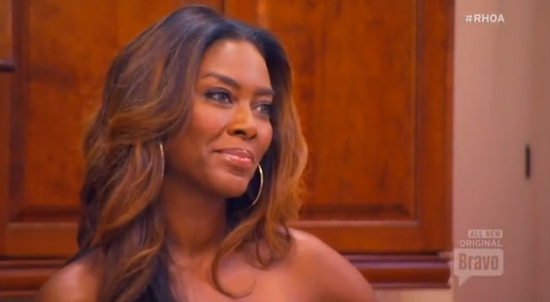 Kenya Closes the Walter Chapter
Now that Kenya has officially "broken up" with Walter, she's forced to break the news to her family. So she invites her aunt and cousin over so she can update them on the latest and greatest in her life.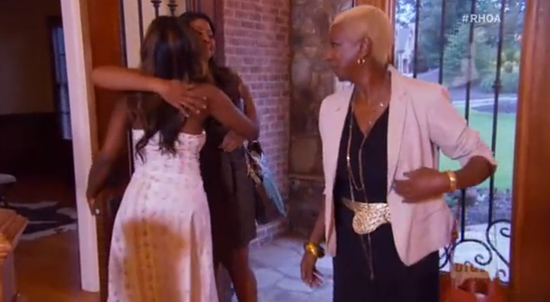 Kenya recounts the intense conversation she and Walter had at the lake to her aunt and cousin and the two women pretty much sigh in relief. As soon as Kenya says that she and Walter are over for good, her cousin Che starts spilling the tea and letting her TRUE feelings about him known.
She says he has thinning hair, he had a weird energy about him, he hit on her before he dated Kenya and speculates that he might be gay because he didn't want to have sex with Kenya in Anguilla.
These producers think they're slick. This "Walter is gay" thing is what Kenya instigated as a whisper campaign and now her cousin is voicing it. Since Kenya herself never utters the phrase, she can claim no liability for the character assassination.
But two can play that game.
Walter went on Twitter after this episode aired to say that Kenya's whole shower scenario in Anguilla never happened. He claims that since the relationship was fake and they weren't really dating, he was being a gentleman by not trying to get it on with her.
@mrwalterjackson I want to know if the shower incident that KM alleged is true or were you going along with her acting. Please reply.

— Shooting Starr Lori (@shootinstarlori) January 14, 2013
@shootinstarlori – Incident wasn't true and since we weren't dating I was being a gentleman.

— Walter Jackson (@mrwalterjackson) January 14, 2013
This whole Walter Saga is messy as hell. Let's hope this is the end of the road.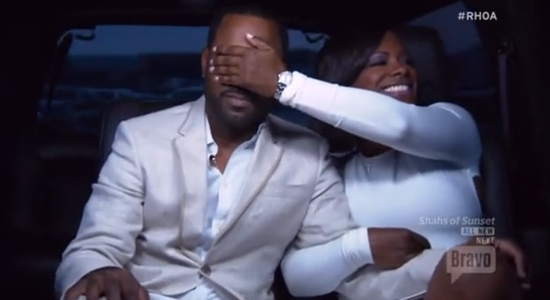 Todd's Almost 40 Party
Kandi is an AMAZING girlfriend. For her boo Todd's 39th birthday, she plans a major surprise party for him. She first rents a helicopter for the two of them so they can tour the city, and then throws him a birthday bash with a very special surprise guest: His mama.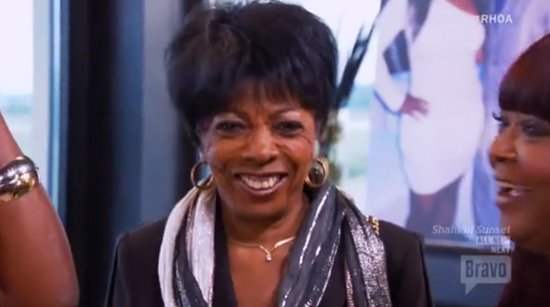 When the child turns out ugly, they say he has a face that "only a mother could love." In this case, Todd's mama has a face that only a son could love. We don't like to talk about people's mamas but we're just saying!
Still, it was touching when Todd teared up at the sight of his mother at the party.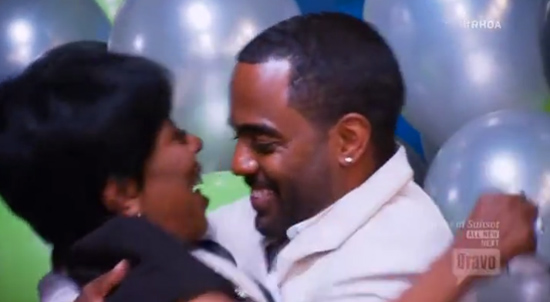 Of all the Housewives' significant others, Todd seems the most down-to-earth. Let's hope he can stick around long enough to put a ring on it for Kandi.
We could always use another big budget reality TV wedding.
Be the first to receive breaking news alerts and more stories like this by subscribing to our mailing list.