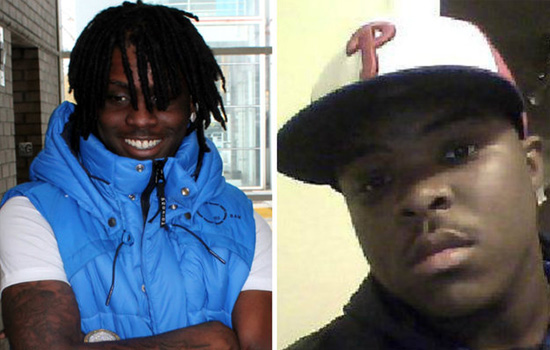 Further adding to Chicago's infamous reputation for shooting deaths, it is being reported that Chief Keef's 19-year-old stepbrother, Ulysses "Chris" Gissendanner III was murdered on the city's infamous South Side.
As the website DNA Info notes, Ulysses, who modeled his Hip Hop persona "YPN Boomtown" after Chief Keef's, is the fourth aspiring teen rapper to get shot and killed in Chicago since last September.
According to police, Gissendanner was gunned down in a car after visiting his uncle, and was pronounced dead at a nearby hospital. Authorities say they have no reason to believe that Gissendanner's murder had anything to do with his connection to Chief Keef, who was related to the slain teen by marriage.
Gissendanner's stepfather Alfonso Cozart is the father of Chief Keef, whose real name is Keith Cozart. But Keef's grandmother and his lawyer let it be known that the Hip Hop star has no relationship what-so-ever with either his father or his stepbrother, and they don't consider neither of them to be family.
Keef's attorney Dennis Berkson said bluntly that the controversial rapper "wasn't friendly" with Gissendanner and "had nothing to do with the kid."
Though Chief Keef had been estranged from his father and stepbrother in recent years, it hadn't always been that way. In fact, Gissendanner's mother Aridecy Tate said Keef and her son were pretty close when they were younger.
"They were brothers," she said. "They used to play together, coming over to our house, getting haircuts together. A lot of brotherly stuff."
But the two drifted apart when they grew up. Gissendanner visited Keef while he was on house arrest last year, but they didn't hang out in the same circles nor did they have the same friends.
Chief Keef's father told reporters that he doesn't want any connection his step-son has with the rapper to take away from the tragedy of his slaying.
"He just graduated high school, and was in college and had a job. He was a positive person," Mr. Cozart said. "I'm not trying to get publicity of Chief Keef being my son. I want you to focus on Ulysses. He's the one that's gone."
[DNA Info]
Be the first to receive breaking news alerts and more stories like this by subscribing to our mailing list.