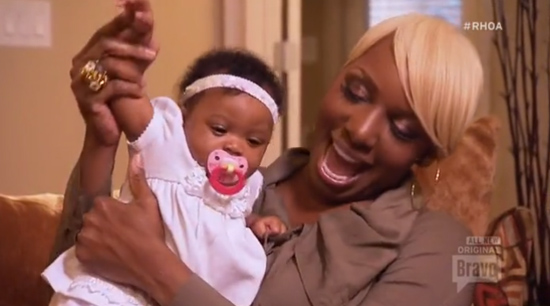 Surprise! NeNe Leakes is a grandmother! Or rather, as she likes to say it, a "glam mother."
NeNe's ever ratchet son Bryson went on ahead and knocked up some chick and he forgot to tell his mama.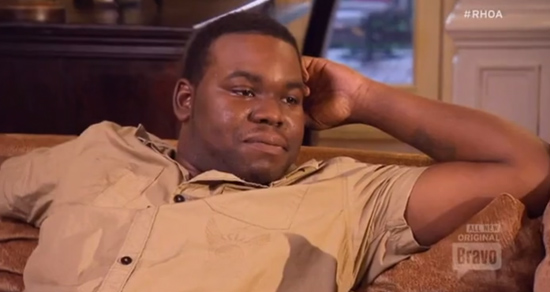 During her solo interviews, NeNe explained that she found out Bryson was having a baby when she bumped into his baby mama and noticed she was pregnant. NeNe approached the girl and asked, and she confirmed that she was indeed six months pregnant.
HOT DAMN.
When the hell was Bryson planning on breaking the news to his mama? When her water broke?
But check this: NeNe sure as hell kept her usually big mouth tight-lipped about Bryson's pregnancy. Her lil' "glam baby" Bri'Asia popped up in the episode and she looked like she was at least a month or two old. So this whole season, NeNe hasn't said a peep to Bravo producers about this babymama drama.
NeNe explained that she didn't feel the need to make "a major announcement" about the baby because it wasn't hers. But then again she's up in some fancy baby boutique buying designer clothes for her granddaughter. Something ain't adding up.
The real reason for NeNe's hesitation likely has to do with Bryson being somewhat of an embarrassment to her. He's been busted for drug possession and petty theft. An unexpected pregnancy on top of that just compounded a PR problem that NeNe's been struggling with for the past few seasons, so she just wanted to mitigate the damage as much as possible. Well played, glam mama.
But can we PUH-LEASE talk about this baby's name: Bri'Asia? Why the hell is there an apostrophe in her name? And who thought it was a good idea to combine the prefix Bri with the continent of Asia? Or this is an ode to geography as a mash-up of Britain + Asia?
Yes, we're reaching but this shit doesn't make a lick of sense. Children need to be protected from hoodrat names like this.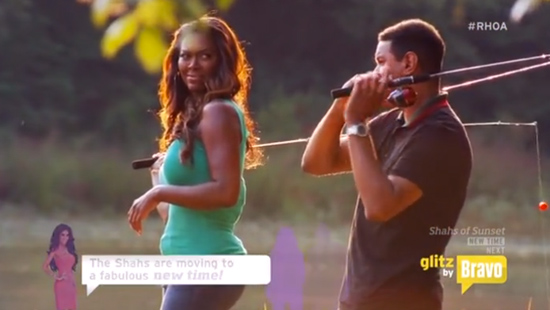 Kenya Wants Walter, but Walter Doesn't Want Kenya
Kenya and the producers of Bravo have teamed up to turn the tables on Walter, now that Kenya's desperate behavior has made her a laughing stock.
Whereas before, Kenya was delusionally fawning over a man who was not that into her, Kenya is now being "blindsided" by a callous, insensitive jerk who's leading her on.
Welp, what did Walter expect when he went public and admitted that he was faking his relationship with Kenya? Bravo wasn't going to sit back and take that lying down.
So the retaliation is on. And it's not looking good for Walter.
Kenya is running a story about the two of them showering together in Anguilla, but Walter failing to make a single move. At all.
The undertones are obvious: Kenya thinks Walter is gay.
"@cuntcocaine: @kenyamoore Girl , He Want Some Dick , Not Miss America Pussy ." LMAO

— KENYA MOORE (@KenyaMoore) January 7, 2013
This is reinforced when Phaedra snarkily remarks that Walter prefers the company of the Housewives' husbands to Kenya at NeNe's going away party.
Kenya complains to everyone about Walter's distant and cold behavior to everyone, including her bleach-headed auntie. Everyone is kind of like "Girl, move on," but Kenya insists on trying to "fix" things. So she asks Walter out on a fishing trip.
Black people fish though?
On the fishing trip, Kenya bluntly asks, "Walter, are you attracted to me?"
Walter's tepid response is that it's not his responsibility to tell Kenya when they should kiss or fuck. The entire time while they're having this discussion Walter is chewing his gum and looking like he'd rather be a chewing off his toenails in the back of an ice cream truck.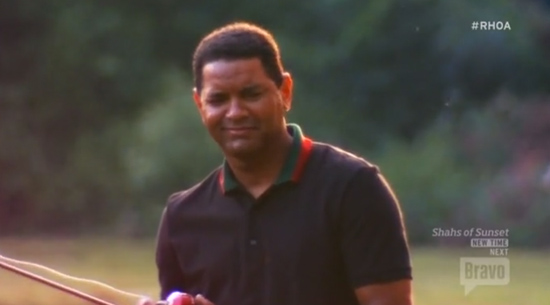 Kenya takes Walter's detached behavior as a sign that this really isn't working out and she tells him as much. He doesn't argue one bit and goes right on fishing while Kenya and her little pooch walk away.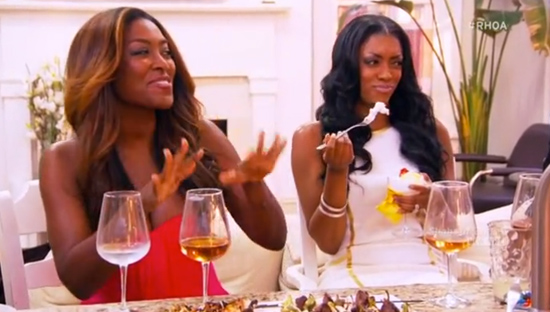 Kenya Says She Gets Mistaken for Beyonce — No One Believes Her
While the producers succeeded in making Kenya look a lot less crazy when it comes to her relationship with Walter, a little of her classic crazy came back when she announced to the girls that she often gets mistaken for Beyonce.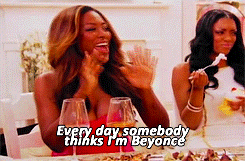 Porsha's face said it all: Bitch, please.
Kordell's wife also got in a good zinger when she said, "I look like Solange!"
Now see, Porsha may be dumb some of the time, but she's not dumb all of the time. Watch out now, Kenya.
Kenya's need to stop, drop and roll with that Beyonce claim though. Just because she rents a wind machine and feathers her hair, doesn't mean she looks like Beyonce. That'd be like NeNe Leakes saying she looks like Mary J. Blige just cause she has a short blonde do.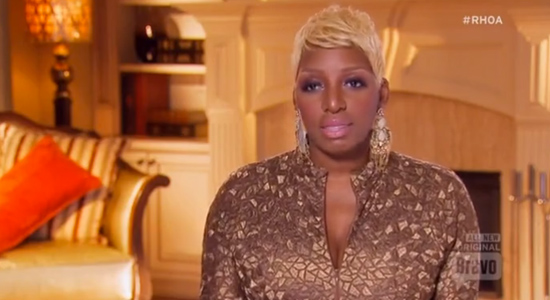 NeNe Goes to Hollywood
So after a shortage of NeNe on the last episode, Bravo gave us a double dose of NeNe this episode. The main plot centered on NeNe's move to L.A. as she takes on her role on "The New Normal."
While NeNe is fluttering around like a butterfly and stunting like she was a member of G-Unit, NeNe knows that her bread is buttered by Bravo so she's not ditching RHOA any time soon. The move to L.A. is temporary, she says, and she vows to adopt a bi-coastal lifestyle and remain a Georgia peach for life.
Das right. Cause we don't even know if "The New Normal" is gonna make it to a second season, so no sense in throwing away a good thing for something that might not be around tomorrow.
So even though the move is temporary, NeNe puts on airs and dramatics about uprooting her family for the trip. And yes, her family includes her "ex-husband" Gregg Leakes who appears to be pretty much tagging along as a babysitter. K-Fed really paved the way for men to do this kind of daddy daycare shit.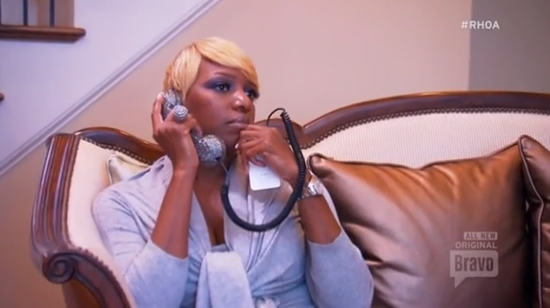 Once NeNe's west coast real estate agent calls to let her know that they've secured a property, NeNe breathes easier and dashes off to an impromptu goodbye party put together by her gal pal Cynthia.
It's a very casual affair for the ladies, but their bank accounts are probably still recovering from that Anguilla trip. So they sip on wine and nibble on appetizers as they wish NeNe and Gregg off on their move to Hollywood.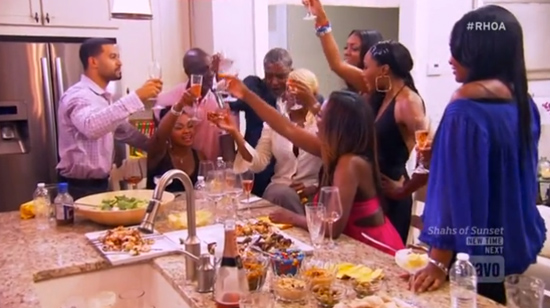 This scene shows how good of an idea it was for Kim to leave the show. Yes, some of these bitches be beefin', but they fit together so much better as a cast without Kim than they do with her.
Everyone is genuinely happy for NeNe, even if they don't like her all the time. Kim couldn't even muster that courtesy. She didn't relate, she didn't care and she was highly uninteresting.
Bye-bye, Wig!
Be the first to receive breaking news alerts and more stories like this by subscribing to our mailing list.